Hi all. Heidi here. I'm using this area of the website to post hobby-related messages, opinions, and information that I think are relevant. It could be anything from manufacturer news, product info, product release dates, or something in the news. This is also an ideal forum to give specifics about new products opened here, so check back weekly for new information. Thanks!
Hello everyone! After a VERY slow summer at Georgetown, things are a' hopping! Post season baseball (alas, not for the Phils) and the start of football season (GO EAGLES!) have brought with them a frenzy of activity and new products.
Okay, onto NEW PRODUCTS. We are getting 2014 TOPPS UPDATE BASEBALL next week. That is always a popular seller for us, along with Series 1 and 2. And just a reminder to Topps Baseball buyers, the annual factory set (also a popular seller at the holidays) is a complete set of every card from Series 1 and 2, BUT it does NOT contain any of the Update series. (Sets are packaged and released before the Update is even produced). The only way to put together the Update set is by buying packs. It is no longer a stand-alone packaged update set as in years past.
2014-15 ARTIFACTS HOCKEY is now IN STOCK! We just received it yesterday, so we haven't seen any opened ... but it is the first high end product for 14-15. Because of Upper Deck rules, we are not permitted to advertise their products on-line, so we can't show them in our product catalogs ... but rest assured, they ARE available! Just give us a call. Other 2014-15 releases have been MVP, O-Pee-Chee, and Ultra. Panini's last hockey product (for several years at least) was National Treasures. Upper Deck now has an exclusive. If you are a hockey fan and want to take advantage of both the double rookie class AND the last releases of Panini branded hockey (with some late releases being loaded to use their hockey card inventory), give us a call. 2013-14 Contenders is the best Contenders yet, and we saw cases of it opened. While the box promises 3 autos, we only saw two boxes that had ONLY 3. Most have 4 or 5. Two boxes in each 14 box case are hot boxes, with 7-8 autos. Roughly 4 boxes per case have autographed patches. And if you don't get an autographed patch, then you'll surely get a multi-auto (MANY of them being a minimum of 4 autos on the same card!). So if you haven't gotten any Contenders, you might check it out!
2014 STADIUM CLUB BASEBALL is a GREAT set for set builders. Known for its great photography (and a few funny shots this year!), thicker card stock, and full bleed design; Stadium hasn't had a release since 2008 (and that was an atypical one-auto-per-pack release). 2014 Stadium has 3 mini boxes per box with an auto in each mini. All of the traditional inserts (Beam Team, Triumvirates aka Luminous/Luminescent/Illuminate, Members Only, etc.) you remember from years past are back, as well as a great selection of legendary players in the basic set (there are some great Babe Ruth shots). For pics of all of the legendary players and various inserts ... check out our Facebook post from October 6th. Please note that YOU DO NOT NEED TO BE ON FACEBOOK TO SEE OUR FACEBOOK POSTS!! There is a link at the top of this page that takes you right there!
2014 FINEST FOOTBALL has been our best seller for football. FINEST BASEBALL was a great seller as well, mostly due to its beautiful and colorful card design and popular flashback style of inserts (today's players in popular Finest designs from years past). Both Finest Baseball and Football have one auto per mini box (2 minis per overall box), but the Football goes one step further with either a nice jersey or patch piece on each autograph card (like last year). We have seen SO MANY GREAT HITS from Finest Football ... with THREE 1/1 autographs! My favorite was a Sammy Watkins Autographed Nike Swoosh card, but the Marqise Lee Autographed Superfractor with SWEET "JAG" patch is a close second! The lucky customer who pulled these two cards also pulled a Johnny Manziel /15 autograph, a Blake Bortles /15 autograph, AND a Mystery Rookie Auto Redemption. So, apparently, we had a couple of nice Finest cases recently. 2014 PANINI PRIZM FOOTBALL is also a great looking product with many die cut inserts. Panini promised to load its Prizm hobby boxes with more color than ever before. Each box should yield 11 color variants. For pics of Finest Football, check out our Facebook page as well.
The last product I'll quickly mention is 2014 BOWMAN CHROME BASEBALL (but if you want a complete reporting of 2014 Immaculate Baseball, you know where to look!). Bowman Chrome has been popular, partly because it has KRIS BRYANT AUTOGRAPHS (only Bowman products can, and he's been a redemption in most so far). We've had 4 Bryant autos pulled so far from Bowman Chrome and a few Jose Abreu's (Tanaka still does not have autograph cards). The hobby box has TWO autos this year, and the jumbo box has 5! The usual (and popular) refractors continue to have value that exceeds like numbered cards from other products. It always amazes me, whether it's baseball OR football; and whether it's Bowman Chrome OR Topps Chrome, how popular and valuable the refractors are! They're highly sought after!
I usually end my BLOGS with a reminder to check FACEBOOK for weekly updates, and this time is no different. I have been spending a lot of time lately making sure our Facebook page is updated with info about NEW PRODUCTS. The ability to write a quick post whenever I have a few minutes and the ease with which I can upload photos make Facebook an incredibly ideal forum for dispensing info. Viewing our Facebook posts will show you what NEW PRODUCTS look like and what types of inserts are possible. I promise you that if you take a peek every now and then you'll learn something new that you're glad you now know! AND REMEMBER THAT YOU DO NOT NEED TO BE ON FACEBOOK TO SEE OUR POSTS!!!! Just click our link at top. It takes you right there!! Side-note, if you ARE on FACEBOOK, PLEASE MAKE SURE YOU CHECK OFF THE "FOLLOWING" BUTTON at the top of our page to see our posts in your Newsfeed!!! (You can also receive notifications when we post ... that option is in the pull down menu under the word "Liked", but even I think that's excessive!). This is the only fool-proof way to get our posts in your Newsfeed. Otherwise, Facebook uses an algorithm to determine who sees our posts, and only those people who "engage" in our posts (Like them, Comment, etc.) will get them in their Newsfeed. We spend a lot of time updating Facebook. We definitely don't barrage you with posts, but we definitely want as many people as possible who Like us to see what we're saying. THANK YOU!!!
I will wrap up this BLOG for now, but I will be back in a week or so to discuss more products and hobby goings-on. Later today, on Facebook, I am going to discuss all of the HOBBY CARD LICENSING EXCLUSIVES (and what they mean to you). So STAY TUNED for that! Thanks everyone!
Hi there. Panini has been working on a program to drastically reduce the number of redemption cards in their products. I think we can all agree that getting redemptions cards is not fun. No one likes to wait for the autographs to be signed and for the cards to arrive. And in the instances where the card you are owed is not made and you are sent a replacement you may not want ... that is even worse! So, Panini has come up with a program to change things.
Panini is introducing "PANINI REWARDS", and it will be officially rolling out this week with points cards in 2014 Score Football. Basically, Panini is inserting Rewards Points Cards into their products in the place of certain autograph cards not available at the time of production, with the ultimate goal being to eliminate traditional redemption cards in their products altogether. Panini has an on-line inventory of cards in all sports with assigned points values (some that for whatever reason didn't make their way into the product, some from redemptions never claimed, and some to be made up especially for this program). They will also have some non-card rewards, like experiences (think tickets to a special game). You can trade your Rewards Points (you enter codes on-line or scan the cards with your Smartphone and Panini's app) for any card in any sport that you have enough points for ... or save up your points for a reward currently out of reach. They never expire!
Check out Panini's BLOGS for an explanation of the program ... http://paniniamerica.wordpress.com/2014/06/09/game-changing-panini-rewards-program-to-launch-with-release-of-2014-score-football/#more-80767 and then a great follow-up Q & A ... http://paniniamerica.wordpress.com/2014/06/10/faq-panini-america-addresses-most-asked-questions-on-the-panini-rewards-program/#more-80828.
One note from Panini as to whether this program replaces redemptions in their products altogether ...
" While the ultimate goal of the Panini Rewards System is to completely eliminate the redemption card, that's not an entirely realistic scenario. Although points cards will eliminate the vast majority of redemptions, there are key product-making players who must appear in a product. When those players' autographs aren't available for pack-out, they will appear in traditional redemption-card form."
I think it's great that Panini is doing something to reduce redemptions. I'm curious to see how often we see these points cards; how many points they are worth; and what that number of points gets you. My only concern (which time will resolve) is that presently, Panini is awesome about fulfilling expired redemption cards. They are the only company I'm aware of that consistently will honor an expired redemption if they have the card in inventory, and my customers really appreciate this. With this new program where some of the on-line inventory of card choices for your points are coming from Panini's existing inventory of unclaimed redemption cards, I'm wondering if this means that expired redemptions will no longer be filled? Again, time will tell.
Hi everyone! I always start out apologizing for not writing these BLOGS more often, and today is no different. But onto the business at hand ...
Panini HAS started mailing the Donruss wrapper redemption 3-card set of RATED ROOKIES # 201, 202, and 203. As previously reported, they are MASAHIRO TANAKA, Jose Abreu, and Yordano Ventura. But the bigger news is that there is a rare Tanaka card being shipped out to some lucky collectors with his name written in Japanese. Be on the look-out for this very valuable variation! Our customer Ty Pierce is the first to report receiving one of the variations. Congrats Ty!
In other Tanaka news, he will be one of the "rookie variations" included in the bonus 5 card pack paired with the 2014 Topps Baseball (Retail) Factory Set. We carry various different Topps factory sets (they all feature every card from Series 1 and 2, but the bonus 5 cards varies from set to set, as does the packaging), so make sure you specify if you want to purchase THAT version. The recently released Gypsy Queen Baseball features Tanaka's first rookie card, and he of course will be in all other 2014 releases.
I "attended" an on-line webinar with Topps last week, and wanted to report some of what they talked about to my BLOG readers. Wacky Packages and/or Star Wars fans will be excited to learn that there is an upcoming Star Wars Wacky Packages product. I think this hybrid product will be a real hit! The movie "Major League" is celebrating its 25th anniversary this year, and Topps will be featuring Charlie Sheen autos ("Ricky Vaughn" in Major League) first in its upcoming 2014 Archives Baseball release, due out at the end of May. Jersey cards from actor jerseys will also be inserted in Triple Threads, 5 Star, and Dynasty Baseball (a new, very high end baseball release for Topps this year).
2014 Bowman Baseball will be the next Topps baseball release after Gypsy Queen. It arrives at month's end. Seattle Seahawks quarterback (and signed baseball player) Russell Wilson WILL be included in Bowman again this year. There are three additions to Topps' Baseball line-up for 2014. One is the aforementioned Dynasty Baseball. It's not due until October, so Topps has time to work on this new high end release. Word is that we'll see new types of relics used (other than the normal jerseys and bats) in this one. A release that excites me is the comeback of Stadium Baseball. Stadium has a great looking card with its full bleed design (full bleed = no borders), nice card stock, and great action photography. The 2014 version will be packaged similarly to Finest in that it will have mini boxes with a hit per mini. A Stadium outer box will contain THREE mini boxes with one on-card autograph per mini. A dual auto of Griffey Jr. and Trout was featured during the webinar. VERY sharp! The last "new" baseball product addition is another old timer ... Topps Tek. I remember Tek from the late 90's. It was a clear acetate card with varied, wild geometric backgrounds. No word yet on whether the 2014 version will mimic that, but I liked the design.
Topps' Football line-up will not include "Magic" this year. Known for its throwback design, broad autograph offerings, and matte finish; I was a bit surprised Magic didn't get the green light for 2014. Basic Topps Football will feature Fantasy Football stats and fantasy football themed inserts. Bowman Football will be the first football release (in June), and releases continue through March with 5 Star.
So that's a brief synopsis of what Topps had to say about upcoming offerings. I hope you found some of that interesting.
More info about NEW PRODUCTS across manufacturers to come soon! As a quick note, we've been enjoying the new Panini PlayBook Hockey in the store, and it's hard to see Panini lose its NHL license this summer. Its Rookie Anthology Hockey product is one of our favorites, and we see a lot of Dominion opened here as well.
Oh, I wanted to mention that I usually end my BLOGS with a "plug" to check out our FACEBOOK page; and this time is no different! LOL. I'm always trying to reach more Facebook readers, as it is very easy to report quick hobby tid bits on a daily basis in minutes. Of course, it only works of anyone is reading what you're saying. Our Followers on Facebook are very low, which in part is because I haven't done enough to grow our following. That's going to change. So, if you ARE on FACEBOOK and haven't Liked us on there yet, PLEASE do so! And for those of you loyal customers who HAVE already LIKED us on there, PLEASE check something for me to make sure you're receiving as many of our posts as possible (there have been some changes lately in Facebook-land, and not as many of you are getting posts in your newsfeed). When you go to our page, where it says you've Liked us ... make sure you click that arrow and then check off "Get Notifications". This might do wonders to solve this "reach"problem. I'm going to try it myself on the pages I've personally Liked and see if I now see more posts in my Newsfeed. I'll report back in a bit on that. Thanks everyone!
Hi GCX BLOG readers! I feel like I start every BLOG with an apology for not writing more sooner, and this time is no different. It is so much easier to be chatty in my store BLOG because we get to see our customers' faces and host events and contests ... all things that don't translate nearly as easily to a mail order business.
Many NEW PRODUCTS have hit our shelves, including a bunch for 2013-14 HOCKEY with its double rookie class. 2013-14 UPPER DECK HOCKEY has been a huge hit, and 2013-14 SELECT has been strong as well. Other 2013-14 hockey releases include OPC, SCORE, ARTIFACTS, TRILOGY, and PRIZM. 2013-14 BASKETBALL has been highly anticipated as well, and the NEW HOOPS has been a great seller. 2013-14 PANINI PRESTIGE BASKETBALL arrived last week; as did 2013 PANINI LIMITED FOOTBALL and 2013 BOWMAN STERLING FOOTBALL. We find 2013 TOPPS PRIME and FINEST to be two of our best sellers; and we're expecting strong competition from the newly arrived 2013 TOPPS CHROME FOOTBALL. BASEBALL buyers are enjoying the new 2013 BOWMAN DRAFT PICKS & PROSPECTS and continue to buy 2013 TOPPS UPDATE.
If you're in search of a unique holiday gift, give OYO'S a look! These Lego-compatible little MLB and NFL licensed figures are HUGE sellers for us, and NHL ones are being released in early December. OYO also recently released team specific stadium field sets for both football and baseball so your figures have a place to play! We can get any team and have several in stock.
We get asked a lot about the upcoming CRYPTOZOIC BIG BANG THEORY 5 because the first two releases sold so well. Well, it'll be here WEDNESDAY, right before Thanksgiving ... so that is indeed good news!
HAPPY THANKSGIVING to you and your families!
Hello all. Summer is indeed coming to a close, and this one went fast ... even for me. I seriously feel like Thanksgiving is going to sneak up on me next week! But enough about me ...
I wanted to give you a quick Hello and update you on a few NEW PRODUCTS! Since Yasiel Puig continues to be the one to chase, new 2013 BASEBALL with him in it continues to be sought after. 2013 ALLEN & GINTER featured his first true rookie card, and 2013 PINNACLE BASEBALL has his second. He has autographs in 2013's ALLEN & GINTER, BOWMAN PLATINUM, and BOWMAN INCEPTION. 2013 BOWMAN BASEBALL has started heating up again, because it too has Puig (he's Lucky Auto Redemption #4), as well as BYRON BUXTON, OSCAR TAVARES, and other hot young players. We expect 2013 TOPPS CHROME and FINEST (both due out in early September) to sell well because of Puig.
The other HOT SELLER is new 2013 FOOTBALL. We JUST received 2013 FINEST, TOPPS INCEPTION, and MOMENTUM (guaranteed auto or relic per pack); and we have 2013 SCORE, SPx, ELITE, UPPER DECK, BOWMAN, and ARCHIVES already in stock. And attention all Topps fans ... 2013 TOPPS FOOTBALL is coming in THIS Wednesday!!! Basic Topps Football is always a great seller for us, and we expect no less from this one.
There have been other NEW RELEASES; like HISTORIC AUTOGRAPHS FIVE BOROUGHS Cut Signature Product, 2013 LEAF FOOTBALL MINI HELMET (one auto mini helmet of a past or present player per box), 13-14 OPC HOCKEY, GARBAGE PAIL KIDS CHROME, POKEMON PLASMA BLAST, YU-GI-OH JUDGMENT OF THE LIGHT, and STAR WARS GALACTIC FILES SERIES 2. There is certainly something for everyone.
A quick note ... I'm really trying to grow our GCX Facebook presence. You can view us HERE ... https://www.facebook.com/pages/Georgetown-Card-Exchange/179724090535 ... whether or not you are on Facebook. I am lucky that Steve and I have a store (as well as GCX) where I get to see so many new products opened, and I'm happy to report what we see (and give you fun facts about new products). I reported on our Facebook page about 2013 Allen & Ginter Baseball having 1/1 oversized cabinet cards hidden inside of box tops (as in, you have to actually cut open the box ... they're not just laying on top of the packs like the normal box loaders). This is the kind of info I like to share on our Facebook page, but a lot of our beloved GCX regulars aren't computer users (I know ... surprising to me too); and even more who do use the computer aren't big social media types. So, if YOU are a Facebook user, please take a minute to LIKE Georgetown Card Exchange on there (and please tell your friends). It doesn't take any more work on my end for my posts to reach/benefit more people, so if you could help me spread the word; that would be much appreciated!
Thanks everyone!
Hello my long overdue BLOG readers! I hope your summer is off to a great start! It's been sweltering here of late, so staying inside has been a goal!
Baseball season is in full swing, and I'm not impressed by our beloved Phillies this year. I'd like to draft my own team with Bryce Harper and Yasiel Puig (for starters). Oh, if only it worked that way!
So, onto HOBBY and PRODUCT NEWS. Since the NHL instituted their "No rookies for 12-13" rule, it's been slim pickings for Hockey fans! Well, no more! 13-14 product has started to roll in, and now there is (or will be ... depending on release date) a double rookie class to be had. This should mean very good things for 13-14 product. So far, we've received SCORE (now in both regular and jumbo packs) and TRILOGY (in mini boxes this year!), with more due to arrive soon. I'm not usually a big Trilogy fan, partly because it's an expensive box. Upper Deck broke it up this year, however, into three mini boxes; each with 3 hits! So the mini box decision is not as tough to pull the trigger on. It's like buying a box of Panini Limited. There's a very nice autograph on puck card design in the new Trilogy, and we've already seen a Yakupov rookie auto and Ryan Nugent Hopkins auto.
2013 FOOTBALL has also been streaming in. Until the new season starts and players get seen, we're still selling more 2012 product. But, if you're a fan of EJ Manuel, Geno Smith, Eddie Lacy, or Matt Barkley; we've got some good new 2013 products for you. 2013 Inception, Prestige, Elite, SPx, Bowman, and Score are among them. Inception has been hot this past week, and we've seen some nice autos (3 hits per box).
BASEBALL is pretty hot (even if the Phillies aren't!). Everyone is clamoring for Dodgers phenom Yasiel Puig. He only has a few autograph cards on the market right now; and he is single-handedly the reason 2012 Leaf Valiant, Metal Draft, and Ultimate Baseball have escalated in price. He is also 2013 Bowman's Lucky Redemption #4 auto, and he has an auto in 2013 Bowman Inception. Products soon to be released (like 2013 Allen & Ginter) will have his first true rookie cards, so be on the look-out for Puig. One of our customers had TWO of his autos (each was a redemption for multiple autos, actually ... a very cool idea on Leaf's part) put away in a storage box that didn't have particular value when first pulled, yet now they're one of the hottest cards out there! That is one of the best and worst parts of collecting baseball rookies ... so many cards that become valuable later on are not particularly special when first pulled. So, you have to be patient!
Unlike last year, BASKETBALL has a lot of new products. They are presently benefiting from a double rookie class as well. We just received 12-13 Panini Signatures Basketball, and we've sold a good amount of Elite, Fleer Retro (perfect if you're a fan of the old Fleer products and inserts ... and a popular choice of Michael Jordan fans!), and Totally Certified and Crusades (both with a guaranteed hit per pack).
Before I call it a day (both with this BLOG and at the store), we just had a GREAT box of 2013 Goodwin Champions opened by Joe M. Goodwin is an eclectic little set produced by Upper Deck. It features cards from all sports (literally ... there's motocross, swimming, soccer, horse racing, etc. etc.), as well as the traditional 4; and has some funky types of inserts. In past years, Goodwin was known for it's Entomology cards ... redemptions for dead bug cards! Upper Deck showcased these bug cards at the National a couple of years ago. They're cool, and some are huge. There was the Walking Twig Insect card, which was as wide as a couple of card lengths (hence, one of the reasons why they're redemptions!). Well, this year, the big pull is an Element card ... a redemption for a booklet featuring actual platinum or copper samples (and the like). Joe M. opened a box today and pulled two winners ... a 1/1 Sidney Crosby tobacco sized card AND an Island Grey Fox Animal Kingdom Patch. The same patch card sold on E-bay for $300, so check your patches! Some are more common than others (and worth more like $20); but others (the closer to card # 300, the more valuable!) have sold for $1250! The cards aren't numbered, but there can't be many of the expensive Short prints. With 3 hits per box, Goodwin is a fun and reasonably priced item.
I hope to hear from you soon. We should have a new flyer being mailed in about a week or so. Thank you!!!
Hi everyone! Happy March!
Just a quick BLOG to give you a few updates. In my last BLOG, I gave you a way to see the amount that an item sold for on E-bay if an offer was accepted (for an item sold in the Buy-It-Now or Best Offer format). We just learned that you see this actual amount as well when you use the E-bay app on your I-phone or Android phone! So that's convenient! It's likely that E-bay will change this since they changed the site, but until they do ... it's a good thing.
SPRING TRAINING OYO's are here, and besides our personal favorites (the Phillies' Chase Utley, Ryan Howard, Cole Hamels, Roy Halladay, and Michael Young), we also have David Ortiz, Buster Posey, Derek Jeter, and Andrew McCutchen. MANY more Spring Training OYO's are on their way, and the newest batch of regular (3rd generation) baseball OYO's are arriving. The newest OYO's are wearing the away jersey now. Remember that we're your headquarters for OYO's. Whatever we don't have in stock (and we have a lot!) we can get, so just ask for the players from your favorite team. Most OYO's are $10.
2013 TOPPS BASEBALL TEAM SETS will be arriving at the end of March. We've been getting a lot of questions about that arrival date from anxious customers, so that's the update. We'll have every team, and they're $6 each. Remember that we can add any team set or OYO to your regular box order at little or no extra shipping.
The TOPPS SPRING FEVER PACK redemption window is now closed, and we are officially out of packs to give away. We HAVE set aside packs for anyone who purchased hobby or jumbo boxes from us, and we can include them with a future order. We ask that you request these packs, so that we know you want them. It's possible that you've already redeemed the cards in your local area. The cards themselves are really nice ... cool card design.
As for NEW PRODUCTS, there have been a few. 2013 HERITAGE BASEBALL arrives this week. That's always a good seller for us, and we have a lot of pre-orders to ship out. Last week brought 2013 LEAF METAL DRAFT FOOTBALL and 2013 TOPPS SUPREME FOOTBALL. We saw quite a few Topps Supreme packs opened, and a VERY nice Andrew Luck autographed rookie card was among them! If you Like us on Facebook, I posted it! Also new on the football front is 2013 TOPPS MAGIC ... a very nice sketch type design with 3 autos per box. 2012-13 ELITE BASKETBALL is new, as is 2012-13 IN THE GAME's MOTOWN MADNESS (a Detroit Red Wings Hockey product, formatted similarly to the very popular Broad Street Boys release). PANINI NATIONAL TREASURES BASEBALL was also new last week, however it comes with a very high price tag!
That's it for now! Be well everyone.
Hi everyone! I wanted to mention a few things going on here and in the hobby.
There's been much discussion of late about E-bay's change which doesn't allow you to see the selling price of items sold in the Buy-It-Now (BIN) or Best Offer Format (and these days, many items are sold that way!). You'll see that the asking price is crossed out now, but written in green. This means that the item sold (the green part), but not for the asking price (the crossed out part). A customer told us a way to see the actual amount the buyer paid. Open the item you're interested in (click on it). In the URL, it will say "www.ebay.com ... ". Change the .com to .ca (it's Canadian E-bay), and the actual price will be listed. Pretty tricky, huh? Now at some point, E-bay may change this so both versions are the same. I don't know if it's a legal thing or that E-bay just hasn't gotten around to it yet. But for now, it comes in handy. As a side note, you can now look at Closed Auctions more easily by limiting your search at top to either "active listings" or "closed listings". You used to have to click something on the left side of the screen to see them.
Tomorrow is the start of the redemption period for TOPPS' SPRING FEVER PACKS!!! There are redemption cards found 1 per box in 2013 TOPPS SERIES 1 BASEBALL HOBBY and JUMBO BOXES. From February 20th-27th, you take those redemption cards to participating hobby shops and redeem them for a special pack that Topps has produced ... with randomly inserted autograph cards. We realize that for some of you, WE are your "local" hobby shop! So, we have been recording all of the boxes we have shipped and have set aside packs for you. They can ship with a future order.
In my last BLOG, I mentioned OYO's. They are the little, licensed Lego-compatible figures, currently available in both Baseball and Football. OYO (the company) does a great job of producing new figures quickly, hence the arrival this week of the SUPER BOWL CHAMPION RAVENS OYO's. Players available are ... Joe Flacco, Ray Lewis, Ray Rice, Ed Reed, Anquan Boldin, Torrey Smith, Jacoby Jones, and Dennis Pitta. We have them all; and presently, they're $10. Pick them up while they still are.
That's it for now! Take care, and thanks for reading!
Hi everyone! Boy, do I have a lot to say! So let's go!
First, 2013 TOPPS BASEBALL is HERE and selling well! Besides Topps Baseball's normal appeal, there are some gorgeous insert cards available this year, including BABE RUTH and ROBERTO CLEMENTE 1/1 CUTS and even some booklets. It's worth checking out!
Two things you should know. The first is that there's a wrapper redemption program to be aware of, but it will not last long!. Here's some info from Topps ...
Collectors who send in 50 2013 Topps Series 1 Baseball retail or hobby wrappers or 10 jumbo wrappers get a pack of five cards.
Autographs are randomly inserted as well. Signers include Nolan Ryan, Ken Griffey Jr, Manny Machado, Dylan Bundy and Cal Ripken Jr.
Topps has produced a total of 10,000 Silver Slate packs. There is a ten-pack limit per household. Collectors are encouraged to bundle their wrappers together in a single package.
Wrappers must be sent to:
Silver Slate Wrapper Redemption
PO Box 2008
Duryea, PA 18642
Topps promises to offer updates on Silver Slate pack availability on Twitter.
The second thing to be aware of regarding 2013 Topps Baseball is their "SPRING FEVER" PROMO PACK promotion. Each hobby and jumbo box has a "Spring Fever" promo pack redemption card in it, redeemable February 20th-27th (while supplies last). The packs have FIVE EXCLUSIVE CARDS with random autographs, and the idea is to take those redemption cards to your local hobby shop to redeem them between those dates. We've decided to set aside packs for everyone who purchased/purchases a box of Topps through us mail order. We know not everyone has a hobby shop near them (and for some, we're it!), so we will reserve them for you and include those packs with a future order.
I gave everyone an update in the last BLOG about 2012-13 HOCKEY releases, and the NHLPA's decision to limit new rookies. Well, here's another update regarding Panini's last remaining product to come out before summer ... 2012-13 PANINI LIMITED HOCKEY. Due out in February, Limited will have redemption cards for 13-14 rookies (the ones which would have been in THIS year's 12-13 products had the NHLPA not made their decision). Given that Limited is normally a very nice looking set to begin with, this should help its appeal.
So, besides TOPPS BASEBALL being here now, 2012 PRIZM FOOTBALL will be here on Friday; and 2012-13 ITG HEROES & PROSPECTS HOCKEY will be here any day. 2012 PANINI ELITE EXTRA EDITION BASEBALL (with 6 autos per box); 2012 PANINI LIMITED FOOTBALL; 2012 SP AUTHENTIC FOOTBALL; 2012 HISTORIC AUTOGRAPHS "Art of Baseball"; 2012-13 SP GAME USED HOCKEY; and YU-GI-OH COSMO BLAZER have all arrived in the past week.
That's it for now. If you're on Facebook and you haven't Liked us yet, what are you waiting for??? Our updates on there are much more frequent than our BLOGS can be, so please check us out on there. Thanks for the read, and enjoy the SUPER BOWL!!!
Hi everyone! Well, my New Year's resolution of being a more frequent BLOG'er is in full effect. I hope this BLOG finds you well (without flu!) and enjoying the New Year thus far. There is SO much going on; so without further adieu, let's try to catch everyone up.
There was some pretty major hockey news the past few weeks. First, the great news that the lock-out had ended. Woo Hoo!! We rejoiced that we once again would have hockey and the Flyers to watch. But then, we heard some very surprising news. Panini had cancelled pretty much their full line-up of new 12-13 Hockey releases. This didn't make any sense on the heels of the lock-out ending. So we found out the distressing news that the NHLPA (National Hockey League Players Association) decided to restrict the eligibility of the 2012-13 rookie class. Essentially, all of the rookies who debut during the 2012-13 season will have their rookie cards appear in 2013-14 products ... so that's great for next year's products, but lousy for this year's! The players labelled as rookies in the 12-13 products already released (such as 2012-13 Upper Deck, OPC, Score, etc.) debuted late last year (in the 2011-12 season), but didn't get a chance to appear in 11-12 releases because of timing. So, THESE players have rookie cards in 12-13 products. The most notable of these players are Chris Kreider, Sven Baertschi, and Jaden Schwartz. They (and several others from last season) DO have true rookies in 12-13 releases, but that's it ... no new players who were drafted and debuted this year.
This is not good for the slate of hockey products to come; which used to include the now cancelled Panini Titanium, Elite, Crown Royale, Totally Certified, Contenders, and Dominion Hockey (Limited Hockey is still set to be released as I believe it was already produced). How this rookie issue affects Upper Deck's remaining 12-13 products remains to be seen. It also remains to be seen how this issue will affect products already released. First, if any of the few late 11-12 rookies (the aforementioned Kreider, for example) has an amazing season, the number of products to find them in this year has just been reduced substantially. This could mean good things for the few products already out there if collectors are suddenly clamoring for them. But, for products not yet released (and especially those that are released after the season is practically over), what will demand be for them if there aren't many new rookies to chase? Collectors love awesome relic and autograph cards of their favorite players (and hockey greats like Wayne Gretzky, Bobby Orr, and Mario Lemieux) but you can find those hits in past year products, along with the rookies of that year. So maybe it's a better buy to continue going after 11-12 stuff, for example, and look for Nugent-Hopkins rookies; or maybe collectors will buy more 09-10 product to look for Van Riemsdyk and Tavares. But buying new 12-13 product has possibly just lost a bit of its allure. Time will tell.
Another question that has arisen because of the 12-13 hockey rookie issue is what Upper Deck will do now. Given that Hockey is their only sports license, I don't think following Panini's lead is in the cards for them (literally!). Of course, Upper Deck will now also benefit from the greatly reduced options collectors have for this year by being the only game in town. Furthermore, if any late 11-12 rookies DO break out, Upper Deck and its entire product line will greatly benefit! You can make an argument for or against Upper Deck's possible fortune in this situation; and again, only time will tell how or if they benefit. As an aside, I wonder what Upper Deck will do with the rookie redemption cards in its already released 12-13 Artifacts Hockey product. How will (or when can) those redemption cards be redeemed? I'm guessing Upper Deck has a lot of decisions to make right now, and I will update you as info develops.
A lot of our regulars don't know we carry a few fun order add-ons. They are OYO's, TEAM SETS, and I-PHONE COVERS. So let's discuss.
OYO's. Have you seen them? Do you own them? Do you have any idea what they are??? They're little Lego-compatible licensed MLB and NFL figures, and they're incredibly popular. We are also one of their biggest retailers, and we have a selection beyond compare. OYO's started with a baseball license, and gained a football one just a couple of months ago; so we're getting new football players in literally every day. We have several players from every baseball and football team (for popular teams, as many as 10 or so); and we get new orders in every week. I'm pretty sure that if we don't have the player you're looking for, we can get it! We'll try to get a list together on the website of every player available, but for now, just ask! OYO has released all sorts of special baseball figures (with special packaging) for the All-Stars, 2012 World Series Champion team players, MVP's, and Triple Crown winner Cabrera (just to name a few) as well ... and we have all of them! If you're looking to add to or start up a collection, we're your retailer! Most OYO's are $10; and I'm thrilled to announce that they just secured a hockey license, so I can't wait to see them! Most OYO's can be added to a box order at no extra charge, and make a perfect gift (Valentine's Day anyone?) for both adults and kids. Kids play with them; adults collect them. Please spread the word about OYO's, as they are a collectible that non-card collectors are also seeking; and we'd appreciate the good word of mouth to those people who don't know about us.
TEAM SETS. We started carrying teams sets (all 4 sports plus Major League Soccer) in 2011, and we have a great inventory. We carry the packaged (carded) sets that list the player names on back. Topps didn't make a packaged football team set in 2012; but we carry their 2011 football team set and their packaged baseball team set for both years. We're expecting the 2013 Topps baseball team sets in soon, and we will have every team available. Panini has produced Hoops Basketball for 11-12 and 12-13; Score Hockey for 11-12 and 12-13; and Score Football for 2012. Upper Deck has a nice OPC hockey team set for 12-13 and a MLS (soccer) team set for 2012. So whatever you want ... we should have it! Again, just ask to check our inventory. Most team sets are $6, and can also be added to a box order at no extra shipping charge.
I-PHONE COVERS. We have EVERY TEAM available (BASEBALL, FOOTBALL, and HOCKEY; most MLS [Soccer]) for your I-PHONE 4 or 5. We carry the PANGEA brand hard case, and they're very popular. Most are $19.95, available in multiple styles; and again, ask for availability. I-PHONE COVERS can also be added to box orders at no extra shipping charge.
2013 TOPPS BASEBALL is coming! It should be here NEXT week, and it is in high demand. Please also note that last year's 2012 TOPPS GOLDEN GIVEAWAY program is coming to an end this month. January 31st is the last day you can redeem code cards and make trades (although you can request your cards through March 1st), so if you've been holding onto any code cards, dig them up and enter them. Unless Topps extends their 2012 GAMETIME GIVEAWAY FOOTBALL program, that too ends this month.
Please check out the HOME PAGE of our website for NEW PRODUCT releases (2012 Panini Limited Football and 2012-13 SP Game Used Hockey arrived last week). I wish I had enough time to go over what's been selling well; but in brief, we liked 2012 BOWMAN STERLING FOOTBALL a lot (despite it having 2 hits per pack instead of its former 3), thought 2012-13 SP GAME USED HOCKEY was nicer than in previous years (different styles of jersey cards and more multiples), still count 2012 TRIPLE THREADS FOOTBALL and BASEBALL amongst our favorite products (esp. with its 2 hits per pack!), and think that 2012 PANINI COOPERSTOWN BASEBALL is a pretty nice looking product for the baseball purist with its cards of not only legends but announcers, umpires, and memorabilia featured in the Baseball Hall of Fame (we started carrying Cooperstown blaster boxes as well ... a good idea for set builders!).
There's so much more I could say (and would like to!) regarding NEW PRODUCTS, HOT PULLS, and NEW INVENTORY; but frankly, this is a long enough read and took me forever to write! If you're on Facebook but haven't Liked us, what are you waiting for? We always announce EVERYTHING there first, and we certainly don't overwhelm your Newsfeed!
I hope this info has been helpful. Have a great day!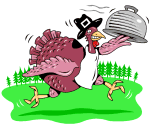 Hi everyone! I just wanted to take this time to wish all of our customers a very HAPPY THANKSGIVING! We wish you and your family a day filled with good company, good humor, and good food!
Hi everyone! Thanksgiving is next week, and one of my friends was just mentioning that she's done Christmas shopping, and once again, I ask "Where did the time go?". I seriously thought it was JUST Summer. I will say that I'm very much enjoying this nice Fall weather. It's crisp and cool, with no humidity. You have to love that (especially when you live in Philly!).
Before I start the business at hand, I just want to mention that I hope that the damage wrought by Super Storm Sandy, which hit some of the East Coast very hard, was minimal for our customers. Steve and I were very concerned with how Sandy might affect our store and warehouse. We were very fortunate to not have water come in (water and cardboard do not mix well!). We didn't have power from Monday through Wednesday, but that was the extent of our problems, so clearly, we were very lucky. So many people lost their homes, and I can't imagine what they're going through. Our hearts go out to all those affected!
Okay, with that said, onto NEW PRODUCTS ... there have been a bunch recently, including the highly anticipated 2012 PANINI COOPERSTOWN BASEBALL and 2012 TOPPS CHROME FOOTBALL (more on those releases in later paragraphs). A nice new Basketball release 2012-13 PANINI THREADS BASKETBALL is here, and even though HOCKEY will likely be slim pickings because of the lock-out, we DID get 2012-13 UPPER DECK HOCKEY in. 2012 PANINI SIGNATURE BASEBALL, 2012 LEAF ORIGINALS WRESTLING, and 2012 PRESS PASS SPORTS TOWN FOOTBALL round out the other new arrivals late last week; but also recently, we received 2012 BOWMAN CHROME BASEBALL and 2012 PANINI GRIDIRON GEAR FOOTBALL.
Okay, 2012 TOPPS CHROME FOOTBALL always sells well, and this year is no exception. We shipped a ton of it last week, and saw a few opened here in the store. A press release from Topps concerning it is reprinted here ...
"This years hobby product promises to be one of the best ever, loaded with on-card autographs, autographed patch cards, dual autographe [sic] and triple autographed cards! In addition the uber popular '65 Tall Boys, the iconic '84 design and classic 1957 card have all been chromed and signed on card! Topps Chrome is driven by rookies and this years rookie class have been outstanding, this products subject list is loaded (see attached subject list) and top rookies including RG3, Andrew Luck, Ryan Tannehill, Trent Richardson, Doug Martin, Brandon Weeden, Justin Blackmon, Kendall Wright and many others have all already hard signed their Chrome cards and they look great!
We have made a huge effort on this years Topps Chrome FB to focus on on-card autographs, while we have secured the majority of players and the top rookies to sign on-card, we have struggled to have all players sign in timely manner. As a result this years Topps Chrome FB in the hobby will include a higher percentage of redemptions vs. what we typically would like, the following rookies will be signing shortly but will all be redemptions in Topps Chrome Football Dwayne Allen, LaMichael James, Bernard Pierce, Russell Wilson, Mark Barron, Dre Kirkpatrick, Stephen Hill, Brian Quick, Matt Kalil [sic]
For those collectors receiving a redemption card of these subjects, we have created a special bonus pack for you that you will receive when your autograph is returned. Each redeemed autograph will be accompanied with a 4 card pack of exclusive Topps Chrome Football Blue Wave Refractor Rookie Parallels. There are 110 different rookie cards in all including 10 new subjects that are not found in the base product including Alfred Morris, Josh Gordon, Daryl Richardson, Brandon Bolden, Bobby Wagner, Vontaze Burfict, Jorvorskie Lane, Greg Zuerlein, K, Joseph Morgan, Rod Streater, Bryce Brown and Damaris Johnson, In addition, we will also randomly insert special autographed Topps Chrome rookie cards of standout Redskins running back Alfred Morris into these packs , these autos are not found in the base Topps Chrome product, late breaking deal allowed us to add to these special redemption packs!"
So there you go on what 2012 Topps Chrome Football is all about. I'm looking forward to seeing some of the more interesting autograph cards as it's opened, and we already saw a nice Russell Wilson autograph redemption ... which ironically, is win-win. The customer gets not only a good redemption, but also one of the bonus packs.
Regarding 2012 Cooperstown Baseball, it's a great product for the true baseball collector ... the person who enjoys reading about players and enjoys the history of the game. Not only are legendary players featured; but you have announcers, umpires, Hall of Fame plaques, and pictures of items that are featured in the Hall. The only drawback is that in this day and age of guaranteed hits, Cooperstown only gives you one auto. With that said, our first box opened here had a Cal Ripken Jr. on-card auto; so there is certainly good stuff to be had. If you're a baseball purist, I think you'll be pleased.
That's it for now. If I don't BLOG again before Thanksgiving, have a very happy holiday, everyone!
Hi everyone! I wanted to check in regarding a few NEW PRODUCTS, UPDATED RELEASE DATES, and make sure everyone knows about Topps' 2012 BOWMAN CHROME WRAPPER REDEMPTION PROGRAM.
First, the wrapper redemption program (which I talked about in the last BLOG, so feel free to scroll down to the previous entry for more details). For every 36 pack wrappers you send in (and you CAN combine hobby and retail this time), Topps will send you a 5 card pack of blue wave refractor parallels (with random autograph cards of hot up and comers like Jorge Soler, Billy Hamilton, Ronald Guzman and Tyler Austin). Send your wrappers (up to 5 requests in one package is fine!) to ...
Bowman Blue
PO Box 2008
Duryea, PA 18642
There is a limit of 5 per household and an overall limit of 10,000 packs ... so don't wait to send them in!
As for NEW PRODUCTS, let's start with the obvious ... 2012 BOWMAN CHROME BASEBALL. It's a good seller, has a Bryce Harper rookie, and Topps put an extra autograph in every third box. 2012 TOPPS UPDATE BASEBALL continues to sell well. We now have hobby, jumbo, retail, and blaster boxes available! 2012 PANINI CERTIFIED FOOTBALL is hot off the presses. Looks like Certified of years past (reminds me of Elite as well), and time will tell if there are hot boxes like there have been in recent years. Hockey has been slim pickings because of the lock-out. We have received 2012-13 Artifacts and Score, and Upper Deck is due in in early November right now; but I'm guessing a lot of later releases will be delayed. One racing product you might want to consider ordering sooner than later is 2012 PRESS PASS LEGENDS RACING. It's been allocated (think lower supply than normal), and is usually a popular product as is. If you (or a loved one) is a YU-GI-OH fan, think no further than our best selling YU-GI-OH LEGENDARY 3 COLLECTORS SETS. These sets have many guaranteed collector cards along with mega packs of other Yu-Gi-Oh "greatest hits".
We have several customers who have ordered and are clamoring for Panini's upcoming COOPERSTOWN BASEBALL release. It was pushed back yet again. It's currently on the calendar for November 14th.
If you're doing your early holiday shopping and looking for any gift ideas, please also consult my last BLOG to see what we offer in the way of TEAM SETS, OYO FIGURES, I-PHONE 4 and now 5 CASES available in EVERY team. We also have BLASTER BOXES (at least ten different types, mostly baseball, but available in EVERY sport) at $19.95 or less. Blaster boxes are small boxes of popular products (often containing 10 or fewer packs). You often see them at retailers like Target and Walmart, but we have an even better selection! Blasters are an ideal birthday gift or stocking stuffer, and fun to have on hand for any last minute gift giving. And worst case ... if you don't end up giving them away, you can open them up yourself!!! The 2011 Topps Lineage Baseball Blaster Box is one of our most popular, partly because it guarantees you one jersey card per box (very rare for a blaster), and partly because Lineage appeals to both young and old collectors alike with its assortment of current and legendary players. I LOVE Lineage. It's one of my favorite products. The 2012 Topps Archives Blaster is another winner for that reason ... both current and legendary players are part of the set (and even better, they're featured in card designs that they never originally appeared in ... like Babe Ruth in the 1984 Topps design!). Other baseball blasters we carry are 2012 Gypsy Queen; 2012 Topps Chrome; 2012 Bowman Platinum; 2012 Topps Series 1, 2, and the brand new Update; and a few others including 2011 Topps). For Football, we have 2012 Score at $9.95 and 2012 Topps or Bowman at $19.95. For Hockey, we have the 2012-13 Score Blaster which is only $9.95; and for Basketball, we have 2012-13 Hoops, also at $9.95. We even have a few Non-sports blasters, like 2009 Donruss Americana, Bella Sara, and the new 2012 Garbage Pail Kids. So we really do have a blaster for any person at any age. They're a great gift item to have on hand.
That's all for now. Take care, and thanks for the read!
Hi all. I have a LOT to tell, as things are getting BUSY around here! We have a bunch of NEW PRODUCTS that have arrived (think 2012 Topps Update Baseball and 2012 Topps Prime Football). Football season is underway, and with it comes increased interest in hot rookies like Robert Griffin III and Andrew Luck. Let's discuss ...
As for NEW PRODUCTS, stealing most of the thunder lately are 2012 TOPPS PRIME FOOTBALL and 2012 TOPPS UPDATE BASEBALL (see the note about Topps Update variation cards in a later paragraph). We also have 2012 PANINI PROMINENCE FOOTBALL (a very nice, one pack box similar to Panini Limited with some attractive die cut cards), 2012 PANINI MOMENTUM FOOTBALL, the new MAGIC: RETURN TO RAVNICA (both boosters and fat packs), ONE DIRECTION PHOTO CARDS, 2012-13 ARTIFACTS HOCKEY, PANINI AMERICANA HEROES & LEGENDS, 2012 SP AUTHENTIC GOLF, LEAF PETE ROSE LIVING LEGEND BLASTER BOXES (which guarantee a Pete Rose Autograph card for only $29.95 ... REALLY!), 2012 LEAF HISTORY OF BASEBALL CUT SIGNATURE EDITION BLASTER BOXES (one cut signature for $29.95!), 2012 LEAF METAL DRAFT BASEBALL (with Albert Pujols autographs this time), YU-GI-OH LEGENDARY COLLECTION SERIES 3, and TOPPS STAR WARS GALACTIC FILES.
2012 Topps Prime Football is in its third year, and it's one of our favorites. You get 4 hits per box, with two of them being autographed. The cards themselves are reminiscent of Stadium Club with their thicker card stock, high gloss coating, and attractive photography. We've already had pulled in the store a gorgeous Andrew Luck #50/50 Autographed 4 piece relic card. 2012 Topps Update Baseball is basically "Topps Series 3". The Topps Bryce Harper rookie card is in it, and Topps releases their Update set only in box form ... not as a separate set (nor is it included in the factory set). 2012 Leaf Metal Draft Baseball has some interesting redemption cards. One was pulled here on Saturday. It was a PETE ROSE "HOT BONUS REDEMPTION" CARD, which when redeemed, will give the bearer up to 5 Pete Rose autograph cards. Apparently, Leaf didn't want to have any redemptions in its product, so they decided to reward collectors who did get one. I like the idea!
For those of you doing your holiday shopping early, we have a lot of good products to make your shopping easier. Because we get to see many products opened in front of us, we know what customers tend to like and can talk to you about selecting some gifts that will be sure to please specific people on your list. If you need a gift for a fan of ONE DIRECTION, YU-GI-OH or POKEMON, look no further. We have the ideal gift for each person in that category, from photo cards of One Direction to a special new set for Yu-Gi-Oh to a new Pokemon special release. Just give us a call, and we'll give you the details. The previously mentioned PETE ROSE LIVING LEGEND BLASTER BOXES are the perfect gift for any Pete Rose fan. For $29.95, you get a guaranteed Pete Rose autographed card plus 10 packs of special Pete Rose cards that Leaf produced for this set. It's a no-brainer at that price! Also a fun gift idea from Leaf is their History of Baseball Cut Signature Edition Blaster boxes. Each is also $29.95, and contains a slabbed cut signature of a baseball great. For the price, it's a fun gift to open.
Many of our customers don't know we carry I-PHONE COVERS (specifically for the I-PHONE 4) in pretty much every MLB, NFL, NHL, some COLLEGE, and some MLS teams. They're $19.95. We also carry OYO's ... those Lego compatible little baseball figures that are being sought after by all ages, not just kids. Right now, OYO's are MLB only (and we have most players); but they're coming in soon for NFL! Each is $9.95. Another popular item that most of our customers don't know we carry is current year PACKAGED TEAM SETS. We stock EVERY TEAM in 2012 TOPPS BASEBALL, 2012 SCORE FOOTBALL, 2012-13 HOOPS BASKETBALL, 2012-13 SCORE HOCKEY, 2012-13 OPC HOCKEY, and 2012 UPPER DECK MAJOR LEAGUE SOCCER. Team sets are all $6 each, and are a great stocking stuffer. Since we have every team, you can get a little something for your kids or grandkids living in different states whose favorite teams you can't find locally. You can add one of these sets to any order at no additional shipping, so please let us know what teams you might like. As always, 2012 TOPPS FOOTBALL and BASEBALL FACTORY SETS are our biggest sellers for the holidays. Both are in stock.
2012 Bowman Chrome Baseball is due in next week, and there IS a wrapper redemption program. It looks good too! The BLUE WAVE refractor parallels (a 110 card set) are back. We saw their introduction with the 2012 Bowman wrapper redemption program, and the cards are very attractive. (I think they're nicer than the redemption pack cards given out for 2012 Topps Series 1 and 2 Baseball.) They look like parallels of Bowman Chrome cards, so the Bryce Harper Blue Wave card (part of the 2012 Bowman Wrapper redemption program) was a nice hit. These Bowman Chrome wrapper redemption packs will also have random autograph cards of hot up and comers like Jorge Soler, Billy Hamilton, Ronald Guzman and Tyler Austin. Only 10,000 packs will be sent out (every 36 wrappers gets you one pack, and you CAN mix hobby and retail pack wrappers), but with a limit of 5 packs per household, I'm hopeful that there will be enough packs to satisfy initial demand. The Bowman wrapper redemption packs went WAY to quickly, but I don't believe there was a limit per address. I think that's going to help. Customers who sent in for their Topps Series 2 wrapper redemption packs considerably after the release date received them (much to my surprise), but I don't know how much of that was because many collectors who were denied previously for Series 1 redemption packs didn't take part in the Series 2 promotion. Topps is going to be providing (via Twitter) an update as to how many packs have been claimed (as they receive requests), so stay tuned for that.
Another item of note is the variation cards in 2012 Topps Update. After we JUST learned an easy way to tell whether you do indeed have a variation card (the code on the back of the card will NOT end in 01), Topps didn't follow suit with their Update variations, so that little tip doesn't work. Drat! Some variation cards are easier to identify than others, like players featured in suits instead of jerseys, but I don't know why Topps doesn't use a more identifiable method to find these short prints. We love to consult www.sportscardradio.com and print out their checklists and set info. You will find all of the variations listed on that site.
That's it for now. Thanks for the read, and if you are on Facebook, please LIKE us on there!
Hi everyone! It amazes me sometimes the amount of time I let pass between BLOGS. You'd think nothing has happened around here or in the hobby, and yet, that couldn't be further from the truth.
I'll start out this BLOG with a tip I just learned that I'm excited to share. Someone was opening 2012 Topps Football on Saturday and pulled a Tim Tebow card (cool to see him in his new uniform), and I recognized that it was different from another Tebow I had seen pulled previously. So it must have been a short print/variant. So I checked Sports Card Radio, one of my favorite sites for checklists, and printed out the 20 pages of short print pics they have already posted. My initial reaction was that while I like short prints for the extra value they add, I do not like that there are so many of them in 2012 Topps Football (considerably more than in 2012 Topps 1 or 2 Baseball) and most are simply different poses of the player, hence VERY difficult to determine if you have a short print. In a previous year, Brett Favre was riding a tractor. now THAT is a short print I can get behind because it's different and easy to spot.
Well, an in-the-know customer has informed me that there is an easy way to tell if you have a short print. Look at the Code # on the back of the card (next to the Topps website address). A "normal" card ends in 01. A short print/ variant does not. I tested it with a 2012 Topps Baseball Series 2 short print I have here. It works! Now while it may not be fun to check each and every card (and the code number IS in a small font for us old people!), at least it's a very easy double check for any card you suspect might be a short print. So thank you, Jason Kenny, for bringing this to my attention. It is such valuable info. I'd like to know if this holds true for all Topps sets that have variants ... from Heritage to Pro Debut to Gypsy Queen. If anyone has any of the short prints and can let me know, I'd really appreciate it!
Okay, onto NEW PRODUCTS. Last week saw the arrival of two big products ... 2012 Finest Baseball and the aforementioned 2012 Topps Football. I've seen a bunch of each opened at this point, and here are some reviews. Topps Football is been better than I expected (and I didn't have low expectations). You're promised 2 autographs and a rookie patch card per jumbo box, and I'm quite pleased that the boxes that have had jersey cards or "Field Generals" (a thick card with a medal embedded in it) have had 4 hits. This is an improvement over the Baseball, where the manufactured ring or pin card counts as a "hit" (one of my pet peeves). And as previously discussed, there should be plenty of short prints or variants to go around. Note that the rookie patch card features a player worn patch piece (it's not a manufactured patch). Good job, Topps!
Finest Baseball is a gorgeous card design, and I love the die cut inserts. Apparently, there are some Rookie redemption cards as well, but they are HARD! I haven't seen one yet, and we've opened a few cases. My biggest criticism of the product (and it's a key one) is that the autos themselves just haven't been very good. Not many have been well known players or of major value. I'm hoping I see some better boxes around the corner, and I do really love the card design, so it's a beautiful set to put together. But some better hits are needed to justify the box price.
So there you go on those two new arrivals.
Other NEW PRODUCTS just in or expected later this week include 2012 UPPER DECK GOODWIN CHAMPIONS (a popular multi-sport product with its well-liked entomology inserts), Rittenhouse Falling Skies premium packs, Cryptozoic Tarzan, Tri Star TNA Tenacious, 2012-13 OPC Hockey (the first one for this year), 2011 Exquisite Football, and Pokemon B&W Dragons Exalted. I'm especially looking forward to seeing some Goodwin Champions boxes opened. We had some great autographs pulled from that product last year.
Good sellers of late include 2012 Bowman Platinum Baseball and 2012 Allen & Ginter Baseball, as well as In the Game's Broad Street Boys Hockey product (a must have for any Flyers fan). For high end card openers, you might check out 2012 Leaf Best of Baseball, 2012 Leaf Pop Century, and 2012 Leaf Sports Icons. They're all high end autograph packs, and like Triple Threads, not for everyone ... but it's fun to watch someone open them; let me tell you. We have a customer who has opened a couple of cases of Pop Century in front of us, and wow, is this product nice. Not only has he pulled several 1/1 autographed printing plates per case; but his autographs have included everyone from Priscilla Presley, Harrison Ford, Britney Spears, Donald Trump, Charlie Sheen, and all of the kids from the movie "Sound of Music" to Ichiro! His Sports Icons opening has yielded him the likes of Mario Lemieux, Mary Lou Retton, Stan Musial, and Hank Aaron. And The Best of Baseball has yielded multiple customers Steven Strasburg and Ichiro autographs, a Mike Trout autograph, a Babe Ruth bat card, and one lucky customer a Hank Aaron autograph on his rookie card. It's been fun to watch.
That's it for now! I'll BLOG again soon (or at least, sooner than last time!). Take care, everyone!
Hi everyone!
If any of you were quick enough to send in your wrappers to Topps for their Bowman Baseball wrapper redemption program, the redemption packs are currently shipping. One customer got his almost a week ago, and one got his on Thursday; so there's still hope if they haven't hit your mailbox yet!
Speaking of Baseball, it's selling pretty well right now. Topps has done a good job with their latest product releases, from Museum Collection to Bowman to now Archives ... and soon, Topps Series 2. Interest in Bryce Harper and Yu Darvish has helped product sales, as have their short printed autographs and even base cards. I've been enjoying watching Archives opened this past week. If you like retro cards at all, you'll probably love it. Back in the early 2000's, Topps came out with a few Archives products (including "Best Years" and "Fan Favorites"), which were well received. They featured reprints of popular players from various older years of Topps ... like Mickey Mantle's rookie card, Clemente's '55 and '73 (first and last year) Topps cards, etc. THIS Archives set is different because, like the Heritage product, it features today's players in various assorted Topps styles, PLUS legendary players in newer styles (a 1984 Babe Ruth for example), PLUS straight reprints like those sets from the early 2000's. 2012 Archives also has a bunch of cool inserts, like an autographed Cal Ripken Jr. hand print card. Each box has two hard signed autos as well, so it's worth checking out.
The highly anticipated 2012 Topps Series 2 is coming in on June 6th. Our customers ask about this product more than just about any other. There WILL be a wrapper redemption program, like last time, as well.
I noticed something interesting on E-bay the other day, and after talking to a few people; I realized that this is news to a lot of other people as well. First, did you know that you can search on closed auctions on E-bay? That's part and parcel to this story, so we have to establish that first. After you search for something, on the left side of the screen, there is an option to "Show Only" certain things, where you can choose "Completed Listings". Items that successfully sold appear in green, and otherwise, amounts appear in red. What I did not know is that if the auction was set up as a "Buy-It-Now or Best Offer" and a Best Offer was accepted, that amount of money (the offer accepted) will NOT show up on the main screen (only when you click the item), so it can be very misleading to determine what a card sold for since so many cards are sold as Buy-It-Nows. For example, you might see three different green values for $1150, $1050, and $950; and mistakenly think the card is worth roughly $1050 (the average of those three amounts), but when you click on the items, you actually see that each card sold for $800, $750, and $700. Maybe only one card sold at regular auction style, starting at $.99; and if that item ended up selling for roughly $1000 ... it will just further reinforce your thinking that the card is worth about $1050, yet it's really worth about $750. Be careful, and aware that at least for now, this is how E-bay works.
Before I go, let me give you a quick update on NEW PRODUCTS. BASEBALL-wise, I've covered my bases (pun intended) ... 2012 Bowman and 2012 Archives are the latest releases along with 2011 Panini Limited. In FOOTBALL, a few more 2012 rookie products have arrived. After Sage Autographed and Press Pass FanFare, we received Leaf Valiant and Press Pass Showcase. Upper Deck also released its 2011 Upper Deck NCAA Football. Lots of products have been hitting for HOCKEY, and many have been quite popular. Panini Playoff Contenders arrived this week, and ITG Between the Pipes was right before it. Elite, SPx, SP Game Used, and Certified all also arrived recently. In BASKETBALL, we finally have a new product with rookies (sort of). The new Panini Past & Present release has redemptions one per box of this year's and next year's rookies. That about covers it!
Thanks for the read. Have a wonderful, relaxing Memorial Day weekend everyone!
Hi everyone!
The BIG NEWS is 2012 Bowman Baseball! It has been released, and it is selling VERY well! Topps has been actively promoting the merits of this year's Bowman release, and seems to have successfully packed it full of content. Of major interest is Bryce Harper's first official rookie card (as well as Yu Darvish's and Yoenis Cespedes's), and various autographs of all three players. There is a new Bowman Black auto (silver Sharpie on black card stock ... very attractive), the first autograph cards of AFLAC All Americans, "Lucky Redemption cards" for autographed rookies [100 each of 3 different subjects ... #1 Cespedes, #2 Harper, and #3 TBD], "Bowman Debut Golden Contracts" ... a Willie Wonka Golden Ticket-type find ... 10 contracts inserted in hobby boxes, each redeemable for an auto Yu Darvish baseball, with one person winning a special bonus..his or her own baseball card in 2013 Bowman (and $500 "signing bonus"), and many other inserts and features, especially the first cards of many young players!!! Bowman will not disappoint this year.
We've gotten a ton of NEW PRODUCTS in since my last BLOG. My favorite has been 2012 Topps Museum Collection Baseball, but it's also very expensive (and increased each week for several weeks), so not very affordable for most of our customers. We have seen some nice pulls from it, including a beautiful Cal Ripken Jr. Museum Collection autograph card # 'ed to 15. Another nice new product is 2012 Gypsy Queen Baseball, available in both hobby and retail boxes. The hobby has 2 on-card autographs AND two jersey cards per box. Much like with Heritage Baseball, there are Short prints inserted (roughly 1 in 6 packs), the rarest of which is Yu Darvish (he's rarer than the 1 in 6). We are not hearing the same problem with this year's Gypsy Queen that Topps had with last year's product, which did not have the promised autos or relic cards. This year's product has been well received.
HOCKEY has had a few nice new releases, including 2011-12 Elite, SP Game Used, and SPx. Like the Black Diamond, SPx has a bonus Ice pack on top of its packs. SPx is attractive, and sports a different card design than last year. Card ARE vertical as well.
FOOTBALL-wise, several more 2012 draft pick products have been released. First out were 2012 Sage Hit Low and High, 2012 Press Pass (Press Pass has an exclusive contract with Andrew Luck, so his cards and autos are only available in their products), and 2012 Leaf Metal Draft. Most recently, 2012 Press Pass FanFare, 2012 Upper Deck NCAA, and 2012 Sage Autographed have been added to the mix. The first mainstream product featuring a full roster (not just draft picks) in a fully licensed NFL product will be Panini's Prestige, due out June 20th, followed by Topps, due August 8th.
Other NEW PRODUCTS include 2012 Ignite Racing (we've seen a Dale Earnhardt Sr. laundry tag), Cryptozoic Big Bang Theory (I love it ... auto and costume card in every box!), NECA Hunger Games, Upper Deck Marvel Avengers, 2012 Topps Olympics, Magic: The Gathering Avacyn Restored, and Yu-Gi-Oh Galactic Overlord.
Now is a good time to remind you of the two sites that we and many of our customers frequent for set information, especially for which cards are short printed. They are www.sportscardradio.com and www.baseballcardpedia.com. Both are incredibly helpful to use before sets are listed in Beckett.
We don't tend to advertise these on-line or in our ads, but know that we stock every 2012 Topps Baseball team set at only $6, so if you want your team or others added to an order, please don't hesitate to ask.
Please Like us on Facebook for weekly updates, and Happy Mother's Day to all of the moms (especially ours!!!!).
It's sad that it's been over a month since I last blogged yet I STILL don't feel like there's that much to say. It's been so quiet lately. The market is like that. There will be no new products (or at least nothing spectacular) for a month, and then five amazing products all in the same week! Our last HUGE product was 2012 Topps Baseball Series 1. Oh, on that topic, Topps has posted on their website that there WILL be a wrapper redemption program for series 2 Topps (releasing in early June). In fact, they have run out of the Series 1 Gold Rush cards and anyone who hasn't received theirs yet will most likely be receiving Series 2. Here's a link with more info ... http://www.topps.com/news/gold-rush-wrapper-redemption-update.
So of course my last paragraph begs the question ... what will be the next BIG product? Well, for the high rollers out there, maybe 2011 National Treasures Football, which arrives this week. It's been highly anticipated and looks good. Football is odd right now because we have high end 2011 products still arriving, but NEW 2012 products coming in as well. So far, and in order, 2012 Leaf Metal Draft, 2012 Sage Hit Low, and 2012 Press Pass Football have all arrived. Press Pass has an exclusive with Andrew Luck (only for draft pick cards), so if you're chasing his auto specifically; choose Press Pass. 2011 Panini Totally Certified Football and 2011 Panini Prime Signatures Football are the most recent arrivals for 2011 fans still wanting Cam Newton and the rest of the 2011 rookie class.
2012 Sage Hit High Series Football, 2011 Panini Playbook Football, and 2012 Topps Museum Collection Baseball (replacing Marquee Baseball for this year) are all also coming in this week.
Basketball-wise, we've received two new products for 2011-12 ... Hoops and Panini Preferred. While we've had a couple of nice pulls from Preferred (a Derrick Rose auto /10 this past Saturday), we're surprised that new rookies weren't included in either product. That seems like an odd move by Panini.
2012 BASEBALL released so far includes 2012 Topps Series 1, Opening Day, Tribute, and Heritage.
Hockey-wise, 2011-12 Upper Deck Series 2 Hockey, 2011-12 ITG Heroes & Prospects, and 2011-12 ITG Enforcers are the newest arrivals.
On the Non-Sports front, the most popular seller has been Cryptozoic's Big Bang Theory ... but its price keeps climbing. It's seasons 1 and 2, so no Mayim Bialik autographs (my favorite character!) ... but the main 5 characters are represented. There's a relatively inexpensive box for Hunger Games, but no autographs in that one.
Leaf (the company formerly known as Razor) has been making some interesting products lately. Our customers have been loving 2011 Leaf Ink Baseball and 2011 Leaf Legends of Sports. We had an Ichiro/Pete Rose dual auto printing plate 1/1 pulled from Legends of Sports by Joe M last month, and this was after Don R pulled an Ichiro auto /10 from the same product !!! Leaf has been featuring Ichiro autographs in its products lately, and it's been a great selling point for Leaf's various minor league baseball products, like Valiant and Leaf Metal Draft.
Thanks for reading, everyone! And if you're on Facebook, Like us on there for weekly updates!
Hi everyone!
2012 TOPPS BASEBALL continues to be our big seller, and for those who don't know, the website to enter code cards IS up and running. Our store continues to have some crazy luck. After the 3 awesome cards I blogged about last time, we've had another two HOT PULLS. Remember that 1/1 solid gold Clemente card that was pulled? Well the 1/1 Cal Ripken Jr. was pulled on Saturday by another customer! It really is an embarrassment of riches for our store. Then on Monday, we saw our first coin card (it looks like the rings and pin cards ... but the coin is huge and metal from front to back) ... a Joe DiMaggio #3/5 !!!! I looked it up (not even realizing these coin inserts existed), and the #2/5 sold for $375. Not too shabby, and there was a short print mascot cards in the same box.
There is some confusion regarding the Home Run Legends (this year's Prime 9 cards) as to which players are available for which weeks. I'll tell you what we know for sure based on the six we've received so far. This is definite ... # 1 is Hank Aaron, #2 is Babe Ruth, #3 is Willie Mays, #4 is Reggie Jackson, and #6 is Mickey Mantle (note that Mantle is #6, not #5). I'm not sure why Topps sent those 5 or why they're not in order on the poster or why it's often written about on-line that Willie Mays is #1. But this information is definitely accurate. I'm looking at the cards as we speak.
Here's another reminder to make sure you send in your 2012 Topps Baseball pack wrappers for the wrapper redemption program give-away. 50 hobby wrappers or 14 jumbo ones will get you a special 5 card Limited Edition Gold Rush pack from Topps, but you have to send your wrappers in by February 29th.
On the NEW PRODUCT front, 2011-12 Crown Royale Hockey has arrived, as did Star Wars Galaxy 7. 2012 Contenders Football came in Friday, as did 2012 Leaf Legends of Sports. Big Bang Theory (which I'm excited about ... Bazinga!) and 2012 Press Pass Total Memorabilia Racing were delayed a few weeks.
I posted this on Facebook, but it's been crazy what has happened with Jeremy Lin of the New York Knicks. He's been almost single-handedly responsible for this phenomenal Knicks game winning streak, and his rookie card prices are out of this world. One of our customers had his rookie card from the very expensive, very premium 10-11 Elite Black Basketball. It was worth $30 a few weeks ago, and he JUST sold it for $800! Yowza! So if you have any 10-11 basketball rookies laying around, you may want to look through them and potentially sell Lin now. LINsanity won't necessarily last long!
R.I.P. Gary Carter, who passed away Thursday from brain cancer. He'll be missed by many.
Thanks for reading!
Hi everyone! I blogged about the new 2012 TOPPS BASEBALL last time, and it's the subject once again. It's selling very well, and our three latest HOT PULLS are all from that product. It's weird for me to say that we have hot pulls from basic Topps, but we've had some lucky customers. Our first pull was a Roger Maris gold-infused card #'ed to 5 (it's a redemption) worth roughly $500. That was pulled from a jumbo box. Then, just to top that pull, another customer pulled a 1/1 Roberto Clemente SOLID GOLD "Golden Great" redemption. It's hard to tell what this card would fetch on E-bay, and our customer is going to keep it; but two other players are on E-bay with sellers asking $13,500 and $17,500. Yowza!
THEN, just to be sure he had the BEST 3 jumbo boxes EVER, that same customer also pulled the same gold infused card /5 that the Maris guy did, but of Derek Jeter! Yowza again! This is a lot of good fortune. For more information about this year's Topps Baseball, check out my last BLOG where I discussed the wrapper redemption program and see this comprehensive checklist on Sports Card Radio's website ... http://www.sportscardradio.com/index.php/product-previews-a-reviews/1044-2012-topps-series-1-baseball-checklist. Many of the variant cards (Albert Pujols and Jose Reyes in new uniforms, the now infamous squirrel card, Gatorade dumps, fights with mascots, etc.) are featured. It's definitely worth a look. We have every type of box in stock ... hobby, jumbo, retail, and blaster.
Recent NEW PRODUCTS include 2011 NCAA SP Football (it arrived today!), 2011 Topps Precision Football, 2011 Plates & Patches Football, 2012 Historic Autographs Legends of the Hall, 2011 Leaf Ink Baseball, Muhammad Ali Metal, 2012 Leaf Metal Poker, Press Pass Essential Elvis, TNA Impact Reflexxions, Ace Match Point 2 Tennis, Cryptozoic Walking Dead, Pokemon Black & White Next Destinies, and Magic: The Gathering Dark Ascension. I personally am anxiously awaiting Cryptozoic's Big Bang Theory release next week! A few products that were expected were pushed back a bit; like 2011-12 Crown Royale Hockey, 2011-12 SPx Hockey, and 2012 Press Pass Total Memorabilia Racing.
More later. Thanks for the read, and if you're on Facebook ... please Like us for weekly updates!
Hi everyone. LOTS of news. First, I've mentioned this website before, but now I have another reason to mention it ... www.sportscardradio.com. It's a great resource for your collecting/checklist needs. I knew it was a great site for products once they're released because it's like a Wikipedia site where collectors can compile information and then add to it as more info surfaces. I did not know that it had so much information (like checklists for many upcoming card sets) before the sets' release date. 2012 Topps Baseball is already on there, and a customer was telling me about all of these upcoming card sets that a certain Phillie is in, and I had no idea all of this information was out there. He simply typed the player's name into the Search field. This is really a great site that is worth checking out.
Speaking of 2012 Topps Baseball ... it is coming in February, and so is the Gold Rush! That's Topps' new theme for this year's baseball product (like the Diamond Anniversary theme last year). There is a pack wrapper redemption program, so save your wrappers. 50 hobby wrappers or 14 jumbo ones will get you a special 5 card "Gold Rush" pack (with random autographs) from Topps. There are 50 cards in the set, and autographs include Sandy Koufax, Hank Aaron, Willie Mays, and Albert Pujols. You can absolutely send multiple wrapper bundles in the same package (in fact, Topps encourages you to), but note that the wrapper redemption program expiration date is February 29th (postmark date); so you've got to act fast. I'll list the address here, in case you want to refer back to it (or make a quick note). Send wrappers to ... Gold Rush P.O. Box 2008 Duryea, PA 18642.
On a somewhat related subject, VERY important note for Topps Baseball collectors. For those of you who are still redeeming your Diamond Giveaway code cards from 2011 Topps Baseball, please note the expiration date for these redemptions is at the end of THIS month ... January 31st! There is a note on the site that redemptions from 2011 Topps Series 2 will be extended to June, but Series 1 and Update redemptions expire as printed 1-31-2012 on card. I know from talking to some collectors that they thought the Update redemptions were the ones extended (which seems logical, given that it is the most recent set) ... but that is not the case. The same is true for the 2011 Topps Football Super Bowl Legends Giveaway code cards. They also expire at the end of January.
NEW PRODUCTS that have arrived lately include 2011-12 Panini Limited Hockey and 2011 Panini Limited Football. Each one pack box has 3 hits. 2011 Supreme Football is another one pack box that just arrived. That rounds out the new Football releases. Other new Hockey products include 2011-12 Pinnacle, Parkhurst Champions, Black Diamond, and the brand new In the Game Enforcers (a one pack box with 5 autos and 2 game used). There is no new Basketball for 11-12 yet (besides the 11-12 SP NCAA), but Panini will be releasing Panini Preferred at the end of February. 2011 Panini Elite Extra Edition Baseball (6 autos per box) is here, and the new Yu-Gi-Oh Order of Chaos came in today. That wraps up the new stuff.
That's all for now. Thanks for reading, and as always, if you're on Facebook, please Like us on there!
Hi everyone! So the holidays and New Year's have come and gone; the Winter Classic has left Philly; basketball has started; the Football play-offs are going on; and we're anxiously anticipating 2012 Topps Baseball. There's a little wrap up for you!!!
My New Year's resolution is to write these BLOGS more often.
It's been BUSY, BUSY, BUSY both here and in the hobby; and we're excited to start getting new basketball releases with this year's rookies. The only item released so far for 2011-12 is Upper Deck's SP NCAA product (all players in college uniforms), and Panini should be announcing its first releases for the year soon.
It was an exciting weekend in football, with an awesome performance by Tim Tebow and the Broncos. Quickest OT ever. Congrats to all Texan, Broncos, Saints, and Giants fans; and my condolences to all Bengals, Steelers, Lions, and Falcons fans. This is Eagles country, so believe me, I know the feeling of a season not going as you want it to! I hope next weekend brings some more of the same excitement.
The Winter Classic was an exciting event for Philly. Steve went to the game and loved every minute of it (well, maybe except for the loss). The alumni game was my favorite. We had that on tv here and found it very enjoyable ... especially Parent's performance. By the way, am I the only one who thinks it's funny that both Jagr and Lindros have the same rookie year; yet one is on our current team and one is on our alumni team?
As for recent NEW PRODUCTS, the only new item we received last week was 2011-12 Black Diamond Hockey. The one per box bonus Ice pack is back. I wish Upper Deck would make that as a stand alone product again, but if you're lucky enough to get a rookie card numbered to 99 in your bonus pack ... you're in pretty good shape! The highly anticipated and always popular 2012 Topps Baseball will be here in February (did you hear there is a Gold Rush a comin'? More on that in the next paragraph!). 2011 Panini Elite Extra Edition Baseball is due in this week (after a few delays). Recent arrivals include 2011 Bowman Sterling Baseball and Football, Historic Autographs Decades 1950's and 1960's, 2011 WWE Classic (sharp cards!), and Ace Match Point Series 2 Tennis. 2011 Football releases continue to sell very well, with customers looking for Cam Newton rookies. But now 2010 boxes are back in demand because of Tebow, and 2005 Football is in demand because of Aaron Rodgers. No worries ... we have them all. And if you've been waiting for Panini Limited Hockey or Football, please continue to be patient. Both were pushed back until later this month.
Regarding the Gold Rush I mentioned, that's Topps' Series 1 Baseball promotion. There is literally gold in dem der cards being released in February. A few details about the gold theme have been shared thus far, including that 10 lucky collectors will receive a Gold Rush ticket (as a box topper) which will unlock a 24K gold infused baseball autographed by Ken Griffey Jr., Willie Mays, and Hank Aaron. Not too shabby. Much like last year's Diamond Anniversary theme which featured cards with actual diamond chips on them (and diamond shaped die cut cards you could unlock on the www.diamondtopps.com website), this year's Gold theme will produce similar hits. More details to come ...
I hope you all enjoyed a fun, safe holiday season. Thank you for your business and friendship last year, and if you're on Facebook, PLEASE Like us for weekly updates.
As usual, I can't believe how much has happened or how much time has passed since my last BLOG. This summer is flying by, and now the back to school ads and sales actually look right. That's sad because that's how I know summer is coming to an end more quickly than I'd like to admit.
We're all very happy that football is a go for this season. That's pretty major for us, card-wise ... so we were a bit nervous.
BASEBALL is in full swing, both Phillies-wise and card-wise. We're loving the addition of Hunter Pence and Vance Worley. They've re-energized our already great team, and I'm excited for the Phils.
Product-wise ... we've gotten a lot in lately. After a draught in Baseball for about a month after 2011 Bowman and Gypsy Queen came in, new products are now streaming in again. 2011 Upper Deck Goodwin Champions (categorized as baseball, but more of a multi-sport product), 2011 Topps Allen & Ginter, 2011 Bowman Platinum Baseball, 2011 Topps Lineage Baseball, 2011 Leaf Best of Baseball (a high end two card "pack"), 2011 ITG Heroes & Prospects Series 2 (another box = pack product), and 2011 Historic Autograph "Ball of Fame" (an actual autographed baseball ) have all arrived. Upcoming releases that customers are talking about and are highly anticipating include, in release date order ... 2011 Topps Marquee (August 25th), 2011 Topps Chrome (September 7th), 2011 Triple Threads (arriving September 14th, after being pushed back by Topps), and 2011 Bowman Chrome (October 19th).
Of the new BASEBALL, we're selling 2011 Allen & Ginter and Bowman Platinum the best. Allen & Ginter because it has an established customer base; has a nice card design; and interesting non-baseball related card subjects that collectors have come to expect. Bowman Platinum is in its second year, and customers love it for the up and comers. It's an attractive, relatively thick card with a foil finish; and we've had two Bryce Harper autograph cards pulled so far. Goodwin Champions looks like an old Goudey product but reminds me a lot of Allen & Ginter because of its non-baseball subject matter. I've seen a Sidney Crosby auto and John Elway jersey card, so there's definitely a mixture there. One of the more popular inserts is the entomology redemption cards ... redeemable for an actual bug (dead, mounted in a card)! I know it might sound strange, but these cards are cool.
2011 Leaf Best of Baseball is a one pack product with two slabbed cards in it. One is a cut signature of 17 possible players, produced by Leaf. The other is either an autographed rookie card (not necessarily Leaf ... and not usually ... so think Derek Jeter, Albert Pujols, etc.) or a vintage card of a legendary player. The only one we've seen opened so far was fairly exceptional. The cut signature was Sandy Koufax, and the autographed rookie card was Cal Ripken (congrats to our customer David Z). So I'm guessing that isn't necessarily typical! Topps Lineage is a fairly basic card design but has today's players in past Topps designs inserted often. It also has legendary players as part of the regular set (just saw a Honus Wagner pulled), which I like a lot.
FOOTBALL is heating up ... especially since the announcement that they're playing! We just received basic 2011 Topps (always a good seller) and Panini's Rookies & Stars Football. I like them both. Rookies & Stars has 4 hits as usual; and this year's Topps Jumbo is a bit better in that its 3 hits are two autos and a rookie patch (real, not manufactured). Prior to those two ... Donruss Elite, Prestige, and Score were released. All are good, and similar to last year's products. While it's nice to buy something new, there's a lot to be said about consistency and knowing what to expect from a given product. That can be said about all of the football releases listed here.
Please note that Topps Football has a redemption give-away program like it did last year (and similar to the Diamond Redemption baseball program), with redemption cards found in every 6 hobby packs. The site is www.toppslegends.com, but the site is not up and running just yet. It took about a month for the baseball one to be operational after Series 1 Baseball was released, so I'd give it a few more weeks. We will announce it on our Facebook page as soon as we hear anything.
In other NEW PRODUCTS, 2010-11 Victory Hockey was the first 2010-11 HOCKEY release. 2010-11 National Treasures Basketball, TNA Signature Impact Wrestling, Ringside Boxing Round 2, and 2011 Leaf Cut Signature Edition all arrived as well. On the NON-SPORTS front ... Captain America, Thor, James Bond:Mission Logs, and Michael Jackson have all been solid sellers.
So that's it for now. We'll talk again soon.
Hi everyone. Wow! Someone has not written a BLOG in quite some time. Bad me!
I do find it ironic though that the last time I wrote was with the arrival of 2011 Topps Series 1 Baseball, and now we just received the Series 2. Let's talk about that first. 2011 Topps Series 2 Baseball is being very well received. We have every type of packaging ... jumbo, hobby, retail, and blaster boxes; and it's presently one of our best sellers. Special limited edition sparkle cards (including 3 "double sparkle" cards) and the diamond redemption program are back. I mentioned the website www.baseballcardpedia.com in my last BLOG, and collectors are finding that site to be very helpful with Topps Series 2 as well. 60 new sparkle cards have been identified, in addition to 3 very special double sparkle cards of Tim Lincecum, Jason Heyward, and Evan Longoria; which feature two separate sparkles (shiny diamond starburst type design) on each player's card. One interesting note, however, is at there is a Domonic Brown Phillies card that looks like it must be a Sparkle card because of the sparkle on his helmet. Well, in fact, it is not; and if you have the Domonic Brown card from topps Series 2, take a look at it because it gives you a good idea of what a sparkle card really does look like if you've never seen one in person. Unfortunately, it's just a shiny reflection of light off of his helmet, and every Domonic Brown appears that way. I'm sure it's a disappointment to many collectors who thought they FINALLY had a sparkle card in their possession, and of a Phil, no less. There ARE, however, sparkle cards of Ryan Howard and Cole Hamels in Series 2 for our Philly fans.
As for the Diamond Redemption program, yes, it is back with Series 2; and we expect it to be continued with the Update series later this summer. A few miscellaneous facts for those collectors in search of 45 virtual rings to redeem for the free 2011 factory set and also for those in search of all 60 to redeem for the real "Diamond" ring. First, the 45 rings ... VERY do-able, provided you have entered at least 45 redemption cards. There is a lot of trading available, and I'm not aware of any ring being harder than any other, except one ... the Mickey Mantle ring, which brings me to the topic of the 60 rings. We have a customer who has entered 250 redemption code cards, and he still doesn't have the elusive Mickey Mantle virtual ring. We have also heard of another collector who has entered over 500, and he too did not get a Mantle ... so just know that the Mantle ring is tough. Who knows how many Topps is making available to collectors? So please be aware of those odds if you are in search of the 60 to redeem for the real ring.
Other Diamond Redemption program facts ... it seems that more of the diamond die cut cards are being made available to collectors unlocking their codes now, versus when the program first went live. Our customer who entered 250 codes only revealed 3 of the diamond die cuts prior to two weeks ago, but his last 12 codes entered yielded him 2 more! We've seen the actual cards you get ... they're nice. Even though you can't tell from looking at them on the computer screen, they ARE actually die cut (it's not a white border at top) and they're thicker than normal ... as thick as a typical jersey card. They also have a peel away film on the surface, so if the card looks strange to you inside of the top loader, that might be why. As for instant win prizes, we know of two customers who have dug up (in the virtual dig) a free 2011 factory set (this is in addition to the set they'll get with their 45 virtual rings). One collector we know dug up three packs of cards from different years..like one from the 60's, 70's, and 80's. That was a cool prize. If you know of other prizes, I'd love to hear them.
Baseball fans have also been eating up 2011 Bowman Baseball ... for which we have jumbo, hobby, and retail boxes.We have had a few Bryce Harper autos pulled so far. Other 2011 TOPPS BASEBALL PRODUCTS (besides Bowman, and of course, Topps Series 2) have been Opening Day, Heritage, Topps Attax, Gypsy Queen, and Pro Debut. We are highly anticipating both Triple Threads and Bowman Platinum releases. Other non-Topps Baseball products for 2011 have been Upper Deck's SP Legendary Cuts Baseball (one cut per pack, and pack = box), Tri Star Pursuit, Historic Autographs Legends of the Hall (a slabbed, oversized card with cut signature of legendary player), and Historic Autographs In Memory of Update (3 autos per pack, pack = box). 2011 FOOTBALL releases have been ... Sage Hit Low and High, Press Pass Draft and Legends, Sage Autograph, Tri Star Signa Cuts Football (one cut auto per box), Leaf US Army, Leaf Metal Draft, and Leaf Ultimate Draft (the last three Leaf products are all pack = box releases with multiple hits per pack), Panini Prestige, and Topps Rising Rookies. The most recent 2010-11 BASKETBALL release was SP. It's pricey this year, but with a reason. Every 6 box case guarantees you a certain special autograph. 50% of the time it's a Michael Jordan or LeBron James (one of our customers pulled a Michael Jordan autographed floor card numbered to 5), and 50% of the time it's a chance of a few different players, including those two, but also Demarcus Cousins (one of our customers also got him ... so that wasn't a great pull!). HOCKEY-WISE, we just received In the Game Decade 1980's (not a box of packs ... a pack of autograph and jersey inserts). Contenders came in recently, and we're selling ITG Between the Pipes and Upper Deck's SPx well. NON-SPORTS releases have included Leaf Pop Century (which features 8 celebrity autographs), Marvel Beginnings, Lost premium pack (including one auto and two relics), James Bond Mission Logs, WWE Dog Tags (with a one per box jersey relic dog tag ... NEW for this year), UFC Title Shot (a VERY good seller with 2 autos and 2 relics per box), and Thor (with popular sketch cards). We have also started carrying many different Panini sticker boxes. We have the NEW Cars, Disney Princesses, Justin Bieber, Harry Potter Deathly Hallows, Tangled, and Toy Story 3 (among others). Gaming arrivals have been Magic: The Gathering New Phyrexia, Pokemon Black & White, and Yu-Gi-Oh Duelist Pack Crow and Extreme Victory.
There's a lot more I could say, but I want to make sure I get this BLOG posted today since it's been too long. I say it all the time, but if you haven't checked us out on Facebook, please do so. I post weekly updates about NEW PRODUCTS that have arrived and occasionally list some HOT PULLS and other misc. Hobby information. I would love to hear from you on there and start some conversations amongst collectors. Take care. Happy Father's Day to our wonderful webmaster (our Dad!) and to all of you Dads out there. Be safe.
Hi everyone.
The hobby's been healthy lately, both with the arrival of 2011 Topps Baseball ... which is proving to be very popular with customers once again this year; and a bunch of other products that are on the rise, including 2010 Playoff Contenders Football and 2010-11 Upper Deck Series 2 Hockey. 09-10 Basketball has been HOT HOT HOT because of Blake Griffin. Basketball collectors are clamoring for his autographed rookies cards. And 2011 Topps Heritage Baseball has been a very popular pre-sale, so it's nice to see that response.
As for NEW PRODUCTS, there have been several popular ones, including the three just mentioned. Also having arrived are 2010 Topps Tribute Football, 2010 Panini Plates & Patches Football, 2010-11 SPx Hockey, and UFC Knockout. Plates & Patches Football is pretty risky if you ask me (it's one of those high end one pack products with multiple hits per pack), but our customer who pulled the 1/1 Michael Vick autographed printing plate was happy. UFC Knockout has been surprisingly popular, and we've had a lot of short printed, high value autographs of the likes of Chuck Liddell and Randy Couture pulled (one double auto fetched over $400!).
I have really been enjoying seeing 2010-11 SPx Hockey opened. I love the Upper Deck ICE bonus packs. ICE is not a stand-alone product this year, but Upper Deck has included ICE bonus packs in their 2010-11 Black Diamond and SPx Hockey boxes. Each pack has, in addition to a few regular ICE cards, one ICE rookie numbered to either 99, 499, 999, or 1999. It's tough to pull one numbered to 99 (see the paragraph on HOT PULLS for that), but if you're lucky enough to pull a Taylor Hall or Tyler Seguin, they're worth upwards of $300-400. And that's before you open any of your Black Diamond of SPx packs! Pretty cool bonus.
This week is going to bring a lot of new (and some highly anticipated) arrivals, including 2010 Topps Five Star Football, 2010 SP Authentic NCAA Football, 2010-11 Crown Royale Hockey, 2010-11 Playoff Contenders Patches Basketball, 2010 ITG Heroes & Prospects Hits Baseball, and 2011 Eclipse Racing.
Let's re-visit 2011 Topps Baseball for a minute. This year is Topps' 60th anniversary, and to celebrate and help promote its products, Topps is employing a diamond theme. They started by giving away an actual diamond ring on Valentine's Day in New York City. They're continuing with their Diamond Giveaway redemption cards in 2011 Topps Baseball. Like last year's Million Card Giveaway program, each redemption card unlocks a vintage card in Topps' inventory, but this year's program also lets you cyber dig for prizes as well (you get to put your shovel on a ball field and dig up a square). Many of the prizes are virtual team rings, which you can collect and trade (if you collect them all, you get a bonus prize). There are also some instant win prizes, and every time you dig, you get a tally mark. Multiple tally marks earn you free stuff. 5 digs (tally marks) gets you a bonus card reveal and free dig. 10 gets you a $10 Topps.com gift certificate. And there are other goodies to be had.
A customer turned me onto a website that I found particularly valuable for 2011 Topps Baseball, but you can obviously use it for any product. It's www.baseballcardpedia.com. It's like wikipedia for card collecting, and it's awesome. I found all 60 "sparkle" Topps cards listed here before they were listed anywhere else comprehensively. A sparkle card is this year's version of a special Topps baseball insert, like the Pies in the Face or Abraham Lincoln cards were last year. If you haven't seen one yet (I hear they're one per case), there's a little starburst (supposed to look like the sparkle from a diamond) somewhere on the card. They're a little tough to notice, so you really have to look for them. Sometimes the starburst is on the player's chest; sometimes in his glove; sometimes on his foot ... so it can be anywhere (which makes it harder). But they're valuable. One of our customers found an Alex Rodriguez and sold it for $100. So, be on the look-out!
We have all varieties of Topps Baseball to suit every budget ... hobby, jumbo, retail, and blaster boxes. And as a reminder, DO NOT THROW AWAY YOUR 2011 TOPPS BASEBALL WRAPPERS. There is a wrapper redemption program in place where Topps will send you a special Black Diamond Baseball pack for every 36 hobby or 10 jumbo wrappers. For details and the address to send your wrappers to, check out ... http://www.topps.com/sports/news/toppsNews.aspx?news_id=369.
That's it for now. It just wouldn't be one of my BLOGS if I didn't remind you that a lot of this information was available first on our Facebook page, so please Friend us!
Take care all.
Hi everyone! Lots to say, and I'm actually going to START with HOT PULLS because we've had so many lately, and I'm excited to talk about them! For our Facebook fans, this will be repetitive, as I've posted most of them there already, but for everyone else ... let's go! First, Steve K. pulled a Justin Bieber autograph from 2010-11 Donruss Hockey! This was particularly cool because Steve and I had seen an insert card of him in there, and wondered if he did in fact have an autograph as well. Apparently, yes! And it sells for about $300, so that's a great pull. Al S. pulled one of the sweetest Colt McCoy cards I've seen to date from 2010 Triple Threads Football (my favorite product). The play by play, because everyone knows I love a good story, is that after he opened the first pack and got an non-autographed jersey card (I don't remember the player), we knew the next pack would be an autograph ... so when we saw it was a booklet, that was VERY exciting! We've only seen a few autographed booklets from all of the Triple Threads we've had opened here (in all sports), so this was pretty exciting. The booklets are usually horizontally held, but this one was vertical, so it does in fact open like a little book ... with the Triple Threads logo on its cover. On the left side of the book, there are two Colt McCoy jersey patches, and the card is numbered 3/3. On the right side, there is an autograph at top, and then a Letterman swatch from his jersey underneath. What makes this swatch particularly sweet though is that it was cut from an autographed jersey, so Al's card has yet another autograph on the Letterman swatch! I will be posting a photo of the card on our HOT PULLS page soon. It is truly a sight.
And there's still more! Young Tom M., who just celebrated his 23rd birthday, pulled a great double autograph of Tom Brady and Randy Moss, worth $400, from "plain old" 2009 Topps Football. Happy Birthday to him! Mike D. FINALLY pulled a Sidney Crosby autograph. I know most of you are thinking that this is not an easy pull, so why am I saying "finally"? Mike is a frequent opener. He can be seen several times in our HOT PULLS section. He is ridiculously lucky, but the one autograph that he wanted that kept eluding him was Crosby. Well, thanks to this year's SP Game Used Hockey, he is now the proud owner of a nice Sidney Crosby autograph card. Ironically, a first time customer wandered in and purchased the last pack of SP Game Used Hockey in the box on our shelf and ended up pulling a Dion Phaneuf /3 quad patch card with laundry tag. That was an unexpected surprise! Another great Triple Threads hit, this time in baseball, was made by David Z. He pulled a # 5/36 triple relic card featuring a Babe Ruth jersey piece, Mickey Mantle bat piece, and Roger Maris jersey piece. Awesome! He opened it here, and needless to say, I was screaming when I saw Babe Ruth's face! And the last HOT PULL I will report happened before Christmas, but I just never announced it. Also from 2010 Triple Threads Baseball, Ed A. pulled a dual autographed booklet (when it rains, it pours) of Tommy Hanson and Jason Heyward /50. That was a beautiful card as well. So congrats to all. I'm sure I've forgotten a bunch, but I will post more in the next BLOG.
This week will see the arrival of two hot new FOOTBALL products ... 2010 Supreme and Plates & Patches. 2011 Topps Baseball is going to be released NEXT WEEK, two weeks sooner than it's original mid-February release date. We now have BOTH 2010 Bowman Sterling Football and Baseball. Obviously, 2010-11 SP Game Used Hockey is here (hence the HOT PULLS). And 2011 Elements Racing just arrived.
On the topic of 2011 Topps Baseball, Topps has announced a wrapper redemption program. See http://www.topps.com/sports/news/toppsNews.aspx?news_id=369 for details. If you'd like to win a $10,000 diamond ring, also check out Topps' website. They're giving one away to a lucky couple to celebrate their 60th anniversary.
That's it for now. Take care!
Yowza! When it's been nearly two months since you've written a BLOG entry (apparently, someone took Thanksgiving through New Year's off!), where do you start? How many NEW PRODUCTS can you list in one BLOG entry? Let's see!
First, I genuinely hope you all enjoyed a VERY happy, healthy, stress-free holiday season (as much as possible, that is). It is literally one of the most stressful times of year! Any holiday that allows me or Steve two days in a row of sleep is a good one in our book. Since we last talked, Cliff Lee became a Phillie again. Loving that! If you haven't seen the Youtube clip with the animated characters talking like Cliff Lee and Jayson Werth, you should. It's hysterical (although not incredibly appropriate, language-wise, for young kids). If you search on their names, it's the first clip that comes up. Oh, and while you're there, if you haven't heard the voice of the formerly homeless gentleman who was just hired by the Cleveland Cavaliers to do some announcing, check him out as well. His name is Ted Williams. We searched under his name and "Cavaliers". Hearing that voice come out of him is so unexpected.
As for NEW PRODUCTS ... obviously, there have been many in the past 7 weeks, so to catch you up but not bore you to death, I'll let you know the last few arrivals per sport. In BASEBALL ... this week saw the arrival of 2010 BOWMAN PLATINUM. Last week brought 2010 BOWMAN DRAFT PICKS & PROSPECTS and the 2010 TOPPS USA boxed set. Before that was 2010 TOPPS STERLING. In FOOTBALL (which hasn't had a great deal of new products lately), we received 2010 BOWMAN STERLING FOOTBALL and 2010 TOPPS MAGIC this week, but besides PANINI NFL STICKERS; the newest products were 2010 GRIDIRON GEAR, TOPPS PRIME, CERTIFIED MATERIALS, and TOPPS UNRIVALED. BASKETBALL has had a bunch of new arrivals. We just received 2010-11 DONRUSS and TIMELESS TREASURES. 2010-11 PANINI LIMITED, THREADS, ROOKIES & STARS, and LONGEVITY came in before that. The 2010-11 HOCKEY season has seen the arrival of SP GAME USED (just this week), BLACK DIAMOND, OPC, UPPER DECK, DONRUSS (yes, Panini is making Hockey now), PANINI LIMITED, CERTIFIED MATERIALS, FAMOUS FABRIC INK, VICTORY, SCORE, and ARTIFACTS. There have been a slew of new NON-SPORTS/MISC. products, including DEXTER SEASON 3, WWE PLATINUM, TNA EXTREME, GHOST WHISPERER 3/4, PANINI CENTURY COLLECTION, and 2010 LEAF CUT SIGNATURE EDITION "SPORTS ICONS".
As a miscellaneous note, 2011 Bowman Baseball will have the first autograph card of Bryce Harper in a Nationals uniform. 2011 Topps will be the first 2011 Baseball product released, due in in mid-February. They've signed the normally reclusive Sandy Koufax to an exclusive deal. Topps has also extended their wrapper redemption programs for hobby wrappers of both 2010 Bowman Chrome and 2010 Topps Chrome Baseball. For more details, see their website.
I want to remind everyone that everything written in this BLOG has previously been published on Facebook (it's just so quick and easy to type a note every day or so). If you haven't become a Fan yet and you're actually on Facebook, what are you waiting for? And if you haven't considered Facebook because maybe you aren't a social animal and don't think that the fit is right for you, you just might re-consider. All of the major companies (Topps, Upper Deck, Press Pass, etc.) have a presence on Facebook, and give worthwhile weekly updates as to the goings-ons in their companies and with their products. You would never need to use Facebook to communicate with friends and family, but only use it to read info from others ... if that's the way you want it. Just a thought!
Take care. I'll be blogging more regularly now! ...
Hi everyone. I hope this blog finds you well and happy and getting ready for the upcoming holidays. I think it's amazing how time flies. Thanksgiving and Christmas just seem to blend into one big holiday for me, and both feel like they're practically next week (which they practically are!). And Hanukkah is very early this year (it starts December 1st!), which makes the time between Thanksgiving and Hanukkah almost non-existent. Yikes!
Many new products have been released over the past two weeks. In BASEBALL ... 2010 Bowman Chrome (both hobby and retail) and 2010 Tri Star Signa Cuts Baseball Bronx Edition. In FOOTBALL, 2010 Triple Threads and Crown Royale. In BASKETBALL ... 2010-11 Panini Limited and 2010 Upper Deck Ultimate NCAA Basketball. In HOCKEY, 2010-11 Upper Deck Series 1, Artifacts, Score, and Panini Certified. In miscellaneous offerings, Leaf Cut Signature Encore Edition (mostly celebrity autos) and Pokemon HS Triumphant.
In miscellaneous hobby news, Topps is rewarding buyers of 2010 Bowman Chrome Baseball (Hobby only) by offering a wrapper redemption program (i.e. you send them 24 wrappers and they send you a special pack). I like the idea (probably designed to help out hobby stores), but wish they could have announced it BEFORE many customers had already opened boxes and disposed of their wrappers. So I'm sorry if you're one of these customers (we are too!), but here's the link for any future Bowman Chrome opening ... http://www.topps.com/sports/news/toppsNews.aspx?news_id=354
That's it for now. Hope to hear from you soon!
Hello everyone! The hobby's been fairly quiet (except for my beloved Phillies losing out of being in the World Series). Congrats to San Francisco Giants and Texas Rangers fans. The Giants look incredible. I turned off the game last night for one hour and they scored 8 runs! My lord! I seriously thought I wasn't seeing the tv right. Good luck to both teams. I'm pulling for the Rangers to at least make it close. I like the drama.
On the NEW PRODUCTS front, in BASEBALL ... 2010 Topps Updates & Highlights Baseball and Historical Autographs "In Memory Of" Edition. In HOCKEY...we JUST received 2010-11 Artifacts and Panini Certified. In RACING ... 2010 Press Pass Legends. And in NON-SPORTS ... Twilight Eclipse Series 2. It's been pretty quiet on every front; it seems.
Hope this BLOG finds you well and in the mood for trick-or-treaters! Happy Halloween!
Hi everyone. Many NEW PRODUCTS have arrived since my last BLOG, in which I mentioned the arrivals of Epix and Finest Footballs and Triple Threads Baseball. We've received, in FOOTBALL ... 2010 Rookie & Stars Longevity (10 pack box with 3 hits per box), 2010 Topps Chrome (1 auto per box), 2010 Absolute Memorabilia Football (4 packs, 4 hits), 2010 Sweet Spot (players in college uniforms, 6 pack box with 4 jerseys and 2 autos), and 2010 Topps Factory sets. In BASEBALL ... 2010 Topps Chrome (2 autos per box), 2010 Elite Extra Edition Baseball (minor league product with 6 autos per box and hot boxes available), and 2010 Topps Pro Debut Series 2 (also minor league). In BASKETBALL ... the first 2010-11 product arrived, Panini Prestige. In HOCKEY, 2009-10 The Cup. Other GAMING/MISC. SPORTS/ NON-SPORTS ... 2010 Leaf MMA, 2010 UFC Round 4, TNA Icons, 2010 WWE, 2010 WWE Rumble, 2010 Main Event Racing, Magic: The Gathering Scars of Mirrodin, and Yu-Gi-Oh Legendary Collection albums.
Just an interesting side note ... if you've opened any 2010 Elite Extra Edition Baseball, please note that Panini announced a mistake. Instead of finding an autograph of St. Louis Cardinals prospect Jordan Swagerty on his card, you might just find Magic Johnson's! His sticker autographs were used instead of Swagerty's (whether it's every Swagerty card or just some, is unclear). Another note ... if you're opening 2010 Topps Chrome BASEBALL Hobby (doesn't apply to football), save your pack wrappers! For every 24 pack wrappers you send in, Topps will send you a special 3 card refractor pack (with every 10 packs having a green refractor).
A couple of HOT PULLS on our newest products ... just today, a customer pulled a Randy Couture auto out of the 2010 Leaf MMA and a Tim Tebow jersey rookie from 2010 Absolute Memorabilia. Another pulled not only a Sam Bradford jersey rookie from the 2010 Absolute Memorabilia, but a Sam Bradford autograph jersey rookie out of 25 from the same box! And on Monday, a third customer pulled a whopper of a double auto from 09-10 The Cup Hockey ... a Gretzky/Lemieux out of 5 ! Jealous! And even though Steve and I almost never pull anything good, we ourselves opened two boxes of 2010 Rookies & Stars Longevity Football and pulled a Tim Tebow autograph out of 10! Sweet!
Thanks for reading, and GO P-H-I-L-L-I-E-S! We're VERY hometown proud.
Hi everyone. So we had some good news earlier this week when the Phils clinched the National League East. There was definitely some worry a while back, but we're pretty happy with how our team is playing now. Go P-H-I-L-L-I-E-S !!!
Many nice new products have arrived since my last blog. In BASEBALL, 2010 Triple Threads. In FOOTBALL, 2010 Finest and 2010 Panini Epix. In BASKETBALL, 2009-10 Panini Hall of Fame. 2009-10 The Cup Hockey should be here later this week, and 2010 Topps Chrome Baseball (among other things) will arrive next week.
One of our customers had some great luck earlier this week. Mike D. pulled a Stephen Strasburg 1/1 autographed printing plate (white whale) triple patch card from the brand new 2010 Triple Threads Baseball. It's currently on E-bay, and we wish him luck finding a generous buyer. He's pulled some amazing cards in the past (he's the same guy who pulled the redemption for 4 autographed baseballs from 2010 Press Pass Showcase Racing ... .each one autographed by an entire racing team), but this is probably his most valuable. We'll see soon! Good luck, Mike, and congrats on another great pull!
Topps issued the following press release that may be of interest ...
" New York, NY (September 28, 2010) – The Topps Company, Inc., today has announces a new option to help simplify and expedite the replacement of missing cards from hobby boxes.
Beginning immediately, any customer who failed to receive a card within the stated odds printed on its respective packaging can now contact Topps Customer Service electronically for replacements, eliminating the need to mail items in.
Customers can email Support@Topps.com and include their name and address, along with digital pictures in PDF format which must include the UPC symbol from the box with either an "X" or hole punched through the center, the wrapper from the pack with the missing card and a copy of the store receipt evidencing the purchase. Once we receive this email and confirm, we will expedite the process and ship your missing hit."
So that's all the news for today. Take care.
Hi everyone! Happy back to school week (for many of you). It is weird adjusting to a different schedule (and dealing with unhappy children who don't want to go back to school!).
We're gearing up for football season to start this weekend. We're not sure about our Eagles, but we are happy that the Phils are back in first place in the National League.East (well, as of me writing this ... it does change daily!!).
As a quick update, Topps just announced that 2010 Topps Series 2 Rookie Redemption #8 is Stephen Strasburg, and #9 is Mike Minor.
I usually spend some amount of time in each BLOG entry talking about Stephen Strasburg and his effect on the hobby and 2010 baseball card sales. Well, most of you have heard that Strasburg needs Tommy John surgery and will be out of baseball for 12-15 months. This was pretty upsetting news to a lot of collectors who have been buying up his card and saw them initially rise greatly, only to now fall as interest in him has waned due to his uncertain future. There is growing interest in another rookie pitching phenom Aroldis Chapman, so hopefully, some of the interest that collectors had in Strasburg will transfer to him.
NEW PRODUCTS in the last few weeks have been ... In FOOTBALL ... 2010 Panini Threads, 2010 Rookies & Stars, and 2010 Topps. In BASEBALL ... 2010 Topps 206 has arrived. In BASKETBALL ... 2009-10 Panini Season Update Basketball and 2009-10 WNBA Factory set (with two autographs). In HOCKEY (and reported in last blog) ... 2010-11 Victory and 2009-10 OPC Premier. In MULTI-SPORTS ... 2010 Leaf (formerly Razor) Rookie Retro. In MISC. SPORTS ... 2010 WWE. In NON-SPORTS ... Elvis Milestones, Lost Archives, Heroes Archives, Harry Potter Heroes and Villains, and Benchwarmers Vault. In Magic: The Gathering ... the Elspeth vs. Tezzeret duel deck. In Yu-Gi-Oh ... Duelist Revolution. In Pokemon ... HS Unleashed.
Remember to Become a Fan of "Georgetown Card Exchange" on Facebook!
That's about it for now. Take care!
Well, I just re-read my last Blog, and more could not have changed for the Phils! We're doing well now, even though almost our entire team is injured! So let's keep that up. And weather-wise, it's still pretty hot; although we've enjoyed some mid-80 degree days here and there. The National Card Convention just took place in Baltimore, and we have a bit of news from that event. And Stephen Strasburg continues to be the talk of the hobby, even during his time on the Disabled List!
Let's start with some NEW PRODUCTS! In BASEBALL ... 2010 Topps Tribute, 2010 OBAK, 2010 Topps Factory sets (All-Star, Hobby, and as of later today ... team specific). In FOOTBALL, 2010 Panini Classics, 2010 Topps Attax, and 2010 Panini Adrenalyn. In BASKETBALL ... 2009-10 Panini Crown Royale and 2009-10 Panini Adrenalyn 1st Edition. In HOCKEY, 2009-10 Victory, and as of later today, 2009-10 OPC Premier. In RACING ... 2010 Press Pass Showcase and 2010 Stealth. In MULTI-SPORT ... 2010 Razor Sports Icons. In ENTERTAINMENT/ NON-SPORTS ... 2010 Razor Cut Signature Edition and 2010 Razor Pop Century. In OTHER SPORTS ... 2010 TNA Icons, 2010 Ringside Boxing, and 2010 Ace Authentic "Aces" Tennis.
I've seen some Razor Pop Century opened recently, and I like it. Each box has 3 celebrity costume cards and 3 autographs. If you liked Razor's Ink Vault product (which I did), you'll probably like this. Costume cards we saw yesterday included Denzel Washington, John Wayne, Eliza Dushku, and Sascha Baron Cohen. Autographs included Elvira, Kevin Sorbo, and Linda Hamilton. It's a fun product.
Now an UPDATE on TOPPS BASEBALL ROOKIE REDEMPTIONS ... for 2010 Finest Baseball, we left off last time at #7, which was an autographed Andrew Cashner. #8 has been announced, and it is Dayan Viciedo. For 2010 Topps Series 2 Baseball, we left off at #4 ... Mike Stanton. Three more have been announced ... #5 ... Starlin Castro, #6 ... Logan Morrison, and #7 ... Domonic Brown. We have #8 and are hoping it's Strasburg!
Speaking of Strasburg, here's an update on autographs of him presently available or available in the near future. Topps announced that there are 500 Strasburg autographed relics (250 solo and 250 dual autos) in its already available Topps Tribute product. The Million Card Giveaway autographed Strasburgs (numbered to 300) have been signed and shipped (but many are still available by redeeming codes on toppsmillion.com ... you have to be lucky enough to get the regular Strasburg card, and then pay $350 to upgrade to the autographed version). Strasburg autograph cards for the upcoming Triple Threads release have all been signed and are ready for insertion. No redemptions. Triple Threads releases at month's end; and I don't know if this holds true for all 2010 Triple Threads rookies, but Strasburg's card design is vertical instead of the usual horizontal style (and looks gorgeous ... but I'm biased because Triple Threads is my favorite product). If you were lucky enough to get an Allen & Ginter Strasburg mini autograph, they have been signed and are being "framed". They'll ship in the next few weeks. T-206 is due September 1st, and its Strasburg autos WILL be redemptions. Those cards are with him now however, so it shouldn't be a long wait (and it sounds like they'll be hard signed).
By the way, if you're curious about the Bowman Strasburg autograph 1/1 that was recently on E-bay and reached almost a million fake dollars; it was taken off and sold at auction by Huggins & Scott for $17,000. Given that the non-autographed 1/1 fetched over $21,000 the second time around on E-bay; I'm guessing that the owner of the autographed one is pretty angry!
Still speaking of Strasburg but seguing into news from the National Convention, Topps made a splash at the National by giving away 999 Topps Heritage Strasburg cards (in this year's reprint of the 1961 design). They're currently fetching $60-75 on E-bay. Various manufacturers had a strong presence at the National with some sort of give-away. Upper Deck gave away packs with random Michael Jordan and LeBron James autographs in them (among other athletes). Panini had a special limited edition set it gave away. But a few of our customers liked the Press Pass booth best, where you received a free autograph or memorabilia card just for opening 5 packs! Razor had big news ... they're now Leaf! The Leaf brand name was available; and now they own it, as well as the rights to their card designs. I'm still unsure how that change will resonate with collectors. I see Razor as a more cutting edge, current company ... and not one to use an older, non-glossy card design. They have also somewhat established themselves in the hobby with their products over the past few years, so the name change seems surprising to me. Razor's management is certainly excited about the announcement though, so I assume they know better than me.
That's all the news that's fit to print. I've been ending each blog recently by mentioning that we're on Facebook. If you haven't checked us out, please search for us (Georgetown Card Exchange), and check out the information we post each week. All NEW PRODUCTS are announced as they are released, as well as misc. HOBBY HAPPENINGS. It's definitely worth getting info as it becomes available ... for FREE. For us, we want to grow our "fan base" so that we have an effective way to communicate with everyone. It's so quick and easy to post updates on Facebook, and we'd love it if you would "Like" us!
Thanks for reading!

Hi everyone! So summer is in such full swing that stores have back to school supplies already, and Hallmark has Halloween decorations. That is both depressing and wrong. And the Phillies are doing terribly, which I can describe with the same two adjectives. And I thought we had seen the worst a few weeks ago. Ugh! And the heat! This incredible heat. Boy, this blog is depressing so far, so let's change that.
STEPHEN STRASBURG ... he's good news. There's lots to say about him. First, his Allen & Ginter mini card is HOT HOT HOT, and impossible to find; I might add. Steve and I opened two cases ... didn't get him. We did, however, get a piece of paper from the world record paper airplane making champion, so clearly all was not lost (I'm NOT kidding). I actually like Allen & Ginter, but the aforementioned pull was not a great example of why. The rip cards are fun. To rip, or not to rip ... we ripped every time. The rip card is a regular size card that has a little card inside of it. You have to ruin the outer card to see what's inside (if you dare). The inner cards are not available any other way, so they're unique; and you can get original Tobacco cards (and I think autographs) inside. The rumor (which I think is unsubstantiated anyway) was that Strasburg mini cards could only be found in rip cards. Alas, as previously reported, we didn't find any of him.
Topps has announced more of their 2010 Finest Rookie Redemption cards. For those of you who haven't been keeping track, I'll re-cap the list. #1 Jason Heyward #2 Ike Davis #3 Starlin Castro #4 Mike Leake #5 Mike Stanton #6 STEPHEN STRASBURG, and #7 Andrew Cashner (which is autographed). Someone came up with the idea that maybe #10 will also be Stephen Strasburg, but an autographed version. Topps did that in a previous year ... two of the same player, with one being autographed. That would be fun, since most people think he's "only" #6. More info as players are announced.
For those of you with Red Hot Rookies from 2010 Topps Series 2, four of them have been announced so far ... #1 Carlos Santana #2 Jose Tabata #3 Brennan Boesch and #4 Mike Stanton. We have #8, so I'm hoping that's Strasburg. Time will tell.
And just to wrap up Strasburg and the products he's in, the 2010 TOPPS BASEBALL FACTORY SETS have begun to arrive. We always sell through these sets, as they're the ideal holiday gift (and baby gift). So far, the All Star set has arrived, and the regular hobby set is due in at the end of the week. They came out a little later than usual this year, and why? You guessed it ... because Strasburg is in it! The 2010 Topps Baseball sets have a special Strasburg card #661 in them. #661 will probably also be in the 2010 Topps Updates & Highlights product, but most likely with a different picture.
On my almost last Strasburg-related post, I mentioned in my last blog about the Strasburg card that sold for $16,000 on E-bay (a Bowman 1/1, but not auto'ed) that was later re-sold for @$25,000. Well, guess who the buyer was? Razor! And the card will be appearing in one of its card products later this year ... Rookie Retro (an all-sport product). So you will have a second chance to get your hands on it! In related news, the 1/1 Bowman Strasburg auto that reached almost a million dollars on E-bay (wrongly!) is now being auctioned off by Huggins & Scott Auctions.
NEW PRODUCTS ... this week saw the arrival of Yu-Gi-Oh Hidden Arsenal #2 (and we still have Yu-Gi-Oh Gold 3), and we received Magic: The Gathering Core Set 2011 last week (boosters and fat packs). Sports-wise, it's slim pickings as usual. We've received 09-10 Ultimate Collection Hockey, 09-10 Panini Court Kings Basketball, 2010 Score and Elite Footballs, and SportKings Series D recently. For non-sports fans, we have both James Bond Heroes & Villains and Harry Potter Heroes & Villains, as well as Star Wars Empire Strikes Back 3D Widevision.
WORLD CUP SOCCER has been popular for us, and not well known by many of our customers. There is a Panini Adrenaline card game (but also purchased by collectors and not game players), and then a FIFA Panini sticker product, both of which we stock, so please ask if you're interested.
I want to quickly bring up the subject of pre-orders. Since most of you are familiar with ordering from us, then most likely you've placed pre-orders. But if not, I want to remind you of what a good idea it is. The popularity of Stephen Strasburg hits this point home all the more. We sold cases of 2010 Bowman Baseball at $60/box, and it's now upwards of $225. Same for the jumbo. Pre-orders with us could not be safer. We deliver even if we are cut from the manufacturers/distributors. So, if there's a product you think will be hot, don't wait. Our next pick is 2010 Topps Chrome Baseball (for the same reason as Bowman ... Strasburg autos!).
Have you become a fan on FACEBOOK yet??? If not, what are you waiting for? Look for Georgetown Card Exchange on Facebook, and get this info early!
That's it for now. Hope summer is going well for everyone!
Hello all. School's out for summer, and baseball is certainly in full swing (as is the World Cup). Kids and their parents are adjusting to new schedules, and some of our lucky customers are enjoying vacations. But here at Georgetown, it's business as usual.
Stephen Strasburg is still the talk of the hobby, with one of his cards (a non-autographed Bowman 1/1) selling for $16,000 plus on E-bay and then over $21,000 after being re-listed by the buyer. Of course, there is also another Bowman 1/1 Strasburg (an autographed one this time) that was temporarily up to $999,900. It's currently $500,000, but we have no idea what it will really sell for (as that seems a tad high ... read that as sarcasm). But there is no doubt that Strasburg cards are HOT HOT HOT. Topps is offering autographed Strasburg cards for $350 to the first 300 people who take them up on the offer. The Strasburgs are available through their www.toppsmillion.com website, and you have to have a Strasburg card unlocked in your account (no small feat, as there have only been roughly 150 unlocked so far ... by entering Topps Series 1 and 2 "Million Card Giveaway" redemption codes). This week, Topps will unveil their 2010 Allen & Ginter product, and there is sure to be a Strasburg rookie in there as well.
In related news, many customers are waiting to see which Redemption Strasburg is going to be in 2010 Topps Finest Baseball. Well, he's not # 1-5, because they are ... 1. Jason Heyward, 2. Ike Davis, 3. Starlin Castro, 4. Mike Leake, and 5. Mike Stanton. In 2010 Topps Series 2, the Red Hot Rookie Redemptions announced so far are 1. Carlos Santana and 2. Jose Tabata. We'll release more names as they're announced.
In NEW PRODUCT news ... the aforementioned and highly anticipated 2010 Allen & Ginter Baseball will be in this coming week. We just received Yu-Gi-Oh Gold Series 3. 2009-10 Ultimate Hockey was pushed back (along with Panini Courtside Kings Basketball) to roughly July 7th.
Enjoy the summer and 4th of July weekend. Hope to talk to you soon!
Well, school is winding down; and summer is around the corner. College students are already home, and Father's Day is this Sunday. The Flyers season has ended, and the Phillies are hopefully working things out. So basically, a lot is going on everywhere, and the sports card world is no exception.
Everyone is talking about and buying up Stephen Strasburg (the Nationals' young ace pitcher) rookie cards and autographs. He's the main reason that 2010 Bowman Baseball is selling so well, but it is loaded with other hot rookies too (including Bryce Harper, Jason Heyward, and Starlin Castro). Strasburg had autographs in a few 2008 Upper Deck products, including 2008 Timelines, 2008 SP Authentic, 2008 Sweet Spot, and the 2009 USA set. Now he has autos in 2010 Bowman and 2009 Tri Star Projections, and he has rookie redemptions in 2010 Finest and 2010 Topps Series 2. It has not been announced which redemption card number Strasburg will be assigned in either product. 2010 Topps Allen & Ginter Baseball will be released next week, and it is expected that he will have a rookie card in that product as well.
Topps has announced that 2010 Topps Baseball Factory sets will contain a Stephen Strasburg rookie card. In fact, the Hobby Factory set (one that we sell, but is not available at mass marketers) will have an additional 5 random parallel cards included which could contain a Strasburg short print as well. Some buyers of Topps Series 2 Baseball who logged onto www.Toppsmillion.com to redeem their million Card Giveaway redemptions after Strasburg threw out his first major league pitch were rewarded with his Topps rookie card. We believe that this Strasburg (from the Million Card Giveaway redemption), the Strasburg rookie included in the factory set, and then the one that will appear in the 2010 Topps Updates & Highlights Baseball release will probably all have different photographs on them so they are distinguishable in some way. We'll provide details as they surface.
NEW PRODUCTS ... 2010 Donruss Elite Football, 2010 Sage Squared Football, 2010 Bowman 8 pack Baseball Blaster Box, 2010 Stealth Racing, Razor Poker, and Topps Star Wars Empire Strikes Back 3D Widevision. We will be receiving 2009-10 SP Authentic Hockey, Ringside Boxing, and Razor Sports Icons later THIS week; and NEXT week ... 2010 Topps Allen & Ginter Baseball, 2009-10 Ultimate Hockey, and Yu-Gi-Oh Gold Series 3.
More info later, but wanted to put this in print for now!
Hi everyone! I hope you all enjoyed your Memorial Day weekend plans. Since I last blogged, we've received the 2010 TOPPS SERIES 2 BASEBALL, and it's very popular! So far, we have the hobby and jumbo packs, but I'm sure we'll be receiving the retail boxes soon. We've gotten a lot of walk-in traffic looking for the 2010 Topps Baseball Factory sets. Since Series 2 has now been released, Topps can work on them, but we don't expect them to be released until the end of June for the All-Star set packaging and mid-July for the traditional Hobby set (the ones most of you buy for holiday gifts).
Other NEW PRODUCTS include the 2009-10 Be-A-Player Hockey, 2010 TRI STAR PURSUIT SERIES 2 BASEBALL (a minor league set with 6 bonus autograph cards numbered to 80 or less), Razor Poker, Topps Toy Story, and WWE Series 2 Dog Tags. We're expecting 2010 Sage Squared Football, 09-10 Panini Court Kings Basketball, 09-10 SP Authentic Hockey, and 2010 Press Pass Stealth Racing next (all possibly this week).
Upper Deck has just hired a new President Paul Meyer (formerly of Shuffle Master), and he will hopefully breathe some new life into the company that recently lost its NFL trading card license.
That's it for now. Go F-L-Y-E-R-S (and Blackhawks for our Midwest friends) !!!!
Hi everyone! It always shocks me when I find out I haven't blogged in almost a month! My goal is to update you weekly, but frankly, there just hasn't been a whole lot to say. So I've saved it all up, and now it must spill! First things first ... NEW PRODUCTS! Just this week we received 09-10 ICE HOCKEY, 09-10 ABSOLUTE MEMORABILIA BASKETBALL, and 2010 UPPER DECK SOCCER. Last week saw the arrival of 2010 BOWMAN BASEBALL, 2010 PRESTIGE FOOTBALL, 09-10 TIMELESS TREASURES BASKETBALL, YU-GI-OH SHINING DARKNESS, POKEMON H.S. UNLEASHED, and MAGIC: THE GATHERING RISE OF THE ELDRAZI.
2010 TOPPS SERIES 2 BASEBALL is coming in soon. Its original release was scheduled for Wednesday; and due to production problems, Topps does not think they'll meet that, but they are still aiming for the end of the week. The Series 2 will continue their popular "Million Card Giveaway" promotion, with T206 cards part of the possible redemptions.
BOWMAN BASEBALL has been incredibly hot, as there are autographs of Stephen Strasburg and Jason Heyward, and regular cards of those two and Bryce Harper. A young boy in the store JUST pulled a Starlin Castro refractor autograph ... not bad for one pack. PRESTIGE FOOTBALL is the first NFL licensed product, and all rookies are true rookies (unlike in Sage and Press Pass).
On the Football licensing front, I blogged last time about Upper Deck losing their Football license for 2010; and mentioned that I hope that Topps regains theirs. Well thankfully, that has happened. Topps WILL be making 2010 Football, starting in August. I'm very relieved that we will at least have two different company's products to choose from. Topps announced some products that they're working on to appeal to Upper Deck fans who won't be getting their favorite SP and Ultimate brands. More info on those as it's released.
Be well. Happy Memorial Day, and go Flyers and Phils!
Well, it's been a month since I've written ... and I apologize. The hobby news is piling up, and while I'd like to say it's all good, I'd be lying. We just found out that Upper Deck will not be making Football cards for 2010. Details are few, but Upper Deck was unable to come to a licensing agreement with the NFL. This news is pretty shocking, given that A. Upper Deck Football products are very popular amongst collectors, and B. Upper Deck had previously announced that it would not be making 2010 Baseball cards (because of a Topps exclusive). So that leaves Upper Deck as a manufacturer of only Hockey and Collegiate cards. The one silver lining that we're hoping for is that Topps will somehow regain their Football card license for 2010, although whether they're in a position to do so is unknown. (Do they have the staff in place ? How quickly can they get the photography? Etc.).
On a related subject, some customers have wondered why it seems like there aren't as many new products being released. Because there's not! With all of the exclusive licensing agreements, fewer companies are making cards in each category (Baseball, Football, Basketball, and Hockey). New products are being released slowly, and that problem is compounded by the fact that there are so many fewer products being released. Let's re-cap who's making what. In Major League Baseball, Topps. In Football, Panini. In Basketball, Panini. In Hockey, Upper Deck (next year, Panini will be added). Surprising, huh? There's presently only one company per sport. Now with that said, Topps produces the following brands in Baseball ... Topps, Topps Heritage, Bowman, Bowman Sterling, Bowman's Best, Bowman Chrome, Triple Threads, Allen & Ginter, Chicle, Sterling, Unique, Stadium Club, Finest, Chrome, Moments & Milestones, etc.; lest you think that A. we're going backward to a day with only 3 sets to choose from, or B. there is no variety ... clearly, there is.
While the negatives of exclusives and too few products seem obvious, let me highlight some of the positives. First, some collectors long for the day when there were only a few sets to choose from (I'm not one of them, mind you), and find the current number of products overwhelming. These collectors will probably enjoy the slower pace of product releases ... for Baseball, about 1 or 2 per month currently. Baseball collectors will not be bombarded with another new product before they have the time to complete the current set they're working on. Some people see this as a very good thing. There is now less pressure to see what's new each week, and collectors have a chance to work on one set longer. Also possible is for a collector to build a set he/she wouldn't have in the past because another set he/she DID collect is not being made. For example, if you were a fan of Upper Deck's Goodwin Champions last year, maybe you'll sample Topps' Allen & Ginter this year instead.
Another positive that most people can agree on is that when a certain rookie catches fire, there are now less of those rookies available, and each card is worth more! Atlanta's Jason Heyward is all the rage in Baseball right now, and he is single-handedly driving sales of 2010 Finest Baseball and 2010 Topps Pro Debut Baseball. With his autograph cards fetching big bucks, there are only so many products available that have him. Whereas formerly, Upper Deck and Topps both would have had 5 or so products each with him in it, Topps' exclusive means that only they do now ... so each Heyward card is worth more because demand is high and supply is low.
A third positive is sales of past year products. This is healthy for the industry as a whole, as some collectors will switch from collecting 2010 Upper Deck Football products to buying more of the 2008 and 2009 Upper Deck Football products they missed. Both 2008 and 2009 had great rookie classes, so those years of product remain in demand, and consequently, the value of the rookies do as well (which helps everyone).
So while the switch to exclusives and less product isn't great, there are good things that will come from it ... so I am at least thankful for that. I would encourage everyone to keep an open mind as we move forward and sort through everything. It takes everyone time to adjust to change, and I don't think these exclusives will necessarily be permanent. Manufacturers and leagues both have to respond to their customers and are ultimately motivated by profits, so if this new system (so to speak) doesn't work for everyone, it will have to be tweaked. Hang in there! I know we are.
NEW PRODUCTS since my last BLOG ... 2010 FINEST BASEBALL, 2010 TOPPS PRO DEBUT BASEBALL, 2010 SAGE HIT LOW and HIGH SERIES FOOTBALL (6 and 9 autographs per box respectively), 2010 PRESS PASS DRAFT FOOTBALL (has Tim Tebow autos), 2010 RAZOR ARMY ALL AMERICAN BOWL FOOTBALL, 2009 EXQUISITE FOOTBALL, 2009-10 UPPER DECK CHAMPS HOCKEY, 2009-10 SP GAME USED HOCKEY, 2009-10 PANINI CERTIFIED BASKETBALL, 2009-10 PANINI CLASSICS BASKETBALL, and 2010 RAZOR INK VAULT (non-sports product with 4 autographs plus random sealed box). Expected in shortly are PRESS PASS LEGENDS OF KISS and RITTENHOUSE MARVEL 70th ANNIVERSARY.
Recent HOT PULL ... one of our regulars just snagged a #3/3 triple autograph/triple jersey (appropriately enough from 2009 Triple Threads Football) of Troy Aikman, Peyton Manning, and Matthew Stafford. Not bad!
TOPPS EXCLUSIVE ACCESS. This is the name given to this year's Topps' weekly Baseball Card Give-away. Featuring the new rookie card logo prominently on the card, this 50 card set of past, present, and rookie baseball greats is available to anyone who ordered at least 3 boxes each of Topps Series 1 and 2 (and the customer must request the set). The FREE set will ship with Series 2 box orders, and is on a first come, first serve basis; as quantities are more limited this year than before. 10 of the 50 players (just to show you player selection) are Albert Pujols, Mike Schmidt, Babe Ruth, Ichiro, Tim Lincecum, Tommy Hanson, Mickey Mantle, Alex Rodriguez, Jackie Robinson, and David Wright.
In other HOBBY NEWS, Topps has announced that the #1 redemption for 2010 Finest Baseball is Jason Heyward; and 10% of the cards will be autographed. So if you've redeemed yours on-line, go check and see the updated status. I believe they're shipping soon as well. 2009-10 OPC METAL HOCKEY and 2009 UPPER DECK LEGACY FOOTBALL have been cancelled.
We've just posted many new SELL SHEETS on the website. They include ... 2010 Topps Series 2 Baseball, 2010 Topps National Chicle Baseball, 2010 Bowman Baseball, 2010 Topps Allen & Ginter Baseball, 2009-10 Panini Timeless Treasures Basketball, 2010 Press Pass Premium Racing, Press Pass Legends of KISS, and Topps Star Wars Empire Strikes Back 3D. If you want to see details of these upcoming products, check out the site.
Thanks for reading! It's fun to see the baseball season get underway. Go Phils!
Hi everyone! SO much to say. I posted a TON of things on Facebook today, so if you're a fan, some of this will be redundant. If you're not a fan, then please add us!
First, we had a TREMENDOUS HOT PULL yesterday night. I'll give you the long version, for effect. Anyone who knows me knows I like to tell a story. One of our football customers was opening a box of 2009 Donruss Limited Football. You get 3 auto or jersey cards. So Steve and I were both looking over his shoulder. I see that one card has three autographs on it and the team uniform color is green, so I figure out it's Jets. I'm PRAYING for Mark Sanchez. Actually, I was saying out loud (repeatedly) ... "Please be Mark Sanchez"! Shonn Greene would have been good too, but I didn't get that far. This all happened in a matter of seconds. So the first player was Joe Namath. Good start. Then Brett Favre. Oh, nice! Almost forgot he was a Jet! And the last player? Mark Sanchez! Triple autograph, #10/10. YOWZA!!! I was more excited than our customer, but he was happy! It was, by far, his best pull ever; and so exciting to witness.
Major League Baseball has settled its lawsuit with Upper Deck over their trademark infringement in 2010 Upper Deck Baseball, 2009 Signature Stars Baseball, and 2009 Ultimate Collection Baseball products. Remember that Topps has a MLB exclusive for 2010. So how did they settle it? By Upper Deck agree'ing not to produce any more baseball products this year! So ... now cancelled are 2010 Goudey, SP Authentic, and SPx Baseball. Consequently, the nationwide in-store "National Packtime" event (previously scheduled but delayed from March 6th) has been officially cancelled. Apparently, Upper Deck was going to be producing the baseball cards for this event.
Other cancellations include 2010 Upper Deck Draft Football. Upper Deck couldn't get the autographs back in time for insertion, and it wasn't worth releasing the product without them. WWE Chips Series 2 (a professional wrestling poker chips product) was also cancelled.
TOPPS' MILLION CARD GIVEAWAY will continue in Topps Series 2 with actual original T206 cards being given away.
Shortprints available in 2010 Topps Series 1 Baseball include at least 3 cards with Abraham Lincoln's likeness on them. Previously, we noticed that the Rogers Hornsby shortprint had Lincoln in the background (upper right corner), but to date, we haven't seen any Hornsby's that haven't ... so we're assuming that this is the only way the Hornsby comes. Because it's hard to find in general (like the other legendary players..it's seeded 1 per several boxes), it's a shortprint, but not because of Abraham Lincoln being on it. The 3 normally common cards (all Cubs players) that sometimes have Abraham Lincoln in the background are Ryan Dempster, Jeff Samardzija, and Milton Bradley. We have all of the commons, but alas, no Abe's! If I find out of other Abe cards, I'll let you know. These Topps Abe shortprints add to the already super hard to find Pie in the Face Yankee cards (mentioned in my last BLOG).
In NEW PRODUCTS news ... it's been slim pickings lately. Since my last BLOG, we've received 2010 TOPPS HERITAGE BASEBALL, 2010 TOPPS ATTAX BASEBALL DECKS & PACKS, 2010 TOPPS OPENING DAY BASEBALL, 2009 ULTIMATE COLLECTION FOOTBALL, 09-10 STUDIO BASKETBALL, 2010 ECLIPSE RACING, TWILIGHT NEW MOON SERIES 2, GARBAGE PAIL KIDS FLASHBACK, and UFC MAIN EVENT. 2010 SAGE HIT FOOTBALL is coming in soon, but especially with Topps' exclusive in baseball and it not being football season, products are arriving slowly. Now is a good time to finish up some sets you haven't had the chance to complete, or choose some older products you never opened but always wanted to.
That's the news for now! Stay tuned!
Hi everyone!
NEW PRODUCTS ... 2009-10 PANINI CERTIFIED BASKETBALL, 2009 TOPPS UNIQUE FOOTBALL, 2009 TOPPS PLATINUM FOOTBALL, 2009 SP FOOTBALL, 09-10 UPPER DECK SERIES 2 HOCKEY, YU-GI-OH ABSOLUTE POWERFORCE, and POKEMON HEARTGOLD SOULSILVER.
There has been a lot of talk amongst our customers about MLB's lawsuit against Upper Deck, but to date ... no update. There haven't been any more 2010 Baseball products released by Upper Deck and no further action taken by MLB. The subject of the lawsuit filed by MLB was trademark infringement by Upper Deck in their 09 Signature Stars, 09 Ultimate Collection, and 2010 Upper Deck Baseball products. While Upper Deck has an arrangement with the MLBPA (Player's Association), Topps is the exclusive licensee for MLB in 2010.
2010 TOPPS BASEBALL has been a strong seller, and in part; due to a media blitz featuring Cal Ripken, Jr., some LIMITED EDITION "PIE IN THE FACE" and Legendary Player Inserts, and Topps' MILLION CARD GIVEAWAY. Topps has been inserting short prints in their base Topps set for several years now, starting in 2006 with some Alex Gordon cards that "weren't supposed to" make their way into packs and continuing in 2007 with the special Derek Jeter card featuring Mickey Mantle and George W. Bush. The 2009 set had over 20 short prints ... mostly legendary players (but Barack Obama was also included). The cards look the same as the base set. The only difference is the subject matter. In the Update & Highlights set, the short prints do bear gold writing instead of silver, making them much easier to spot. For 2010 Series 1, there are legendary player short prints (Babe Ruth is back!) but also cards featuring Yankees players with pie in their face.
The short print checklist of the "PIE IN THE FACE" cards (and date of the game in which the player was hit!) is as follows ...
Alex Rodriguez- 5/16/09
Johnny Damon- 5/17/09
Jorge Posada- 7/4/09
Hideki Matsui- 7/20/09
Alex Rodriguez- 8/7/09
Robinson Cano- 8/12/09
Robinson Cano- 8/28/09
Nick Swisher- 9/8/09
Francisco Cervelli- 9/16/09
Juan Miranda- 9/29/09
Mark Teixeira- 10/9/09
Jerry Hairston Jr.- 10/17/09
No mention yet as to how many of each have been produced, but they're very rare (we have a customer who has opened two cases and hasn't gotten one). Consequently, some are selling on E-bay for upwards of $100.
The TOPPS MILLION CARD GIVEAWAY is a promotion spanning this year's 2010 Topps Series 1, 2, and Update Baseball releases where 1:6 packs gets you a redemption card for a FREE Topps base card. Topps bought back at least one of each of their card sets from 1952 to the present, and the '52 Mickey Mantle Rookie is being used as a GRAND PRIZE GIVE-AWAY (via raffle). I was on the special website Topps set up for this promotion (www.toppsmillion.com), and out of 20 redemptions, we did get one common player from 1955 ... but be aware that most are cards you wouldn't necessarily care to take possession of (luckily, you don't have to). We received a lot of commons from 1993 and up (not exactly exciting!). Topps will be having contests using these banked cards, so it's in the collector's best interests to keep them at Topps while contests are being run. Collectors may ask for them to be sent, however, starting March 15th. It looks like shipping will be at the collector's expense.
That's it for now. I'll chat at you again soon ...
Hi everyone! I don't know what the weather is like where you are, but our hearts do go out to everyone in Oklahoma who has been affected by this ridiculous snow. I can't imagine not having power right now, and I sincerely hope that all of our customers are warm and safe! You take those simple things for granted sometimes.
I have SO much to say!!! So let's start with NEW PRODUCTS! The following have arrived over the last week and a half. The most popular and anticipated has been 2010 TOPPS BASEBALL. We received the regular packs last week, and the JUMBO packs are expected in tomorrow. Just today, we received MAGIC:THE GATHERING WORLDWAKE (booster packs, intro packs, and fat packs), 09-10 TRILOGY HOCKEY, 09-10 CONTENDERS BASKETBALL, and PRESS PASS "8 SECONDS" PROFESSIONAL BULL RIDING (yes, you heard that right!). Earlier this week/end of last saw the arrival of 09 UPPER DECK SIGNATURE STARS BASEBALL, 2009 ULTIMATE COLLECTION BASEBALL, 2010 UPPER DECK SERIES 1 BASEBALL, 09 TOPPS NATIONAL CHICLE FOOTBALL, 09 NATIONAL TREASURES FOOTBALL, 09-10 HEROES & PROSPECTS HOCKEY, TOPPS WWE PACK ATTAX BOOSTERS and STARTERS, and YU-GI-OH YUSEI 2 DUELIST PACK. 09 PLATINUM FOOTBALL will be here early next week.
Along with the news of all of these new products is the announcement of some PRODUCT DELAYS. One thing it seems you can be sure of these days is that things won't arrive when you think they will. We've been waiting for 2009 PROMINENT CUTS and 2009 ULTIMATE FOOTBALL to arrive for some time, and it looks like we will continue to wait because no updated due dates have been announced. 09 SP FOOTBALL has been pushed back (AGAIN!) to February 12th, and 09-10 UPPER DECK SERIES 2 HOCKEY is being released February 16th (for now).
MLB Properties has filed suit against UPPER DECK for trademark infringement for improper use of team logos in their 09 Signature Stars, 09 Ultimate, and 2010 Upper Deck Baseball products. All three products were released after Topps' exclusive licensing agreement with MLB Properties went into effect. If you haven't seen any of the three products, team names aren't used ... so the Phillies are simply referred to as "Philadelphia", and the Red Sox as "Boston"; but team uniforms (with full team names partially obscured) and cap logos (often in their entirety) are featured. MLB asked for a temporary injunction against the products, but the courts did not uphold it, so as of now, the products ARE allowed to be sold. More information on this case as it develops.
I run the risk of sounding like a broken record on this subject, but if you are on FACEBOOK, and haven't become a FAN, PLEASE look us up. We're really trying to grow our Facebook Fan list because it's such a good way to communicate with you, and in real time! All of the information in this BLOG was listed there first, and often on the day it happened. And if you're not on Facebook, but you've been curious..check it out! It's quick, easy, and FREE to be a member.
Georgetown Card Exchange has great Valentine's gifts for your husband, boyfriend, brother, kids, or other sweetheart! (And for the handful of female customers we have ... your wife, girlfriend, or sister!). Nothing makes a person smile like a box of their favorite cards! There's just enough time to ship so you can receive it by February 14th. Take care, everyone.
Hi everyone! If you've been following us on Facebook, then you're pretty up to date with HOT PULLS, NEW PRODUCTS, and general goings on at Georgetown. But, if not ... then this is probably news to you.
NEW PRODUCTS ... 2009 TOPPS TRIBUTE BASEBALL, 2009 BOWMAN STERLING BASEBALL, 2009 DONRUSS ELITE EXTRA EDITION BASEBALL, 2009 USA BASEBALL SETS, 2009-10 SPx HOCKEY, 2010 ELEMENTS RACING, and 2009-10 PANINI LIMITED BASKETBALL. 2009 Topps Tribute has 6 packs per box, and each pack has an autograph or jersey card in it. 2009 Bowman Sterling Baseball has 6 packs with 2 autos and one jersey card in each pack. The box itself also has a bonus jersey card. The 09 Elite Extra Edition Baseball is a nice release with a lot of content. There are 6 autographs instead of the originally reported 4 per box, and then 4 HOT BOXES per 20 box case. Our customers have been very happy with it. Just be aware that it's minor leaguers. The new 2009 USA sets (of the 2010 team) have 7 autographs and 3 jersey cards, and a complete regular card set. 09-10 SPx Hockey has 4 hits per box, including at last one autographed jersey card. 2010 Elements Racing has a bit of an old school feel to it (cardboard stock and low gloss) with one auto and one jersey card per box. 09-10 Panini Limited Basketball has 3 hits per box, and Kobe autographs are available.
The much anticipated 2010 TOPPS BASEBALL is due out next week ... January 27th, as is 2009 SP FOOTBALL. Many other good products are coming in over the next week or so, including 2009 ULTIMATE BASEBALL and FOOTBALL, 2009 TOPPS STERLING BASEBALL, 2010 TOPPS ATTAX BASEBALL, 2009 PROMINENT CUTS BASEBALL (a new multi-sport product with 1 cut per box), 2009 PLAYOFF NATIONAL TREASURES FOOTBALL, 2009 TOPPS CHICLE FOOTBALL (a retro style), and a new TOPPS ATTAX GAMING product ... WWE this time. So after having a little bit of a lull in the card market, the manufacturers are making up for it with many new releases. We have high hopes for many of these items, and have had very strong interest in the 09 SP Football and 2010 Topps Baseball in particular.
HOT PULLS ... Just today, Mike D had a monster hit from the brand new 09-10 SPx Hockey ... a JOHN TAVARES AUTOGRAPHED PATCH numbered to 25 ... valued at $700!! Mike had some sort of HOT BOX with at least 7 autographs and jersey cards (normal number is 4 hits). Almost all of our other recent Hot Pulls have been from 09 Triple Threads Football, and they've almost all been made by Brian R.! I previously reported Brian's TRIPLE AUTOGRAPH of TOM BRADY, JOE MONTANA, and TERRY BRADSHAW and his TOM BRADY BOOKLET (27 jersey pieces). He has since pulled a LeSEAN McCOY WHITE WHALE (1/1 AUTOGRAPH/ JERSEY) and a KNOWSHON MORENO WHITE WHALE. Possibly even better was Mike G's Triple Threads pull on Christmas day. Just to set the scene, Michael is around 13 years old and didn't even know he was getting Triple Threads for Christmas (an expensive product). He was excited enough just to get it, and then he proceeded to pull non other than a DAN MARINO 1/1 WHITE WHALE! Pretty impressive, huh? So Triple Threads have been treating our customers well.
That's it for now. If you haven't become a Facebook fan, please check us out! Thanks! Talk to you soon ...
HAPPY NEW YEAR everyone! I hope yours is off to a good start.
This BLOG is going to be short and sweet. I just want to let you know what's new.
NEW PRODUCTS to report ... 09 BOWMAN DRAFT PICKS & PROSPECTS BASEBALL, 09 TOPPS TRIBUTE BASEBALL, 09-10 BLACK DIAMOND HOCKEY, and 09 PLAYOFF CONTENDERS FOOTBALL have all arrived. 2010 Topps Baseball (a popular request) is early this year and will be arriving at the end of January. Upper Deck cancelled the Winter Classic Hockey set.
That's all the news for now. More soon...
Hi everyone, and HAPPY HOLIDAYS!!!! I can't believe it's been over 3 weeks (AGAIN!) since I've written in my BLOG! This is a very busy time of year, and I've had so much going on that I just haven't sat down to do it, and I apologize. So let's get you up to date.
First, do you know that Georgetown Card Exchange is on FACEBOOK now??? It's a great way to keep in touch and give you the latest news, so please type in our name in the search box and become a FAN!
NEW PRODUCTS ... Since it's been 3 weeks, there have been a lot, but I'll go over the most recent arrivals. Just today, we received 09 Triple Threads Football and 2009-10 Panini Threads Basketball (and the new multi-sport Beckett with Viking Brett Favre on the cover). We also re-stocked 09 Press Pass Fusion Multi-sport. Other recent arrivals include 09 Topps Unique Baseball, 09 Topps 206 Baseball, 09 Topps Heritage High Number Baseball, 09 Tri Star Signa Cuts Limited Edition Baseball, 09-10 MVP Hockey, 09-10 Leaf Rookies & Stars Longevity Basketball, 09-10 Elite Basketball, Yu-Gi-Oh Stardust Overdrive and Hidden Arsenal, Pokemon Platinum Arceus, Topps Puck Attax Hockey game, and Twilight New Moon.
That's about it for now. I wanted to make sure I filled you in on the latest arrivals and wished you a HAPPY HANUKKAH and a very MERRY CHRISTMAS (although I do plan to write again before the latter).

Hi everyone! Long time, no write; and don't think that's because there hasn't been anything to say! From the Yankees winning the World Series to Topps not making football cards in 2010 (yes, that's right) to NEW PRODUCTS that have been streaming in, there's a lot to say!
Let's start with the World Series. Oh, my poor Phillies! The tears that have been shed in this store could fill Citizens Bank Park! I am so happy about what a great season we had, and it's been fun being a fan this year; but that World Series was tough to watch. CONGRATULATIONS to the Yankees and all of our customers who are Yankee fans. I know you're out there ... we have enough who walk through our doors here every day wearing their World Series Champion gear ... just to rub it in!. While Steve is fully immersed in football season, I'm already ready for baseball to start again!
Moving onto Topps not making football next year ... I'm already mourning 2010 Triple Threads Football! Between the manufacturers and the leagues, there is so much movement toward exclusive licensees. I'm not on board with the idea, and it will be interesting to see how everything works out. If you haven't heard, Topps is the ONLY Major League Baseball licensee for 2010. But then on the heels of that announcement was that they're not making football cards. I'm not thrilled about either (read that as I'm unhappy about both). We've already got Panini (who purchased Donruss/ Playoff) with an exclusive license in Basketball; and Upper Deck is in their last year of its Hockey exclusivity. Donruss had been "banned" from the Baseball market, and now Topps is banned from Football. Too much already. Give me some time to figure out what Panini is bringing to the table Basketball-wise (because I loved Bowman!), before you throw the rest of this at me!
Onto a happier topic ... NEW PRODUCTS! There have been a ton of them, because apparently, I haven't written a BLOG entry in November yet!! I'll give a list first, and then talk about a few in detail next. In FOOTBALL ... 09 Donruss Gridiron Gear, 09 Topps Mayo, 09 SP Signature, and 09 Donruss Limited (formerly Leaf Limited), and 09 Finest. In BASEBALL, 09 Sweet Spot. In BASKETBALL, 09-10 Panini. In HOCKEY, 09-10 Upper Deck and 09-10 Artifacts. In RACING, 09 Press Pass Factory Set. In NON-SPORTS, Pokemon Arceus, 2009 Topps WWE, Spider-Man Archives, Justice League of America Archives, Star Wars Clone Wars Widevision, and Komplete Kiss Factory Set.
Of that list, my favorite product is probably the 09 Finest Football. We really like this one this year. There are TWO 6 pack mini boxes, each of which has an autographed card. The autographs are usually either lettermen or patch autos, and we've seen a lot of good rookies pulled (including a 1/1 Percy Harvin Letterman). Rookies are regular cards in Finest, so it's a set you can actually complete (although because of how many cards you get in a box, it will take a few boxes). Refractors come often as well.
09 Donruss Gridiron Gear Football has 3 hits per box, and those hits are attractively designed, as we've come to expect from Gridiron Gear. The pull-out Hidden Gem autos are back, as well as the autos signed on what looks like a football field. Still other autos have rubber helmets on the card. The 09 Donruss Limited Football is a one-pack box with 3 hits in it this year. We have one particular customer in the store who has opened a case of it and has done really well. He pulled a lot of good rookies ... which have the team name etched out of the card with jersey/patch underneath. They're really attractive. 09 Topps Mayo Football bears many similarities to Allen & Ginter Baseball; so if you like one, you'll probably like the other.
So that's a quick re-cap for you. Stay tuned for more info!
Hi everyone! There's a lot of excitement in Philly because of our beloved Phils! Steve and I were at Monday night's game, and my lord, was it exciting! I'm like a broken record telling everyone this, but the best moment for me was when Carlos Ruiz touched home plate for the game winning run, and then immediately turned around and started running toward Jimmy Rollins (with the rest of the team) to congratulate him. I was seriously scared that J Roll was going to get hurt when everyone was jumping on him! It was such a great (and for me, very unexpected) moment. So we're very excited about tonight's game, needless to say, and we're really hoping we'll take home the pennant (and not go back to LA). We also have a lot of Yankees fans here who are understandably happy. A Phillies-Yankees World series? That would be exciting!
There have been plenty of new products streaming in. In NEW FOOTBALL PRODUCTS ... of particular note is one that came in just yesterday ... 2009 SP Threads Football. Packaged differently this year, Upper Deck made it much more affordable as compared to last year's version. With 16 packs, there's a lot more "meat" to this year's 2009 SP Threads Football. At $89.95 a box, you get 4 hits, including at least one autographed Letterman (great card design!). We opened 3 boxes and pulled a Knowshon Moreno autographed Letterman out of 6, as well as a neat Brett Favre/ Matt Ryan/Troy Aikman triple jersey card; a Beanie Wells clear acetate double jersey card ... among other interesting pulls. I would highly recommend this product. Football in general has had some nice new releases. Before SP Threads arrived, 2009 Leaf Certified Materials Football did; and after seeing many many boxes of it opened, it's another product I have no problem recommending. Also yielding 4 hits per box including at least one autograph, Leaf Certified has treated one of our store customers very well. He pulled a Brett Favre autograph jersey card out of 5, a Mark Sanchez autographed rookie, and a really cool, huge Sanchez multi-color patch card. Just Saturday, another customer pulled a Sanchez out of 5 autograph from Leaf Certified as well. Still selling well from recent 2009 football is Absolute Memorabilia and Bowman Sterling, and other new arrivals include 09 SPx and Upper Deck First Edition.
NEW PRODUCTS in BASEBALL include the well received 2009 SP Authentic Baseball. Each box yields 3 autos, with two of them being in the Letterman style. 2009 Topps Updates & Highlights Baseball also just arrived (consider it to be like a Topps Series 3), and has been as popular as it Series 1 and 2 predecessors. A customer who opened a bunch of regular and jumbo boxes has reported that there ARE once again short printed legendary players inserted, and they come more often than they did in Series 1 and 2. He's found them 1 per regular box, and 1 1/2 per jumbo. In today's UPS, the latest baseball arrival has come in ... the hotly anticipated 2009 Triple Threads Baseball. Triple Threads is my favorite product (in any sport), and I'm very excited to see some opened (hopefully tonight!!). I'll give a full report in a future BLOG entry.
In Basketball, NEW PRODUCTS include the first Panini basketball release ... 09-10 Panini Prestige (4 hits per box). From here on out, only Panini will be making basketball cards. Upper Deck released a few last minute products under the deadline, including this week's arrival of 09-10 Upper Deck First Edition and the recently released 09-10 SP Signature (2 autos per pack), 09-10 Exquisite (the second Exquisite release in the past two months), and 09-10 SP Game Used.
No NEW HOCKEY PRODUCTS since last week's 09-10 OPC Hockey release. Other 09-10 releases include Ultra and Victory.
More info soon. Go P-H-I-L-L-I-E-S (tonight)!!!!!
Hi everyone! Just a quick update regarding NEW PRODUCTS. As indicated in my last BLOG, we expected to receive (and did get) 2009 SPx Football, 09-10 Upper Deck Basketball, and 09 Upper Deck Ballpark Collection Baseball. Football has been very popular in the store of late, and Mark Sanchez (even after his team's loss to the Saints this week) is still the hottest rookie. There are a lot of brands that are selling well, and we've seen lots of great pulls from the new Absolute Football (in particular), including a Donald Brown autographed patch just today. One of our store customers pulled a great, limited Sanchez jumbo jersey with football piece last week; and we've seen tons of other good pulls (moreso in this year's product than last year's). 09 Absolute seems to have more large swatch, multi-swatch, and interesting laundry tag-type pulls. 09 Bowman Sterling has been very good to our customers as well. I previously reported the pull of a double auto /15 of Jeremy Maclin and DeSean Jackson from Bowman Sterling (two local favorites!). Well, another customer just bested that pull with his Tom Brady #7/10 auto, and Brady is a hard one to get signed.
This week should bring Panini's first basketball release, 09-10 Prestige Basketball. It's a popular brand for football, so we're hoping for good things for basketball.
CONGRATULATIONS to the Phils for clinching the National League East. In their honor, we'll be closed this Wednesday, October 7th. We're going to the game ... sorry! Our partial season ticket plan allows us one game in this round, and we got Game 1. We wish it was a night game, but alas, it's at 2:37. We're genuinely sorry for the inconvenience. We're making sure that everything that can ship by Tuesday does, and we'll return all phone calls on Thursday. GO PHILLIES!!!
That's about it for now. Thanks for reading!
Hi all. A few quick updates. NEW PRODUCTS received this week include the 09 Topps Ticket to Stardom Baseball (3 hits per box), 09 Playoff Absolute Memorabilia Football (one hit per pack), and 09 Bowman Sterling Football (3 hits per pack). We're expecting the much talked about and anticipated 09 Upper Deck Ballpark Collection Baseball tomorrow (another 3 hits per pack) and 09-10 Upper Deck Basketball (3 HOT boxes per case ... one jersey or auto in every pack of a hot box!). Next week will bring 09 SPx Football.
One of our store customers opened a box of the new Bowman Sterling Football yesterday, and besides getting regular rookie jersey cards of Knowshon Moreno, Mark Sanchez, Jeremy Maclin, and LeSean McCoy; he also pulled a double auto numbered to 15 of local favorites DeSean Jackson and Jeremy Maclin! Great pull!
Will BLOG again soon. Have a great weekend!
Hi everyone. Once again, long time, no BLOG. I've had a few people asking about it, so that was nice that people are reading the BLOG (and looking forward to it ... thanks!). I've had even more people asking about our e-mail newsletters, and I promise I will be sending one in the next week.
There was a recent announcement you may have heard about concerning Topps being the only company with a MLB license to produce cards for 2010. The leagues seem to be going more and more in this direction. First, Upper Deck gained an exclusive for NHL cards in 2004-05. Next, Upper Deck and Topps together gained exclusive rights (bye bye Donruss) for Baseball in 2006. Most recently, Panini secured exclusive rights to 09-10 basketball (starting in October 2009) and subsequently purchased Donruss/Playoff. So now, things have changed yet again for 2010; and Topps has an edge over Upper Deck in the Baseball market. As always, it remains to be seen exactly how things will pan out. I like to reserve judgment until changes actually take place, but my initial reaction, like many of yours, was not a positive one. While Upper Deck insists they WILL be producing Baseball cards in 2010, they will have to be creative in how they do things (they're not allowed to use full MLB logos or uniforms, etc.). So time will tell.
I honestly don't know how the current MLB arrangement has worked out for the MLB, Upper Deck, or Topps; and given the downturn in the economy, I'm also not sure there's a straight answer. I know that part of the reason voiced for the change (from 3 big companies to 2 making MLB cards); as given by the MLB, Topps, and Upper Deck; was to help curb consumer confusion because of all the brands "out there" (other reasons included the overall amount of money spent in the category being not enough to sustain three companies). Well, if indeed curbing confusion was a goal, from talking to collectors, I don't think it's a goal that's been met. Novice collectors (or those just getting back into the hobby) are easily overwhelmed by the number of products still on the market. Each manufacturer is permitted to produce 20 Baseball brands, so that's 40 different MLB licensed products to choose from. Die hard collectors are more easily able to ignore the products not preferred by them (after all, most products released aren't new ... they've been made for several years, so collectors know what to expect ... OR they've been made in other sports, so multi-sport collectors often still know what to expect). For this reason, I don't think adding an extra 20 Donruss/Playoff brands back into the mix would confuse die-hard fans who look for certain things from certain products and can tell the difference. However, the issue of total buying dollars available being divided up amongst three companies instead of two could in fact be the key problem. That's tricky. An economy without much disposable income is not good for the hobby.
NEW PRODUCTS ... We JUST received this week 2009 Upper Deck Goodwin Champions Baseball (similar to Allen & Ginter) and 2009 Bowman Chrome Baseball. The two products being much talked about and asked for ... 09 Upper Deck Ballpark Baseball and 09 Topps Ticket to Stardom Baseball ... are both now expected next week, but these release dates (along with about 8 other products!) seem to change daily! Last week, we received 09 Topps Chrome Football, 09 Donruss Rookies & Stars LONGEVITY Football, 09 Upper Deck Football, 09 Topps Chrome Baseball, 09 Tri Star Obak Baseball, 09-10 SP Game Used Basketball, 09-10 Topps Basketball, 09-10 Ultra Hockey, 09-10 Collector's Choice Hockey, Topps American Heritage "Heroes", and Razor Ink Vault. Beckett-wise, we just received the new Multi-sport price guide this week; and we received the new Football and Basketball guides last week.
That's it for today. If you have any opinions about the hobby you'd like to share, I'd love to hear them. My e-mail is heidig@gcxonline.com. Have a great weekend!
Hi everyone!
NEW PRODUCTS ... Since my last BLOG, we've received 09 Just Minors Baseball Mystery Jerseys, 09-10 Bowman '48 Basketball, 08-09 Exquisite Basketball, 09-10 Michael Jordan Legacy Boxed set, 09 Press Pass Legends Football, 09 Press Pass VIP Racing, 08-09 The Cup Hockey, Magic 2010 Core Set, Pokemon Platinum Supreme Victors, and The Ghost Whisperer. Still strong sellers are 09 Allen & Ginter Baseball, 09 Donruss Rookies & Stars Football, 09 Upper Deck Heroes Football, and the 2008 baseball products containing Stephen Strasburg autos. The 09 Just Minors Mystery Jerseys is an interesting product. We saw a bunch opened on Saturday and liked the product. Ask us about it if you're interested.
There are so many products coming up over the next couple of weeks. One of the most anticipated is Upper Deck's 2009 Ball Park Baseball Collection. This year, every jersey card and auto will be numbered ... the one thing missing from last year's debut. Otherwise, this product was loaded with multi-swatch jersey cards, moreso than just about any other product. Other products coming in include ... Tristar OBAK Baseball, Topps Chrome Football, Donruss Threads Football, Donruss Longevity Football, Upper Deck Football, '09-10 UD SP Game Used Basketball, Topps Basketball, Rittenhouse WNBA Series 2 Basketball, Fleer Ultra Hockey, Topps UFC Round 2, Tristar TNA Impact/Maximum Impact Wrestling, Topps Jonas Brothers, and Topps American Heritage Heroes Edition.
There's been a lot of talk about the Eagles acquisition of Michael Vick recently. Steven had to calm me down (he's the voice of reason in the family), as I was pretty upset; and both of us felt that we knew he'd be back in the NFL, but didn't want him on our team. Our local customers have had wide ranging opinions. Some have been similar to mine, voicing he'd be playing somewhere, but not feeling great about it being here. Others are all about the wins, so if Vick can help the Eagles, then all the better. I am a big believer in second chances, and I will put some faith in the powers that be that made this decision. Jeffrey Lurie seemed very genuine during the press conference that he needed a lot of convincing to go forward with this choice. If Vick sticks to his word and helps more dogs than he's hurt ... that'll be a step forward at least.
If you don't tend to look at our SELL SHEETS link, you might take a peek. It's a great way for you to see what the manufacturers are planning for upcoming releases.
And naturally, GO PHILLIES!!! We love Clifford "The Big Red Dog" Lee.
Take care, everyone. Enjoy the rest of your summers before the back to school madness!
Hi all. Just wanted to quickly check in. NEW PRODUCTS in recently ... 09-10 Victory Hockey, 09 Donruss Rookies & Stars Football, 09 Topps Philadelphia Football, 09 Upper Deck X Baseball, and 09 Topps Chrome Baseball. We're expecting 08-09 Exquisite Basketball this week.
You may have heard that Topps has secured the exclusive rights to produce MLB licensed baseball cards for next year. Upper Deck will be able to produce cards of major leaguers without identifying team names and logos, but this arrangement between Topps and Major League Baseball will seriously affect Upper Deck's baseball card future. More on this as details are made available.
Talk to you all soon ...
As an aside (even though I'm starting today's BLOG entry with this), it's amazing that stores already have back-to-school specials and are talking about summer being almost over. I feel like it's just begun! Steve and I were at a Rite Aid yesterday that was selling Halloween candy! That's just wrong. I actually had to stop and think about what month it was (as if I'd suddenly remember it's mid-September or something). Anyway, the summer and the Phillies are in full swing; and both are far from over. I want to welcome Cliff Lee to our bullpen. He starts tonight, which is very exciting. Go Phils!
Many new products have arrived ... most notably the highly anticipated 2009 TOPPS FOOTBALL and 2009 TOPPS BASEBALL FACTORY SETS. Other new products include 2009 Score Inscriptions Football, the 09 Upper Deck Rookie Premiere Football set, 2009 Press Pass Legends Football, 2009 Razor US Army All-American Football Factory set, 2009 Just Minors Mystery Jersey Baseball, 09-10 UD Draft Basketball, Ace Authentic Game Set Match Tennis, and 2009 Fleer Showcase Racing.
Can't think of anything else that's fit to print. Will talk to you all soon ...
Hi everyone!
CORRECTION: Since this BLOG entry was posted, we have found out that the information listed for Upper Deck's DRAFT Basketball product is actually the information for Upper Deck's REGULAR Basketball product, scheduled for a September release. The REGULAR 09-10 Upper Deck Basketball release is the one with 3 hot boxes per case. The DRAFT product came in this week, and has 4 autographs per box (no jersey cards) with no known hot boxes.
Congrats to our FIVE Phillies who went to the All-Star game. When I wrote my last BLOG, they hadn't announced Werth's inclusion yet. The game could have been more exciting (like if we had won), but I was happy and proud to see our Phillies represented.
Not too much is new this week, but 2009 Icons Baseball (yes, Baseball ... not Football this time!) came in this week, as well as 2009 Score Football. As a reminder, both Icons Football and Baseball yield the same 5 hits per box ... 1 auto, 2 jerseys, and 2 Lettermen cards.
Not that it's a big surprise, but Topps has pre-sold out of their upcoming 09-10 Topps and Bowman '48 Style Basketball releases. Upper Deck released some details about their 09-10 Draft product (previously cancelled, then re-scheduled). It sounds excellent. There are 4 hits per box, with 3 HOT BOXES per case. Each HOT BOX has 11 memorabilia cards and 5 autographs, and the odds are 1 in 4 you'll get one. Not too shabby. So if you think you want either Topps or Upper Deck Basketball, don't wait too long to order them.
That's it for now. More soon!
Hi everyone. I hope your summer is off to a good start. The All Star Game is next week, and our beloved Phils have four players in it. Congratulations to Ryan Howard, Chase Utley, Raul Ibanez, and Shane Victorino. Make us proud!
Okay, new products. A bunch have arrived this week and last. First, 09 Donruss Classics Football and 2009 Tri Star Projections Series 3 Baseball arrived last week. Donruss Classics promises 3 hits per box, but like Elite, sometimes has 4. This week brought two more football items ... 2009 Sage Squared Football (8 packs per box; 2 autograph cards per pack with one bearing two autographs on it ... so 3 actual autos per pack total) and just yesterday ... 2009 Icons Football. This product was very popular last year because of its Letterman inserts (both autographed and non-autographed, and both football and celebrity versions). This year's box has 2 jersey cards, one autograph, and 2 Lettermen per box. Last new football product is a new offering altogether ... 2009 Topps Magic Football. Based on a past design, I don't know too much about this one yet.
On the basketball front, Upper Deck's 08-09 Ultimate Collection Basketball arrived yesterday as well. Along with the upcoming SP Game Used (due out in September), Upper Deck's latest basketball offerings are being rumored to have extra hits and potentially better star quality in those hits because of their exclusives with Michael Jordan, LeBron James, and other popular stars. With Panini having the only NBA license for 09-10, Upper Deck only has so many products and so much time to use its remaining inventory of good autos and jerseys. It remains to be seen exactly which products will have what (I'll report on Ultimate once I see it opened), but Upper Deck has announced that their SP Game Used Basketball will have 3 hits per pack, including at least one auto.
Other NEW PRODUCTS include 2009 Topps Allen & Ginter Baseball (very popular for four years running), 2009 Press Pass Series 2 Racing, Rittenhouse WNBA Series 1, Rittenhouse X-men Archives, and Yu-Gi-Oh Duelist Pack Yugi.
Of note are some 2008 baseball products that have been selling particularly well lately because of pitching phenom Steve Strasburg (recently drafted by the Washington Nationals). 2008 SP Authentic Baseball, 2008 Sweet Spot, 2008 Ultimate, and 2009 Upper Deck USA sets have all seen a surge in popularity as collectors are searching for Strasburg autos. He appears in his USA uniform.
The only other hobby news note I have is that the 09-10 Upper Deck Draft Basketball (previously cancelled) is back on and scheduled for late August/ early September.
I'm gearing up to do another e-newsletter early next week, and our "snail mail" printed flyer should be printed next week as well. If you don't receive either regularly, just call or e-mail, and we'll rectify that. Thanks!
Hope to hear from you soon!
Hi all. Happy Father's Day to all of the dads, and happy graduation and start of summer to so many others!
NEW items to arrive ... 09 Donruss Elite Football, 09 UD Heroes Football, 09 O-Pee-Chee Baseball, 08-09 OPC Premier Hockey, Razor Ink Archives, 2009 Razor Cut Signature Sports Icons, 2009 Donruss Americana, Battlestar Galactica Season 4, Terminator Salvation, and Transformers Revenge of the Fallen.
Hobby news ... 09-10 Upper Deck Draft Basketball has been cancelled. Topps and Upper Deck have until sometime in September to release what they're going to for the 09-10 season before Panini takes over as the sole NBA licensee. On the schedule so far is 09-10 Topps, Bowman '48, and Upper Deck SP Game Used Basketball. All are being made in very limited quantities.
This month's Beckett Sports Card Monthly (their multi-sport price guide) lists the 2009 Playoff Prestige Football rookie short prints. Unlike in past years, every rookie is available as both a regular and short printed version (the difference often being the uniform shown); so without consulting the published list, there's no easy way to tell if you have a short print.
We just sent the June flyer (snail mail). If you ordered from us within the past 6 months, you automatically get one. If you didn't and you want one, just call and ask!
More info soon!
WOW! I can't believe my last BLOG entry was almost three weeks ago. Time flies. I apologize for being so out of touch. There are so many new products that have arrived lately ... a welcome change to the previous drought. Many of the new products are also very affordable, which is especially ideal. So let's start the list. We'll start with baseball. Following up on the heels of Topps' Series 1 Baseball success, Series 2 has been released. Topps seriously cut production of the Hobby Jumbo boxes (cut most orders by half), so consequently, Series 2 jumbo boxes are in short supply. For those of you completing the Series 2 set, Topps released the list of short printed "regular" cards (also called variations), and it is as follows ...
340 Wade Boggs Red Sox
350 Ryne Sandberg Cubs
353 Cal Ripken Jr. Orioles
355 Jim Palmer Orioles
400 Frank Robinson Orioles
415 Bob Gibson Cardinals
475 Mike Schmidt Phillies
476 Juan Marichal Giants
490 Nolan Ryan Rangers
495 Brooks Robinson Orioles
515 Reggie Jackson Yankees
520 Tony Gwynn Padres
595 Robin Yount Brewers
600 Greg Maddux Braves
610 Paul Molitor Brewers
650 Steve Carlton Phillies
660 Carl Yastrzemski Red Sox
All of these card numbers are normally current players in the regular set, but appear as these short printed variations. One of our big Topps openers has reported that unlike Series 1 jumbo's which had roughly one short print per box, his experience with Series 2 is 1 short print in every 2 boxes. You also get them in regular hobby boxes (and retail), but less often.
2009 Upper Deck Series 2 Baseball has also been released, along with 2009 Upper Deck First Edition (a popular $.99 cent pack product). For those of you interested in baseball trading card games, Topps has been heavily promoting its 2009 Topps Attax baseball, and we carry both starter and booster boxes. 2009 Bowman Baseball is the last new baseball product to arrive of late.
Football-wise, I'll mention everything for 2009 thus far (and in approximate order of release) ... 2009 Sage Hit Low Series Football, 2009 Press Pass, 2009 Sage Hit High Series, 2009 Press Pass SE Signature Edition, 2009 Playoff Prestige, 2009 Bowman Draft, 2009 Sage Autographed, and 2009 Upper Deck Draft. 2009 Bowman Draft features attractive rookie patch autographs and rookie Letterman autographs this year, while Upper Deck Draft yields 5 autos per box. Steve and I really like Playoff Prestige this year (more so than in years past in fact), and we've witnessed several great pulls, including autographs of Mark Sanchez, Matt Ryan, and Michael Crabtree. Just a note of caution to you Prestige collectors though ... Prestige has rookie short prints, and they're not serially numbered or identified in any way. They're also not key rookies ... just check out the Beckett for years past! So don't trade away your rookies just yet. We're working on finding a list for you.
The previously announced "Ink Archives" product is due out at the end of the week. This is the one autograph per pack product being released from Razor, using all of the left over autograph inventory from the now defunct Inkworks company. Other products arriving this week include the highly anticipated 2009 SP Legendary Cuts Baseball, 2008-09 OPC Premier Hockey, and 2009 Donruss Americana.
I'll be sending another e-newsletter out at the end of the week, so if you don't get them in your In Box yet, please click the "Join our E-mail List" at the top of this page. As always, if you have any issues you'd like addressed, feel free to e-mail me at heidig@gcxonline.com. I'm always happy to hear from you. Have a great week!

Hi everyone! Happy Mother's Day to all of the moms out there!
I'm currently working on a new e-newsletter, to be sent out next week. If you don't already receive our e-newsletter, please sign up for it today by clicking on the "Join our E-mail List" link at the top of this page.
Some misc. news ... MLB has nixed Topps' plans to include Bernie Madoff in the new Allen & Ginter Baseball set. Even though Madoff was to be included in the aptly titled "World's Biggest Hoaxes, Hoodwinks, and Bamboozles" insert set, MLB decided a card of him wasn't a good idea. I personally thought it would have been perfect for dart boards! Plans to make 2009 Donruss Century Collection Baseball has been cancelled. Panini has announced that the upcoming 2009 Prestige Football will contain NO redemptions, and 8 out of the 12 boxes will have 2 autos per box instead of 1.
Only two new product arrivals for this past week ... 2009 Press Pass Signature Edition Football (one auto or jersey per pack) and 2009 Tri Star Projections Series 2 Baseball. 2009 Bowman Baseball, 2009 Prestige Football, 08-09 UD Black Basketball, and 08-09 Be-A-Player Hockey are due in next week; to be followed by 2009 Topps Series 2 Baseball, 2009 Upper Deck Series 2 Baseball, and 2009 Bowman Football the following week. NEW Becketts this week were the Baseball, Football, and Basketball guides. If you haven't seen any pics of the new Bowman Football, look on the back of the new Beckett Football. There are Letterman autographs this year, and they look great!
That's it for now. Check back soon!
Hi all. Just in is 2009 Goudey and Finest Baseball, 2009 Sage Hit HIGH Series Football (with 9 autographs per box!), 2009 Press Pass Premium Racing, and the NEW 2009 American Idol box.
As a follow-up to my last BLOG entry, I heard from the president of Rittenhouse Archives, Steven Charendoff, who told me that Rittenhouse has never used redemptions for anything but posters or limited edition cels (and I'm assuming similar items that won't fit in packs), so all autographs are in-pack. A Topps representative also responded with the following information ...
"As a result of the guarantees inherent in our sports products, a large amount of autographs from the hottest players in their sports arenas are needed to complete the product. These subjects are simply not as readily available as the subjects associated with our entertainment products. However, our entertainment products will, on occasion, have a redemption included. One of the most recent examples is the 'Presidential Pup' redemption included in our Obama product.
It is also important to note that a portion of our entertainment products do not even contain autograph cards. Club Penguin, Star Wars Clone Wars, Indiana Jones Masterpieces, Star Wars Galaxy 4, Spongebob, Hannah Montana, Camp Rock, High School Musical, iCarly, Garbage Pail Kids, Wacky Packs, etc. do not contain any autographed material."
So, to summarize, Topps Non-sports products don't have many redemptions of any kind, and furthermore, many Topps non-sports products don't contain autographs anyway, so autograph redemptions would be a moot issue. I am still not certain if any autograph redemptions exist, but for now, I can assume if they do, they're few and far between. Thank you to both Rittenhouse and Topps for the fast responses.
I'll write more when I have more news!
Hi everyone! This week, we received the new 2009 Finest Baseball and Ace Hidden Treasures Tennis, and we will be getting the second Sage Hit Football product of the year later this week ... 2009 Sage Hit High Series Football (as well as the NEW 2009 American Idol). Last week brought 08-09 O-Pee-Chee Update Hockey, 08-09 Topps Signature Basketball, Press Pass KISS Ikons (the musical group) and a special Press Pass Dale Earnhardt Jr. "Shifting Gear" Factory set. Other recent arrivals include 2009 MLS Soccer, 2009 Press Pass Football, and 08-09 Lineage Basketball.
Not too much else is cooking. Just wanted to let you know which new products have arrived. On another note, I did have an interesting conversation with one of our Non-sports customers recently, and I'd appreciate any feedback from you Non-sports buyers out there. She called because she had several Inkworks autograph redemptions that she now felt wouldn't be able to be redeemed (because the company is no longer in business). As previously reported in our e-newsletter and this blog, Razor has purchased Inkworks' remaining autograph inventory and will be releasing "Ink Archives", a one auto per pack product using those autographs. I'm afraid that there weren't any arrangements made by Inkworks to pass along those autos that were originally earmarked for redemptions to some third party so that they could be redeemed after their closing, but if anyone knows differently, PLEASE let me know, and I'll announce it here.
Furthermore, this phone call sparked a conversation about Non-sports autograph redemptions in general, (and reminded me a bit about when Fleer declared bankruptcy and Upper Deck subsequently bought the rights to their brand names ... in that case, a third party WAS established to fulfill outstanding redemption cards, but the methodology to do so was largely disliked by collectors who didn't receive the value of their redemptions). The aforementioned customer has had much experience opening Inkworks, Rittenhouse Archives, and Topps Non-sports products; and her experience has been that Inkworks was the only company that had Non-sports redemptions. She said that Rittenhouse in particular would specifically put a little note in their boxes if they were unable to provide a certain auto, with the idea being that it would be used for a future product. I do not have experience opening Non-sports products, however, I'm very familiar with opening Sports products. With the exception of this year's Press Pass and Sage Football products, pretty much every company uses redemptions to vary'ing degrees. So I'm looking for your expertise to educate me. Has your experience also been that Rittenhouse and Topps don't use redemptions at all (in their Non-sports products), or maybe just not nearly as often as Inkworks did? Would you say Inkworks had a lot of redemptions, or an average amount? And last, my customer reported that certain Inkworks products had redemptions for costume cards. She specifically mentioned Witchblade as a source of these redemptions (and possibly there was a production problem, and only Witchblade had costume redemptions? ... I've never heard of a costume/ jersey card redemption). What's your experience? Are there any particular products you know of from any company (and sports too for that matter) that you would say are redemption heavy? Please e-mail me at heidig@gcxonline.com with any info that could help enlighten me! I'd appreciate your help.
Thanks so much!
Hello there. I hope everyone enjoyed a good Easter or Passover holiday. Monday was hard for Phillies fans because of the sudden passing of our long-time announcer (the "Voice of the Phillies") and all around team cheerleader, Harry Kalas. Harry's voice is a beautiful baritone and one that will not be soon forgotten. There was a moment of silence before the Phillies-Nationals game yesterday, and then many a kind word spoken about Harry throughout the game by his fellow announcers and those who knew him best. I'm sure there will be another tribute at our first home game since his passing, which is Friday, and then a permanent memorial to come at Citizens Bank Park. Harry meant a lot to a lot of people, and he will truly be missed. God bless you, Harry. I know you're looking down on our Phils!
Products that have arrived recently include 2009 Press Pass Football, 2009 Upper Deck Piece of History Baseball, 2009 Upper Deck 1st Edition Baseball, the 2009 World Baseball Classic set, 08-09 SP Authentic Hockey, 08-09 Power Play Update Hockey, 08-09 Upper Deck Lineage Basketball, 2009 MLS Soccer, and James Bond Archives. This week won't see many new arrivals. At best, we'll receive the 08-09 Topps Signature Basketball, 08-09 OPC Update Hockey, and Kiss Ikons.
When I have more news, I'll write more! Take care.
Hi all.
2009 SPx Baseball and 2009 Razor Letterman Baseball DID arrive. This week will bring the new 08-09 Upper Deck Lineage Basketball and 08-09 SP Authentic Hockey. Still slim pickings on the new product front. It's amazing how few items have arrived lately. Sometimes it seems like there's 5 or 6 new items released in a week (and all of them the same sport!). The past few weeks have only yielded a couple of new products per week. I personally am wanting some more 09 baseball. 09 Piece of History Baseball, which I did like a lot last year, is due out next week; and 09 Upper Deck 1st Edition Baseball, which sells well because of it low price (and easy set building!) is due in this week. 2009 Donruss Century Collection Baseball (remember this product ... the one with the postage stamps?) is due out toward the end of April. And then 2009 Football products should start rolling in. We've received 2009 Sage Hit Low Series Football so far, and 09 Press Pass Football is next.
I had the occasion to call Donruss/Playoff this week, and they do in fact answer their phone "Panini". Very weird! I'll have to get used to that change. Still no word on whether Upper Deck or Topps will negotiate on some of their brand names. I'd be happy as a clam if I could still see Bowman or Topps Chrome Basketball next year. And Upper Deck has a coup with exclusive LeBron James autographs (among others), so it will be interesting to see what deals are worked out (if any).
Non-sports fans may have heard that Inkworks closed its doors recently. This is sad news for collectors who enjoyed Inkworks' arsenal of products, most of them TV related. I believe Inkworks also guaranteed a set in a box, which is a huge plus to a set builder. Razor has purchased their remaining inventory and is putting together "Ink Archives", a product containing those items. Besides Smallville, 4400, Veronica Mars, and Supernatural, Inkworks is the company behind the Lost TV series trading cards, and I believe a Lost 4 was in the works at the time of their closing. More info about Ink Archives when we know more.
I'm sending a new e-newsletter today, so please check your In boxes for that. It will be chock full of new product information. We also just mailed our latest "snail mail" printed flyer last week. It's hot pink, and titled March/April 2009. If you didn't receive one or either, please sign up for the e-newsletter by clicking on the "Join our E-mail List" link at the top of this page. You will be able to view that newsletter on the "Our Latest Newsletter" link tomorrow as well. To get our printed flyer (sometimes more convenient than viewing the on-line "Shop our catalogs" pages), just send me an e-mail with your address under the "How to Contact Us" link or give me a call. Everyone who orders is automatically sent the next flyer, so if you JUST placed an order, don't worry. If you didn't get one inside the box your order came in, you will definitely get the next flyer mailed to you automatically.
Thanks everyone. Have a great week!
Hi everyone. I hope today's BLOG finds everyone happy.
New products to arrive since my last BLOG include 2008-09 Champs Hockey (mostly current players, some retired; looks like Allen & Ginter Baseball ... retro style), 2008-09 Upper Deck Premier Basketball, 2009 Sage Hit Football Low Series (the first 09 football product with the new rookies and 6 autos per box), and the Upper Deck Steelers Super Bowl set. Next week will bring 09 Razor Letterman and 09 SPx Baseball. It's been pretty quiet on the new product front, which is kind of nice because it allows collectors to catch up with certain products they either didn't get a chance to collect (or maybe started, but didn't finish a set). It can be frustrating trying to keep up with everything new, so a little breather can be a good thing.
To re-cap 2009 baseball received so far ... we have 2009 Topps, Upper Deck, Spectrum, Topps Heritage, USA sets, and Tri Star Projections. As of a few weeks ago, we were still receiving some high end 2008 baseball products (like Ultimate), but everything 2008 has been received at this point; and it'll be 2009 product from here on out. 2009 Press Pass Football will be arriving shortly as well.
Our non-sports customers have been enjoying I-Carly and SpongeBob Squarepants; and our gamers have liked Pokemon Platinum, Yu-Gi-Oh Crimson Crisis, and Magic The Gathering: Conflux.
That's about all the news that's fit to print. Have a good weekend.
Hello there, and happy Friday. As usual, lots of new products to report. Last week saw the arrival of Exquisite Football. At a mere $550 per pack, I will assume that most of you are not in the market for it; so maybe this week's Ice Hockey will be more up your alley. We also received Upper Deck Premier Basketball and 2009 Tri Star Prospects Plus Baseball. 2009 Topps Heritage Baseball and standard 2009 Topps Baseball continue to be strong sellers for us. Other products to arrive since my last BLOG include 2008-09 Skybox Basketball, SpongeBob Squarepants, and Yu-Gi-Oh Crimson Crisis.
I know that times are tough, and the economy is affecting everyone. There are a lot of customers who either haven't been able to place orders or have had to order less than what's customary for them. Believe me, we understand. Just know that we care about our regular customers who we've developed relationships with, and we will be happy to hear from you when you are able. For now, know that we miss you and we hope/trust that all is well.
Here are four ideas to save you money in these cost-conscious times ... A. Buy inexpensive products (they're out there, and I'll name a few later on); B. Look for a good value within your means (you might be an Ultimate Collection or Triple Threads fan on a Topps or Collector's Choice budget); C. Try a product from the past that has come down in price (the 2008 football rookie class is very strong, and box prices haven't come down post-season, but the 2006 rookie crop has softened, so bargains can be found), and D. Collect cards that are altogether different (like a tv/movie box!). So, for some specific suggestions ... back to A. Inexpensive products. Here are a few ideas sure to please your wallet ... 08-09 Collector's Choice Hockey, 08 Upper Deck First Edition Football/Basketball/Baseball, 08-09 Victory Hockey, and 08 Score Football. All of these boxes are $29.95 or less. Jerseys and/or autos don't come often in these products, but putting together a set and collecting all of the rookies is very do-able, at a cheap price.
Onto B. If you're a football fan who wants jerseys and autos, but you can't afford 08 Triple Threads Football (one of my favorites) ... why not try 08 Leaf Rookies & Stars Football or 08 Donruss Threads Football? Each is $79.95, has 4 hits, and a features a great rookie class! You might have to stay away from some of the "big gamble" products, and go for more of the "sure thing" right now. C. Try a product that has come down in price. We have sold a ton of 2005 Leaf Rookies & Stars Football at $59.95/box (still 4 hits!), 2007-08 Ultra SE Basketball at $49.95/box or 2007 Ultra SE Baseball at $39.95/box (each with 5 hits!), or 07-08 Upper Deck Mini Jersey Hockey at $49.95/box (a fun product with many little replica jerseys per box). All of these prices reflect a serious savings off of what each was originally sold for, and many more bargains like these can be found by looking at the bold faced items in our mailer or in our sports and non-sports catalogs on-line. If you have an open mind, you might find some items you didn't think of opening before but are a great value now. And finally D. Collect cards that are altogether different. One thing most of our customers share is the enjoyment of putting a set together from start to finish or pulling that special autograph, rookie, or jersey card. It doesn't matter whether you collect hockey, baseball, NASCAR, or Yu-Gi-Oh. That enjoyment is the same. Well, maybe you can't afford to buy several 08 Topps Chrome Football boxes or 09 Heritage Baseball boxes to put a complete set together. However, you might be able to buy one movie or tv box; and try your luck at costume and autograph cards (often guaranteed). Non-sport boxes are smaller sets and usually yield at least one set per box (or close). OR, the scenario might be that you buy football boxes, but have never purchased the Upper Deck Rookie Premiere sets (featuring the top 30 draft picks). Well, now might be the time. Most are only $9.95, so very affordable. Such sets exist in almost all sports ... whether they're of the annual rookie crop; the World Series or Super Bowl Champions; or of a specific athlete (Sidney Crosby, Michael Jordan), NASCAR driver (Earnhardt Jr. and Sr. or Jeff Gordon), or celebrity (Elvis, Marilyn Monroe). There are many options for all tastes, and most are $19.95 or less. So again, keep an open mind, and you might just find something you didn't even know you'd like; or something you always wanted but just never purchased.
Onto hobby news ... I previously reported that Panini was named the sole basketball licensee by the NBA, starting with the 09-10 season. I also mentioned that Panini was thinking about buying the Donruss/Playoff Company or at least partnering with them to produce basketball cards. I'm VERY happy to report that they ARE buying Donruss/Playoff, which I think is very good news. There are a lot of Donruss/Playoff brands (think about your favorite football products, like Donruss Threads, Leaf Certified Materials, and Leaf Rookies & Stars) that we love; and while I will still be very sad to not see Bowman or Topps Chrome Basketball (amongst others) next year, at least it will be exciting to see the Donruss/Playoff brands in basketball. That's something to look forward to. I also hope that the influx of capital, resources, and interest in Donruss/Playoff will strengthen their market share. It's been my hope for a while now that Donruss/Playoff returns to making baseball cards (MLB licensed), and I think their new ownership and exclusive arrangement with the NBA can only help in that aim.
As an aside, much like Donruss presently produces a minor league baseball card set (Elite Extra Edition) without a MLB license; or Sage and Press Pass produce football draft pick sets (all of which are without an NFL license); Upper Deck has announced that it will be making a basketball draft pick set for the 09-10 season. No word yet on whether Upper Deck will include autograph and relic cards from its exclusive signers (including LeBron James and Kobe Bryant), but it would probably be foolish not to. That is one huge advantage that Upper Deck has had in recent years over its primary competitor, Topps, in the basketball card market. Topps has its own exclusives as well, including Dwyane Wade (and possibly still Greg Oden). Donruss/Playoff would have to make a deal with Upper Deck or Topps before it could include autos (and in some cases, jersey cards) of their exclusive signers.
We will start seeing the new 2009 football draft picks soon, as 2009 Sage Hit Low Series Football is due to arrive next week; and 09 Press Pass Football in early April. Playoff Prestige, Upper Deck Draft, and Upper Deck Heroes are also all scheduled to arrive early; and Bowman is changing its format this year to also be primarily a rookie product. It will have an earlier release date to coincide with its new concept. The last four products all enjoy NFL licensing, and all rookies have true rookie status.
Also due in soon are 2009 Finest and SPx Baseball, 08-09 Between the Pipes Hockey and the new Upper Deck Champs Hockey (a retro product), and 08-09 UD Black Basketball.
That's it for now, everyone. Take care!
Hi all. I hope today finds you happy. We were flooded with new products this week. You know that we have the new 2009 Topps Baseball and Upper Deck Baseball. Well, now we have 2009 Spectrum too. Upper Deck released 08-09 Collector's Choice Hockey, after years of not making it. The highly anticipated Topps Ultimate Fighting Championship (UFC) box is here. This product has gotten a lot of buzz. 2008 Eclipse Racing arrived, as well as Star Wars Galaxy 4 (with one sketch card per box). Last in was the new 08-09 Topps Murad Basketball.
2009 Heritage Baseball will be here next week. This has been a very strong pre-sale for us, as Heritage is always popular amongst baseball purists. Also due to arrive is 2008 Exquisite Football. Yu-Gi-Oh fans will be happy to know that the new set, Crimson Crisis, is due in next week as well.
Have a great weekend!
Happy President's Day, everyone! It was a busy week last week, and I'm happy to say that all 2009 Topps and Upper Deck Baseball orders have officially shipped; so if you've been expecting one or both, they should be arriving this week. Other new products that arrived include 2008 SP AUTHENTIC FOOTBALL, 2008-09 UPPER DECK SERIES 2 HOCKEY, TOPPS AMERICAN HERITAGE (primarily a history set using retired Topps card designs), tv show I-CARLY, HIGH SCHOOL MUSICAL 3, POKEMON PLATINUM, and MAGIC THE GATHERING: CONFLUX.
For those of you wondering what the difference between HOBBY and RETAIL boxes is, a hobby shop like ours mostly carries Hobby boxes; while mass merchandisers like Target and Wal-mart carry retail boxes. Sometimes the difference is the way the cards are packaged. A retail box often has fewer packs than a hobby box. 2009 Topps Baseball HOBBY has 36 packs of 10 cards. 2009 Topps Baseball RETAIL has 24 packs of 12 cards. Sometimes there is an insert set that can only be found in one type of pack. You'll notice in Beckett that Topps Baseball has some inserts that can only be found in hobby packs and others that can only be found in Target packs specifically or Wal-mart packs specifically. This is unusual (to have different inserts in different retail packs) but possible. The most important difference is the number of game used or autograph cards you'll find, and this is where the value of a hobby box comes into play. A perfect example of this is the 2009 Topps American Heritage product. The Topps American Heritage RETAIL and HOBBY boxes BOTH have 24 packs of 8 cards. The HOBBY box yields TWO autographs or relic cards, while the RETAIL does not guarantee any (but I believe does usually yield ONE). Most of our customers want hobby boxes because you get a better chance at getting "the big pull". But, because the hobby box usually costs more, set collectors sometimes prefer switching over to the cheaper alternative of the retail box to finish off their set. Other collectors stick with the hobby regardless to get more autos and relics. We always carry hobby boxes (unless otherwise noted), but we do sometimes carry both hobby and retail so that set builders have a choice. You'll notice that we have both of the aforementioned Topps American Heritage varieties and both of the 2009 Topps Baseball types too.
Due in this week are 2008 ULTIMATE COLLECTION FOOTBALL and 2008-09 SKYBOX BASKETBALL. We've sold quite a bit of 2008-09 SP Authentic Basketball and 2008 SP Authentic Football lately. One important note ... on average, the SP Basketball yields 2 autos and the SP Football yields 3. However, there have been some problems reported with SP Football. We've had several boxes opened that yielded only 2 autos, and one customer pulled 7 ! So just please be aware that this could be the case for you as well.
I'll be in touch again soon.
I announced in a previous BLOG that the NBA signed an exclusive 4 year deal with virtual unknown Panini to be the exclusive NBA licensee starting next season (and that I was unhappy about it). Well, rumor is that Panini is trying to partner with Donruss (or maybe even buy them), which I think would be great news for basketball, as Donruss is known for many exceptional brands (think football). Stay tuned!
Many products were due to be released this week. Some came in. Some haven't. Some won't. Here's an update. The most anticipated product our customers have been waiting for is 2009 Topps Baseball. That is currently on an overturned UPS tractor trailer in Oklahoma, so that will not be arriving until next week. We have it coming from two different sources, and apparently their orders were both on that truck! A similarly strange scenario happened to our 2008 SP Football product, but Steve scrambled to get more for Thursday. We DID receive 2009 Upper Deck Baseball, 2008 Playoff Contenders Baseball, 2008-09 SP Game Used Hockey, and 2008-09 SP Basketball.
Until later ...
Hello everyone! I'm working on the next e-mail newsletter, to be sent shortly, with all sorts of new product information, but I wanted to share some timely information with you now.
Well, here's the big news ... guess who won't be making basketball cards next year? Topps and Upper Deck! I'm sort of in shock about the decision, but the NBA signed an exclusive 4 year deal with an Italian company Panini to be the sole NBA trading card licensee. You might be familiar with Panini because they produce stickers that are distributed in the U.S. I've seen various cartoon character stickers they've made, in particular. Apparently, because the basketball card market has been struggling, Topps and Upper Deck agreed that one manufacturer would be enough for the NBA card market to maximize profits and sales. The NBA seems excited about Panini's ability to maximize global sales, and they're enthused by some of their ideas. Me personally? Nervous. Worried. Not happy. Much like when Donruss was shut out of the MLB card market, I'm going to miss my favorite basketball brands. I'm a big fan of Bowman/ Bowman Chrome and Topps Chrome, in particular; and unless Panini is going to make a deal with Topps to buy these brands (like Upper Deck did with Fleer's brand names when Fleer went out of business), then Bowman/ Bowman Chrome and Topps Chrome Basketball will be no more. I'll reserve complete judgment until I see what Panini brings to the table, but for now, I'm not excited.
Lots of new products came in this week, and most are already going up in price. Examples are Topps Hardwood Basketball, Topps Mayo Football, Topps American Heritage, Topps Barack Obama Trading cards, Upper Deck USA Baseball sets, and Playoff National Treasures Football. One of the big reasons products go up in price so quickly (or even before they're released and still in the pre-order phase) is that the companies don't make enough of them. It's your typical supply and demand situation. I don't think anyone had any idea how many Topps Obama trading card boxes would sell (and yes, that's a real product!). We've hardly sold any in our store, but we've sold a bunch of boxes and cases across the country. Topps Mayo Football we ordered only enough to cover pre-orders we had because we didn't know much about the product and didn't want to have too much. Well, apparently, due to low pre-orders from the hobby, Topps didn't produce a lot of Mayo; and now the price is higher than it would have been expected to be, simply because of perceived supply available (not due to the merits of the product itself). The product might be great; it might not. We don't know yet because it was just released.
This is what has been going on with 08-09 basketball products. You may have noticed that both 08-09 Bowman/ Bowman Chrome and Topps Chrome have gone up $10-20 a box. This is because they've been very well received by collectors (demand), and there's only so much supply to go around (remember I said they were my favorites!). For the most part, both Topps and Upper Deck are producing only enough 08-09 product (and basketball especially) to meet their pre-orders. If they over produce, the excess won't sell and/or the value of all of the product will go down to compensate. Well, it's hard for dealers (like us) to predict what will sell or not sell (many factors involved, including the current economic climate, timing of the products' release, production numbers, and likability of the product), so for a brand new product like Topps Hardwood, which has no previous experience in the marketplace, most dealers didn't order a lot. Well, then Topps didn't produce a lot. People were excited that there wasn't a lot of it, so demand went up. Accordingly, the price on the secondary market went up. And this is basically the case with almost all of the new products that have come in over the past week.
2009 Topps Baseball, coming out in about a week or so, will probably be going up as well. It was sold out 3 months ago.
One good thing about manufacturers producing less than they expected is that often, they will increase the content of the product. They have a certain number of autographs, patches, and numbered inserts earmarked for a product; with less cases being produced. So you often get more hits than you originally would have. That's enjoyable. We saw some 09 Playoff National Treasures Football opened today, and boy, was it nice ... both in appearance (lettermen autographs with game worn letters, autographs on fabric cards, prime patch pieces ... we saw a gorgeous Randall Cunningham patch with a piece of the Eagle ... obviously a local favorite) and low numbering. Each box had several cards numbered to 5 or less.
Another new arrival worth mentioning is 2008 Triple Threads Football. We've seen a few opened here, and we were very impressed with what was pulled. It helps that we have a good rookie crop this year. Given that the autograph jersey card in Triple Threads is often a rookie, it's good that there are so many good ones to pull. Matt Ryan, Joe Flacco, Chris Johnson, DeSean Jackson, Felix Jones, and Darren McFadden all would be winners ... just to name a few. We've seen many low numbered cards in this product as well. One customer had 6 1/1's in his 18 box case!

Something important to note is that in all of these cases, pre-ordering the product at our starting price was a smart move. We honor all of our pre-orders, no matter if we have to pay more for a product because it's suddenly in great demand and short supply. And not that it's easy to predict which new products will be "winners" (we struggle with this ourselves!), but at least if you know you're interested in something, it often pays to lock it in when it's first offered.
I expect to have some information about the brand new Topps American Heritage later this week (in terms of what you get in a box).
I'll talk to you soon!
Hi everyone! I apologize that it's been so long since I've written. The holidays are always busy, and it's hard to find the time to write and make sure orders got out on time. I hope you all enjoyed a wonderful holiday season and New Year's celebrations and are off to a good start this year.
I wouldn't even know where to begin with what items are new since it's been so long since I've written, so I'll just go over the very latest arrivals. In football, that means 2008 Playoff Contenders. In Baseball, it's 2008 Ultimate Collection, Topps Sterling, Sweet Spot, Bowman Sterling, Razor Signature Minor League, and Upper Deck Timeline. For Basketball, 08-09 Fleer just arrived, preceded by the popular Topps Chrome. In Hockey, we just received 08-09 Trilogy. And in Racing, the latest is 2009 Press Pass. In answer to a popular question, please note that 2009 Baseball comes out in February.
There have been several products released recently by both Donruss and Razor featuring either general celebrities or sports legends. Remember that Donruss does not have a Major League Baseball license, but they do want to appeal to the baseball collector market, so they started by making 2008 Donruss Threads Baseball (a mixture of baseball up and comers and old timers). Both Pete Rose and Shoeless Joe Jackson were featured in Threads. Donruss then continued to appeal to collectors of up and comers with their 2008 Donruss Elite Extra Edition Baseball. Their most recent release combined baseball with other sports to make up their 2008 Donruss Sports Legends product. This was well received, with autograph and clothing cards of popular athletes from all fields ... including the obvious sports of Baseball, Basketball, Football, and Hockey; but also including Nascar, Gymnastics, Softball, Bowling, Tennis, and Pool (and others). We've seen some Richard Petty auto's and some Jennie Finch ones, along with Pete Rose autos and Shoeless Joe Jackson bat cards. It's an interesting combination of athletes in one product. I'll talk about the Razor products (including Razor's Cut Signature Encore Edition) in the e-newsletter.
There's a lawsuit between Upper Deck and Konami that's affecting Yu-Gi-Oh fans. For now, the new set is on hold until the two sides settle things. Pokemon Platinum (a NEW series ... not Diamond and Pearl) is due out right before Valentine's Day. And MAGIC:The Gathering fans can look forward to Conflux, arriving February 6th.
Barack Obama fans (or political junkies) might be interested to know that there's a new "President Obama" trading card set, released by Topps. It's all about Obama's early life and rise to the White House. I'm not aware of any random autographs (which would have been a nice addition), but there are "Presidential Pup" redemption cards, redeemable for a card of Sasha and Malia's new dog, once determined. We thought that was funny (cute).
I should be getting a new e-newsletter out next week with all sorts of information about upcoming releases. I've been filing away paperwork for just that purpose. Here are two tid bits I'll include in today's BLOG. The upcoming 08-09 UD Black Basketball will feature two A-list autographs per 10 box case. These autographs are from the following list ... Kobe Bryant, Michael Jordan, LeBron James, Kevin Garnett, Magic Johnson, Bill Russell, Larry Bird, Dr. J, Michael Beasley, O.J. Mayo, and Derrick Rose. On the football front, 2008 Ultimate Collection is being re-tooled. Every 4th-5th pack of Ultimate Collection will feature an Ultimate Rookie Signature Materials Card, and that subset of RC's only includes the BEST 20 rookies! I'll leave you with that for now.
Thanks for reading, and enjoy a happy, healthy 2009 (full of great card pulls!!!).
Hi everyone! Long time, no BLOG. I'm guessing everyone's Christmas and Hanukkah shopping is well underway (if not almost over!). Of course, some of you (like Steven) will be at the mall Tuesday night! We're selling a lot of Phillies items (surprise, surprise), and the 2008 Upper Deck World Champions set has been very hot. I usually give a list of new products that arrived recently, of which there are many; but I think this time I'll highlight some items that have been selling well that might not be on your radar.
First, I might as well tell you about the aforementioned Phillies set. I know that nationally, the sets won't sell as well as locally, but
we do have a lot of customers in Pennsylvania and the tri-state area or Philly transplants who still follow our team (our mom lives in New Mexico, and she's one of the biggest Phillies fans ever!). The new 2008 Upper Deck World Series Champions Phillies set is a 50 card set plus additional larger size celebration card (players jumping on top of each other after their win). There are 25 regular player cards, including all of the usual suspects (Utley, Howard, Hamels, Victorino) plus other players that have either never had a Phillies card (Joe Blanton), or just not too many (Matt Stairs, Clay Condrey, etc.). There is a special Cole Hamels MVP card as well as many cards of memorable moments of the post season. It's a no-brainer for any Phillies fan.
2008 Razor Signature Series Minor League Baseball has been a solid seller. It's a bit confusing to figure out which players also have autographs in other minor league sets (like Tri Star's new, well received 2008 Prospects Plus release). According to Razor, the top 15 draft picks are exclusive signers for them (I'm wondering if that's from here on forward, as opposed to they haven't signed in other products previously). Whatever the case, the Razor product is a good one, and all cards are hard signed (signed on card, not on sticker). There are 10 packs in a box, and an autograph in each pack.
2008 Topps Heritage High Number Baseball is popular. We expected this product to sell well when Topps announced they were making it, and it has. There are so many Heritage fans, and anyone who put together basic Heritage for this year would enjoy this update set. You could equate it to a Series 2 product, if that's easier to understand (since historically, Heritage has only come out in one series). There are 200 players in Heritage Update, and the cards are numbered 501-720; so the update continues where the basic set left off.
I want to draw special attention to Upper Deck's Masterpieces sets ... in all sports. There's 2008 Upper Deck Masterpieces Baseball, Football, and then 2008-09 Legends Masterpieces Hockey. Whenever we see these boxes opened, we are more and more impressed by the look of the cards. If you haven't seen them before, they're reminiscent of Topps Gallery and would probably appeal to purists who like Heritage, Cracker Jack, Play Ball, and the like. The cards are drawings, as opposed to actual photographs, but they are drawings of actual game moments. It's fun watching our customers identify the key game plays, and it really takes you back to great moments in sports; so it's kind of got a historical and interactive aspect to it. Players featured in baseball and football are assorted ... plenty of legends, but lots of current players and rookies as well (so you get the best of all worlds). If you haven't tried it before, you might check it out.
New arrivals this week include 2008-09 Topps Chrome Basketball, 2008-09 SP Rookie Threads Basketball, 2008-09 Black Diamond Hockey, 2008-09 Between the Pipes Hockey, 2008 Donruss Americana Sports Legends, and Marvel Masterpieces Series 3. To check out other recent product arrivals and sell sheets, just click on our Home Page link.
Happy holidays, and happy shopping!
Hi everyone. First, we sent an e-newsletter out last week. If you didn't get it and you want to in the future, click on the "Join our Mailing List" link at the top of this page. The newsletters are always chock full of upcoming product news to help you in your card buying decision making.
NEW PRODUCTS that arrived this week were 2008 Topps Heritage High Number Baseball, 2008 Tri Star Signa Cuts Baseball, 2008 Bowman Chrome Football, 2008-09 SPx Basketball, 2008-09 Upper Deck Series I Hockey, Rittenhouse Archives Fantastic Four Archives, and Yu-Gi-Oh Crossroads of Chaos. We're expecting 2008 Bowman Draft Picks & Prospects Baseball, 2008 Topps Letterman Football, and 2008-09 Topps Co-Signers Basketball NEXT Friday (after Thanksgiving).
Topps is celebrating Barack Obama's Presidential victory with a fact-filled 90 card set documenting his humble beginnings and subsequent rise to the White House. The scheduled release date is in January, prior to his inauguration, and presently, in pack form, with 6 cards and one sticker per pack.
Basketball collectors should note that upcoming 08-09 basketball releases may be in short supply (read that as good investments). By and large, 08-09 basketball has been under-ordered by retailers but getting more attention by collectors because of the performance of the top three draft picks...Derrick Rose, Michael Beasley, and O.J. Mayo. If you're a basketball fan, now might be a good time to buy.
That's it for now. Until next time!
Hi everyone. Sorry I've been out of touch so long. I'm working on an e-newsletter that will be going out in a couple of days, and realized I've neglected my BLOG.

Well, of course the big news around here is the PHILLIES winning the World Series. It's put a smile on a lot of people's faces, and we're so proud of our guys. It's a win this city wanted so badly, and it was great to see all the celebration and pay back to the great fans. So many kids took off from school to attend the Friday parade, using the excuse of "Phillies Phever" that they actually made it an excused absence in our area. A great bonus for Phillies fans is that the 2008 Upper Deck World Series card set coming out in early December will finally feature our team! We have a great deal right now on pre-orders. One set is $19.95, and 4 or more is $14.95; so essentially, that's buy 3, get 1 free! Definitely lock in your sets as soon as you can because we'll know we'll be selling a lot of them this year (and we don't want to run out!).
As for products that arrived lately, we've received 2008 Leaf Rookies & Stars Football, 2008 Leaf Limited Football, 2008 Bowman Football, 2008 UD Masterpieces Football, 2008 Upper Deck Timelines Baseball, 2008 Topps Updates & Highlights Baseball, 2008 Stadium Baseball, 2008 Donruss Threads Baseball, 2008 SP Authentic Baseball, 2008-09 Upper Deck Hockey, 2008-09 Ultra Hockey, 2008-09 Artifacts Hockey, 2008-09 Bowman Draft Picks & Prospects Basketball, 2008-09 Hoops Hot Prospects Basketball, 2008 Press Pass Legends Racing, Pokemon Stormfront, Rittenhouse James Bond in Motion, and Topps WWE Heritage Series IV. Boy, that was a mouthful!
So let's discuss a few of those products. I've gotten some questions about 2008 Donruss Theads. Since Donruss doesn't have a MLB license, some customers want to know what Donruss Threads is all about. It's a mixture of minor leaguers and legendary players, with roughly 4 hits per box (hits being jersey and autograph cards). Highlights of the set include Shoeless Joe Jackson bat cards and Pete Rose autograph cards. It's a nice looking card set, and very similar in design to 2008 Donruss Threads Football. Like-wise, 2008 UD Masterpieces Football is very similar in design to its baseball predecessors from 2007 and 2008. Masterpieces are drawings of actual game moments. I wasn't too familiar with this product other than the look of the card ... which is rich in color and on a nice, thick card stock. Masterpieces also has framed inserts in every pack that you don't get a "hit" in. Hits are 3 per box, and include an auto and two jerseys. We saw someone opening a couple of boxes yesterday, and he got a kick out of identify'ing the game highlights depicted on the cards. There are great plays from the past, as well as the present; and rookie cards are frequent too. All in all, it's a different looking and very nice set (and with 90 cards in it, it's do-able for set builders). A couple of products that are different for 2008 are Stadium Baseball and Leaf Limited Football. We haven't seen Stadium Baseball in a while, and it's back this year with an autograph in each pack (12 packs per box), so while the regular card set is everything you've come to expect from Stadium over the years (high gloss, great photography, thick card stock); the configuration is different, making autograph collectors happy, but set builders needing to purchase several boxes. 2008 Leaf Limited Football had been a single hit per pack product the last couple of years. This year, it's more of a conventional Donruss product, with 16 packs and 4 hits per box.
A few notes ... Donruss cancelled their 2008 Playoff NFL set product. Topps has pushed back 2008 Bowman Draft Picks & Prospects Baseball until December 10th, and while we currently have the very popular 2008 Topps Heritage High Number Baseball as pushed back until December 4th, we hear rumors that they're trying to get it out in November. The much anticipated 2008 Topps Letterman Football was due in November, but we're currently waiting to hear an update on its release date.
Look for our new e-newsletter in your In Box soon, and if you don't get already get our e-newsletter, take a minute to click on the "Join Our Mailing List" link at the top of this page. We're always looking for ways to keep in touch with you! Thanks. We hope to hear from you.
Hi everyone! There is definitely PHILLIES FEVER in the air here, as just about everyone is going crazy for our hometown team, and hoping we can make it to the World Series. Phillies fans aren't used to watching our team in the post season, so this has been fun!
The only new products to arrive last week were 08-09 OPC Hockey and 08 SP Rookie Threads Football. This week, we're expecting 08-09 Ultra Hockey, 08-09 Hot Prospects Basketball, 08 Donruss Gridiron Gear Football, and 2008 SP Authentic Baseball; so that should be something for everyone; since all four sports are represented, and all four products are pretty popular.
New SELL SHEETS posted on our website are ...
Upper Deck Documentary Baseball, UD Ultimate Collection Baseball, UD Sweet Spot Baseball, Razor Draft Baseball, Topps Sterling Football, Topps Triple Threads Football, Press Pass Legends Bowl Edition Football, UD Ultimate Collection Football, Leaf Limited Football, Topps Co-Signers Basketball, UD Ultimate Collection Basketball, UD SP Rookie Threads Basketball, Topps Chrome Basketball, UD Trilogy Hockey, UD MVP Hockey, UD Black Diamond Hockey, Press Pass Legends Racing, 2009 Press Pass Racing, and Rittenhouse Bond in Motion.
Take care. We hope to talk to you soon!
Hi everyone.
All products announced in my last BLOG entry as upcoming did arrive (2008 UD Masterpieces Baseball, 2008-09 MVP and Topps Treasury Basketball, and 2008 Wheels American Thunder Racing), except for 2008 Bowman Football (the one probably most anticipated!). It's been pushed back until the week of October 22nd. We also received 2008 SP Rookie Threads Football, 2008 UD Premier Football, 2008 Topps Football Factory sets, 2008 Upper Deck First Edition Baseball Factory sets, and MAGIC: The Gathering Shards of Alara. This week, we expect 2008-09 OPC Hockey to arrive. We had expected 2008 SP Authentic Baseball and 2008-09 Fleer Ultra Hockey as well, but they've been slightly delayed.
Topps released some misc. info regarding some if its products. Due to breakout performances by 2008 football rookies Felix Jones, Matt Forte, and Jonathan Stewart; Topps is adding them to their 2008 Topps Sterling Football roster. They join the already announced Darren McFadden and Matt Ryan. Topps also made a correction to the autograph odds stated on the sell sheet of Stadium Club Baseball. A triple relic autographed card with ONE autograph will be inserted at a rate of one per case, instead of a triple autograph card, as stated on the sell sheet.
More news as it arrives...
Hi all. I'm writing to tell you about two products that have been cancelled ... Topps Predictors Basketball and Topps Election Collection. I guess Topps didn't receive enough orders for either product to substantiate making them. I'm surprised about the Election Collection because there's certainly a lot of interest in this year's candidates, and the timing couldn't be better for it.
New products expected this week include 2008 Bowman Football, 08-09 MVP Basketball, 08-09 Topps Treasury Basketball, 2008 Upper Deck Masterpieces Baseball, and 2008 Wheels American Thunder Racing.
Until next time ...
Hi everyone! Many new products arrived this week. We now have 2008 Upper Deck Ballpark Collection Baseball. If the pack we opened is any indication of how good the product is, then it bodes well. We pulled an 8 piece jersey card of none other than the Phils and the Mets. On the Phils side (and remember what city we're in and the fact that we're HUGE Phillies fans) were ... Chase Utley, Cole Hamels, Pat Burrell, and Brad Lidge; and then on the Mets side were ... Carlos Delgado, Johan Santana, Moises Alou, and Billy Wagner. I was so thrilled, because I've seen many multi-piece Phillies cards over the years, but I've never pulled one. SO I really fished my wish with this one. Our quad jersey card was pretty respectable as well ... Mike Schmidt (another Phil!), Albert Pujols, Ken Griffey Jr., and David Ortiz. Pretty good, huh?
Other recent products include ... 2008-09 UD Black Hockey (with 2 pulls per pack and 2 packs per box), 2008 Leaf Certified Materials Football (4 game used or autos per box), 2008 Finest Football (3 mostly rookie autos per box), 2008 UD Premier Football (one high end pack featuring several jerseys, patches, and autos), 2008 Playoff Absolute Football (4 pulls per box, including one auto), and 2008-09 Upper Deck 1st Edition Basketball. Still selling well are 2008 Topps Chrome Football, and to set collectors ... basic 2008 Topps Football, Baseball, and Basketball. Each basic Topps box guarantees a jersey card per box this year, which is a great bonus. Speaking of set collectors, the 2008 Topps Football Factory sets are supposed to arrive tomorrow.
Those of you who opened 2008 Topps Football packs may have noticed some retro looking inserts (numbered to 40). They're part of a 40 card Turn Back the Clock insert set, available directly to hobby dealers (like us) and in packs of 2008 Topps Football. Cards 1-5 and all even numbered cards from 1-40 were sent to us (as a way to reward Topps Football pack purchases), and odd numbered cards from 7-39 are found randomly in packs. If you are completing this set and need the ones we have, please just let us know. If you ordered 2008 Topps Football from us, we'd be happy to ship the remaining cards to you, FREE of charge, with your next order.
Another Topps Football product update ... this one for 2008 Finest Football. Due to a production error, the base autographed cards were not sequentially numbered, and Topps had intended for them to be. So, if you have an auto that you'd like to have numbered, you can send the card(s) to Topps, at ...
> The Topps Company
> ATTN: Consumer Relations
> 401 York Ave.
> Duryea, PA 18642
They'll return the card to you, numbered, and with a bonus pack of cards. What's interesting is that some of the print runs are REALLY short. If you were lucky enough to pull one of the better players, including Darren McFadden, Matt Ryan, Felix Jones, and Joe Flacco ... you were luckier than you even thought! There's only 40 of each one. Feel free to e-mail me if you want the print run of a specific rookie. They range from 40 to 1999.
For you Republicans out there, Razor's new 2008 Razor Cut Signature Edition (primarily a Celebrity signature product) features the first ever cut signature card of Vice Presidential candidate Sarah Palin. Apparently, her autograph is being heavily forged right now, so this is your chance to have a James Spence authenticated one (he's a well respected authenticator). Razor is also releasing a Baseball Draft Signature Series in late November. There will be 10 packs per box and 1 auto per pack.
Products we're expecting soon (next week) are ... 2008 Upper Deck Masterpieces Baseball, 2008 Upper Deck First Edition Baseball Factory sets, 2008 SP Rookie Threads Football, 2008-09 OPC Hockey, 2008-09 Ultra Hockey, 2008-09 Topps Treasury Basketball (which I wrote about in our last e-newsletter and looks really good!), 2008-09 MVP Basketball, 2008 Wheels American Thunder Racing, and Topps 2008 Election Factory set.
More info soon!
Those of you who like affordable boxes have a ton to choose from right now ... in all sports! For Football, we just received the brand new 2008 Upper Deck First Edition Football and Topps Kickoff (and that's in addition to the recently released Score and Topps). For Basketball, 08-09 Topps arrived today (and we received Upper Deck earlier in the week). For Hockey, there's 08-09 Victory. And for Baseball, we have lots to choose from ... 08 Upper Deck First Edition & First Edition Update, Topps Opening Day, and Topps. It's nice to know that you can still put a set together without breaking the bank.
Other new sports releases include 2008 Playoff Absolute Memorabilia Football, 2008 Bowman Sterling Football, 2007-08 Topps Letterman Basketball (more on that later!), 2008-09 Upper Deck Legends Masterpieces Hockey, 2008 Press Pass VIP Racing, and 2008 MLS Soccer (with 2 jersey cards per box and at $49.95 ... it's a great deal!). Non-sports fans are enjoying the NEW Yu-Gi-Oh Duelist Genesis and Webkinz Series 3.
Regarding that 07-08 Topps Letterman Basketball release, we saw a customer open a bunch of it the other day, and I must say that I was very impressed with the quality of the product. We saw MANY good pulls. The best was probably a 1/1 Dwyane Wade auto laundry tag card, but the fact that I'm not sure that's the best card makes the quality of the product pretty good. Our customer also pulled an awesome Dennis Rodman pull-out card. It spelled out R-O-D-M-A-N, with 6 different Letterman cards, all attached, and the first card was autographed (numbered to 19). That was really sweet. Those pull-outs are apparently 1 per 8 boxes. We really liked Letterman, and we think this bodes well for their Football version, arriving late Fall.
Talk soon!
I was away for a week, and the hobby exploded with new football products! So many new releases have arrived ... 2008 Score and Score Select, 2008 Topps Chrome, 2008 Upper Deck Icons, 2008 Bowman Sterling, and the 2008 NFL Rookie Premiere set. Icons is the product that features the Brett Favre autographed Jets Letterman redemption. The regular cards are attractive, with a foil finish; and each box has an autograph and 2 jersey cards. Topps Chrome looks great with no big surprises based on last year's product. Chrome consistently looks like a shiny metal plated version of basic Topps. Rookies are roughly 1 per pack, and there is one autograph per box. Score is your basic, inexpensive no frills football product, that like Topps, allows you to put a set together without breaking the bank. If you're wanting jerseys and autos, then check out Stadium, SPx, Bowman Sterling, or Donruss Threads; but if you want to get the rookies cheaply, then Score's for you. Score Select looks like a shiny version of Score, with many parallels (numbered cards) per box. 2008 Playoff Absolute Memorabilia Football is the next product due in, to be followed by 2008 Upper Deck Kickoff and 2008 Topps Finest.
Baseball fans are enjoying the recently released 2008 Upper Deck First Edition Update, 2008 Upper Deck Heroes, 2008 Goudey, 2008 Bowman Chrome, and 2008 Triple Threads. Next up, on September 9th and 10th respectively, are two new Upper Deck products ... 2008 "X" Baseball, and 2008 Ballpark Collection. Details on those new releases to follow in a future BLOG entry. Basketball collectors will finally have 2008-09 rookies in September 9th's Topps Basketball release, followed by 08-09 Upper Deck MVP on the 10th. Hockey fans have 08-09 Victory so far; and can expect 08-09 Upper Deck Legends Masterpieces next week, and 08-09 Upper Deck Black on September 10th. (All dates given are those provided to us by the manufacturers, and are subject to change.)
I'm back with more hobby news. If you didn't receive our e-mail newsletter, then let me quickly cover the highlights I first announced there ... 1. Brett Favre's first Jets card will be in the 2008 Absolute Memorabilia Football, retail version 2. Topps will be making a High series of their popular 2008 Heritage baseball product. 3. Topps signed Babe Ruth to an exclusive deal where only they can feature his likeness on cards.
On to other news, contrary to what was expected, Topps will not be releasing a 2008 Topps Baseball Factory Update set. We're surprised, given that last year's update set was so well received.
Much like the already released 07-08 Stadium Club Basketball and the brand new 2008 Stadium Club Football, there WILL be a 2008 Stadium Club Baseball product. Like its predecessors, the HOBBY box will contain one hit per pack. Specifically, the 12 pack box will contain 12 autographs (6 will be rookie autos) and one Yankee relic card. Every 4 box case is slated to contain a sketch card and 1 triple autograph card. Sell sheets are posted on this site in our SELL SHEETS area.
Major changes have been announced for the upcoming Leaf Limited Football, most notably that it's no longer a one pack box. More details will follow, as we get them, in a later BLOG entry.
Another notable mention is that Topps Letterman Football will be debuting later this year. The basketball version is expected next week.
Products received so far this week are ... Artbox 24 Season 5, Press Pass Elvis By the Numbers, and Inkworks Journey to the Center of the Earth (with accompanying 3D glasses!).
More later!
This will be a quick post. I wanted to briefly go over this week's new football releases. Three new ones came in this week ... 2008 Donruss Threads, 2008 Upper Deck, and 2008 Stadium ... and we've seen them all. Upper Deck and Stadium both feature the new rookies in their NFL uniforms. Upper Deck added an extra jersey card to their box, so you now get 3 jerseys and 1 autograph. Cards feature good action photography in a full bleed (no border) design. Donruss Threads yields 4 relic and/or autograph cards per box with their popular rookie autograph Lettermen inserts returning for this year. Stadium Club is a 10 pack box with an autograph or jersey per pack. It still features the thick card stock, great action photography, and high gloss coating that collectors have grown to love. We've heard from a lot of collectors that they'd like the traditional 24 pack box of Stadium to return. It was always a collector favorite.
We're expecting 2008 Bowman Chrome Baseball and 2008-09 Victory Hockey next week. More news then!
Well, lots of new products have arrived ... 2008 Triple Threads Baseball, 2008 Goudey Baseball, 2008 Topps Baseball Factory sets, 2008 Press Pass Legends Football, 2008 Sage Squared Football, 2008 Rittenhouse WNBA, Magic Eventide, 2008 Razor Cut Signature "packs", X-Files "I Want to Believe", Star Wars "The Clone Wars", and WWE Ultimate Rivals.
We're looking into changing and modernizing the "Collector Links" page on our web site to reflect our customers' current interests, and we want your help! Right now, we list web sites we think might be of interest to you, but we want to branch out and cover other areas as well. What would you like to see in this section? Are there topics you want to know more about? Do you have questions you need answered? We'd like to hear from you so we can incorporate as many of your interests as possible into this section. I'm open to all of your ideas.
Time to answer a few customer questions I've gotten. One is quick and easy ... QUESTION: 2008 Speedway Racing ... is it Nascar? ANSWER: Yes, it is ... a new brand from Press Pass. The next question is more involved. QUESTION: 2008 Topps Baseball Factory sets. You advertise more than one set. How are they different? ANSWER: It's mostly the packaging. Every 2008 Topps Factory set has the same 660 baseball cards from Series 1 and 2, but the bonus cards and players featured on the packaging differ depending on whether it's the regular set, All-Star set, or team-specific set. Just ask us if you want to know the exact differences, but rest assured that no matter which set you choose, you WILL have one of each card that Topps released in Series 1 and 2. QUESTION: 2008 Upper Deck A Piece of History Baseball ... is the history aspect of the product baseball related? ANSWER: No. As mentioned in a previous blog entry, the History aspect covers all sorts of trivia, from presidential facts to landmarks to explorers. If you have a question you'd like answered, either in this BLOG, or privately, just e-mail me!
The last order of business in today's BLOG entry is a reminder to protect your cards properly. Too many of our customers don't use soft sleeves inside of top loaders, and you must! Putting a card directly into a top loader will hurt the corners of the card as well as the card's surface. I always think that top loaders should come with the soft sleeves to make sure the collector knows to use them, but since they are sold separately ... please be aware of this fact. And until a soft sleeve designed to fit a patch card is created, if you're putting a patch card into a top loader, use a team set bag as a makeshift soft sleeve. If you put the patch card in it, seal it with the adhesive strip, then fold the bag around the card, it slides perfectly into the patch top loader (either a 3.5 mm or 5 mm). We use team set bags for just this purpose all the time! They work perfectly, and even create a little resistance inside the top loader (because of the folded over plastic) to keep thinner patches from falling out!
Thanks for reading, everyone!
It was slim pickings this week for new products, but 2008 Topps Football did arrive. With the same design as this year's Topps Baseball product, the Football features rookies in their NFL uniforms (the first product this year to do so). The jumbo box has 2 autographs (we received an additional jersey card in 1 of 2 boxes, but it's not guaranteed). The regular 36 count hobby box guarantees an autograph or jersey card, one per box. We also received the latest Tri Star Projections Baseball (the High Series) and the 2008 Topps Baseball Factory set, All-Star Game Edition.
The next two weeks are BIG weeks for high end product (read that as expensive!). Due in are the much anticipated (and overdue) 2008 Topps Triple Threads Baseball, 2007-08 The Cup Hockey, and 2007-08 Exquisite Basketball. For those of you with more modest budgets, we'll also be getting 2008 Press Pass Legends Football, 2008 Topps Allen & Ginter Baseball (a popular product for set collectors), and 2008 Topps Baseball Factory sets this week.
Non-Sports fans will be happy to know that Supernatural Connections, Marvel Masterpieces Series 2, Heroes 2, and Stargate SG1 Season 10 are all now in stock.
'Til next time ...
Saturday, July 12th
2008 UD Piece of History is our best selling new baseball product. At $74.95, to get 4 pulls per box is pretty impressive. We've seen a bunch of these opened at this point, and the breakdown of the 4 pulls is one autograph, two baseball jersey cards (often double and possibly triple jersey pieces), and one "A Piece of Hollywood" memorabilia card. It's these Hollywood cards that are the most interesting to me. They feature almost solely A-name actors' costume pieces. We've seen multiples of George Clooney, Brad Pitt, Denzel Washington, Demi Moore, Robin Williams, Christopher Reeves, and Mel Gibson. Almost every Hollywood card is a winner, but the weird part is that they only list the actor's first name and no photo. I'm guessing that those omissions saved Upper Deck on royalties, which certainly paid off for the collector, who gets so many A-list actor costume pieces. I've never seen such an all-star celebrity line-up. It would be like every baseball jersey card being Jeter, A Rod, and Pujols ... a happy collector every box. While mostly a baseball product, the "Piece of History" name refers to general historical fact cards also in the set ... everything from inventions, explorers, and landmarks to presidential trivia.
We've been getting a lot of phone calls about 2008 Topps Baseball Factory sets. Rest assured, they're coming. The All-Star version (same basic Topps set, special All-Star Game packaging) is due this week; and the rest are due later this month.
On the redemption card front, things are changing for the better ... finally! Topps has just created an on-line redemption process, like Upper Deck's; so mailing in redemption cards is no longer necessary. Donruss did a complete overhaul of their redemption process and website, including enabling on-line redemptions (as well as filing damaged card claims on-line). Most importantly, all three manufacturers are limiting the number of redemptions in their products. Donruss had no redemptions in their first two football releases ... 2008 Playoff Prestige and 2008 Donruss Elite. Upper Deck has vowed to eliminate redemptions (as we know them) altogether, and is putting a system in place where collectors can go on-line and choose which cards they get (more info on that as it becomes available). So at least that's a step in the right direction by the manufacturers.
Coming in this week is the much anticipated 2008 Topps Football. This should be the first 2008 product to feature rookies in their NFL uniforms, with photos taken at the rookie photo shoot.
Until next time!